Was 2017 some bullshit or what? The year included the first under .500 men's basketball team in a generation, a devastating end to the women's basketball season, Charlie Villanueva getting his toilet stolen and only one (1) UConn national championship (field hockey). They even cancelled the entire football season, I assume!
Yet, despite it all, A Dime Back dot com perseveres. Sure, we barely wrote any content and yes, most of it was illegible ramblings, but you clicked it. Oh boy, did you click it. And that's all that matters (to our advertisers).
We, again, had readers from all 51 states (we've added D.C. and Puerto Rico and removed Wyoming). UConn fans in Yemen, Myanmar and Qatar checked in with ADB, testing the theory that our blog is worse than famine, genocide and complex diplomatic crises.
We podcasted. We mailbaged. We tweeted way too fucking much.
Thanks for humoring us for another year.
- Advertisement -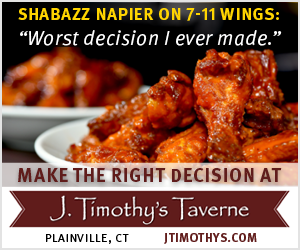 To balance out this year's top posts list's collective cry for help, we'll give you some of our favorite pieces later this week. Click the headline to read the thing.
[View our top posts of 2013, 2014, 2015 and 2016.]
UConn's roster was changing so fast this summer that we had to include four decisions in one post. Suffice it to say, we may have underrated the impact of the exodus.
In which we listed five big men UConn could target to replace the graduating Kentan Facey and Amida Brimah and the transferring Steve Enoch and Juwan Durham. The Huskies landed… none of them.
When UConn hired Randy Edsall (again), we couldn't get our hands on his contract. It turns out, he doesn't have one. So Meghan took a lawyerly journey through Edsall's offer letter and pointed out the juicy details, including some light nepotism that has since caused quite a stir.
You guys really like when UConn gets new players, including when news broke that California PG James Akinjo was coming to Storrs.
More basketball players that didn't end up at UConn! Plus Antwoine Anderson! All of these pieces led to an update last month. Again, you guys really were looking forward to new UConn players in 2017.
[Takes a gigantic, dangerous chug of grain alcohol] The Signature Win of 2017, Y'all!!
Russ penned this piece about Kwint's commitment to join the Huskies, but it was the embedded dunk pornography that aroused your interest.
Our annual preseason roundtable is typically where we put all of our wrong opinions out into the world so that we can be mercilessly mocked for them at the end of the season. This year was no different.
#RankedWeek is one of our favorite traditions at ADB. It's a good time to have some fun, reminisce and occasionally educate you clodpates. This piece shed some light on a few noteworthy Huskies.
We posted this piece earlier in December and it quickly became our most-read of the year. It appears we struck a nerve by pointing out UConn's rapidly souring relationship with its fanbase. Here's hoping we see some corrective measures in the year to come.