Whilst we suffer through the interminably long basketball break for final exams, we thought it'd be fun (or traumatic, either way) to check in with some players around the sport who might be suiting up for UConn under different circumstances. The trio of Vance Jackson, Juwan Durham and Steve Enoch are all sitting out the season after transferring out of Storrs this summer, but there are a handful of other guys scattered throughout the country playing for teams other than the Huskies.
The Transfers
Rakim Lubin: The Rock is averaging 15.8 points and 6.4 rebounds per game!! …For LSU Shreveport. Although he has worked his way out of Division 1 ball, Shreveport is 10-1 on the year and among the top NAIA teams, so cool.
Terrence Samuel: Please refer to him as either National Champion Terrence Samuel or Hated Conference Rival Terrence Samuel. T-Sam joined USF as a grad transfer this offseason and has claimed the starting point guard job. He's averaged over eight points, five rebounds and four assists while making four (FOUR!!) three-pointers, exceeding his two-year UConn total of zero.
The De-Commits
Prince Ali: Ali bailed on his commitment to UConn a month after the Huskies won the 2014 national championship. It's too bad because the Aladdin-themed guard has turned into a nice player at UCLA. This season he's averaging near 11 points per game on a super-efficient 51 percent shooting (48 percent from three). Sounds nice.
Makai Ashton-Langford: This one still stings due to the recency of MAL's de-commit, and his performance against UConn in a charitable exhibition game last month. Annoyed at the firing of UConn assistant coach Glen Miller, and unwilling to compete with Jalen Adams and Christian Vital for playing time, Ashton-Langford went to Providence where he's averaging 7.6 points and 2.8 assists in about 20 minutes per game.
- Advertisement -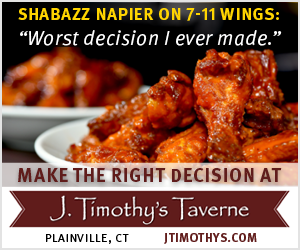 Turtle Jackson: Jackson was a low-ranked recruit who eventually de-committed from UConn when the Huskies were blatantly trying to recruit over him. He went to his hometown school in Georgia and barely saw the court as a freshman in 2016. Somewhat quietly, however, he's developed into a nice player and is averaging 12.5 points and four assists as a starter this season.
The Near Misses
Hamidou Diallo: UConn wasted a shitload of resources chasing Diallo in recent years only to see him land at Kentucky where he's currently averaging almost 15 points per game. Most observers believe he'll head to the NBA at the end of the season.
Tremont Waters: It $eemed like the $tars were aligning for Water$, a New Haven native, to land at UConn this $ummer. The Huskie$ had minute$ available in the backcourt and Water$ wa$ without a school after de-committing from Georgetown. For reason$ we may never know… Water$ landed at L$U where he'$ been $en$ational in early action, averaging 18.3 point$ and 6.4 a$$i$t$ along with 2.3 $teal$. He $cored 39 point$ in a lo$$ to Marquette la$t month.
[Update: $ince we wrote thi$, Water$ $cored 17 point$ against Hou$ton and won the game with a late block.]
Wenyen Gabriel: Gabriel hasn't developed into the star many were expecting after his recruiting stock skyrocketed in 2016, leading the athletic forward to pick Kentucky over UConn. This season, he's averaging about six points and five rebounds off the bench.
Chris Clarke: UConn whiffed on a trio of forwards in the 2016 class. Derrick Jones "went pro" after one year at UNLV after losing eligibility. Tevin Mack committed to VCU, then followed Shaka Smart to Texas (where he was good!) and is now sitting out following a transfer to Alabama. And Clarke chose his hometown Virginia Tech where he is coming off the bench averaging nine points and almost seven rebounds per game.
Cam Reddish: "Cam is the most complete high school player I've seen come out of high school since LeBron James." That's what his coach said in this recent 247 piece. Reddish picked Duke over UConn and Kentucky this fall and has since risen to the top of several rankings of 2018 recruits. Last week he scored 53 points in a game.
Random Grad Transfers
In the wild haze of UConn losing its entire roster this summer, we published about 40 names of available grad transfers. We won't update you on all of them, but here are a select few that are performing well this season.
Christian Sengfelder: A personal favorite, Sengfelder was a teammate of UConn guard Antwoine Anderson at Fordham the past few years. Since arriving at Boise St., he's averaged 11.7 points and 5.9 rebounds while shooting 41 percent from three. A 6'7″, 235 pound forward who can shoot? Sounds nice.
Kerem Kanter: The brother of NBA big man Enes Kanter, Kerem landed at Xavier where he's averaging about eight points and four rebounds in only 13 minutes of action per game. He'd probably be UConn's best post player right now.
Khris Lane: Lane has been a nice player on the wing for VCU this year. He's scoring 10.9 points per game on 60 percent shooting.
The Would-Be Senior
Daniel Hamilton: It's fun to imagine what this year's UConn team would look like with Hamilton on the court (probably even more fun last year). Since leaving school after his sophomore season, Hamilton has been playing with Oklahoma City's G-League affiliate. He was good enough last year — and in summer league this year — to earn a two-way contract, allowing him to be periodically called up to the NBA (he's played one game for the Thunder so far). Jean-Claude Dan Ham is absolutely killing the G League this year though. He's averaging a near-triple-double with 17.9 points, 9.2 rebounds and 8.6 assists (we won't mention the insane 5.7 turnovers). He's had five triple-doubles in 13 games this season, including in three consecutive games last month.