UConn flew across the country to play Oregon in Portland on Thursday night, beginning the PK80, an event staged in honor of Phil Knight, one of the founders of Nike, the shoe and apparel company that has been pouring money into Oregon's program for years.
And then UConn won. In fact, UConn is undefeated.
To the festive bullet points!
GOOD THINGS
UConn gets to keep Nike now, per the rules of the tournament. Please join us in welcoming Nike's new corporate headquarters to Stafford Springs.
This was a fun as hell win that should leave even the most pessimistic of UConn fans feeling good about the team. The Huskies showed that they can run with a real opponent and, just as important, showed that they can win those games even without their best performance.
- Advertisement -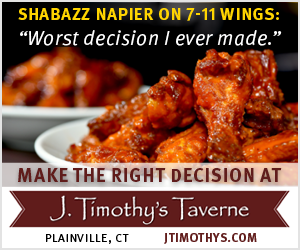 For the first time this year, UConn was great in the first half. The team shot 52 percent from the floor and led Oregon by seven at the break. Even without a real three-point threat, the Huskies played surprisingly well on offense. They had only three first half turnovers and got to the line for 16 free throw attempts.
Alterique Gilbert is improving more every game. Against Oregon, he led UConn with 11 first half points (including the only two three-pointers) and finished with 16. It's clear that there aren't a lot of players in college basketball that can stay in front Gilbert when he chooses to get to the rim. He did miss some (what felt like) critical free throws, but whatever, so did a lot of people.
Kevin Ollie deserves credit for some bold moves that paid off. He utilized a zone defense for large portions of the game (not exactly standard UConn behavior) and forced Oregon into some bad perimeter shots — the Ducks were 0-10 from three in the second half. Also, with Large Dave Onuorah and Josh Carlton battling foul trouble, Ollie turned to a wild lineup of Gilbert, Jalen Adams, Christian Vital, Antwoine Anderson and Terry Larrier. The group was obviously lacking in size but I admire Ollie's decision to put his five best players on the court and let them win or lose the game. It worked. All Guard Everything.
Speaking of Carlton, with Eric Cobb out, the freshman really stepped up. In 14 key minutes, Carlton made two nice buckets, sank two of three free throws and pulled in five rebounds before fouling out.
Larrier (18 points), Adams (16), and Gilbert (16) really stepped up to drag UConn over the finish line. Having three legitimate scoring options (plus Vital, who didn't have a great game) is a luxury that was missing from last year's team. It's really, really fun to have good players.
Anderson had some frustrating moments but still contributed. He scored in double-figures (10) for the fourth straight game, had five rebounds, three steals and made all six free throws. Veteran presents (seasonal reference)!
Vital missed all five of his field goal attempts but came up with some gigantic plays down the stretch. He was essentially the power forward for the last five minutes of the game and managed to grab two key defensive rebounds in the final minute to help seal the win. He also made one of the most heads-up loose ball plays in recent memory when he threw the ball off an Oregon player who was out of bounds.
The great basketball play made by @I_AMCV v. Oregon pic.twitter.com/qJvE0n3KqR

— Storrs South (@UConn6thBorough) November 24, 2017
BAD STUFF
UConn didn't run a real offense for most of the game. It got by on Gilbert and Adams beating guys one-on-one for most of the first half, and then hung on for dear life when the shots stopped falling altogether in the second half. The stat that will probably be cited the most is UConn's assist total. The Huskies had only four on the night, and only one for most of the game.
But here are some more bad stats:
UConn was 3-17 on threes. That's bad.
UConn missed ten free throws (24-34), including three in the final minute. That's bad.
UConn was 10-22 on layup attempts. That is so bad that it honestly doesn't seem possible. But here we are.
Carlton was the only NLBP to score a point. Zero points from Whaley, Polley, Cobb, Large Dave, Diarra and Williams seems bad.
THE GOOD THING AGAIN THOUGH
Despite those ugly stats, UConn won and is undefeated. Cool, right?
Up next
UConn will play the winner of Michigan State vs. DePaul on Friday night.