UConn wins a lot of basketball games, which is good. Making things more fun, the Huskies do a lot of that winning in tournament settings, when the stakes are the highest. Since Jim Calhoun arrived on campus, UConn has won eight conference tournament championships to go along with their four national championships.
Today we're going to rank the best individual conference tournament games during that time. We tried to cheat and use game score to sort this list for us, but some of the stats are missing. To compromise, much of this list is subjective. So let's argue, baby!
And here's an added bonus to this ranking: we've got videos! All from the greatest website in existence, UConnHuskyGames.com.
1. Donyell Marshall vs. St. John's, 1994
Marshall's 42 points against St. John's is the most any UConn player has scored in a conference tournament game. He was 15-19 from the floor and 10-10 from the free throw line. Just for fun, Marshall also had nine rebounds. UConn beat the Johnnies that day, 97-77, before losing to Providence the next evening in the semifinals.
- Advertisement -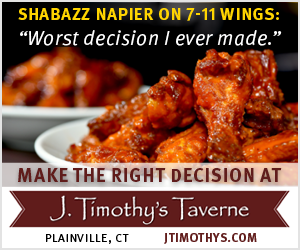 2. Kemba Walker vs. Syracuse, 2011
King Kemba scored arguably the most indelible basket in UConn's conference tournament history, then followed that up with his best game of the 2011 Big East Tournament against Syracuse the next night. He scored 33 points, had 12 rebounds, five assists and six steals while playing all 45 minutes.
3. Rip Hamilton vs. St. John's, 1999
Kevin Freeman won the MOP award, but Hamilton had the 1999 tournament's best game against Ron Artest and St. John's. Rip had 23 points, seven rebounds, four assists and three steals in a blowout 82-63 win.
4. Ben Gordon vs. Villanova, 2004
Gordon went bonkers during UConn's three-game run to the 2004 Big East title. With Emeka Okafor out in the semifinal game, Gordon lit up the Wildcats for 29 points on 10-15 shooting, including six three-pointers. He also had six rebounds and UConn rolled, 84-67. Gordon also gets an honorable mention for his 23 points in the championship game against one-seed Pitt the following night.
5. Kemba Walker vs. Georgetown, 2011
When you win five games in five days, you get two games on the list. The day before the Pitt game, Kemba dropped 28 on Georgetown on 10-18 shooting. Walker added six rebounds and three assists.
6. Caron Butler vs. Pitt, 2002
This game is probably best remembered for Taliek Brown's 35-foot three-pointer, but it was Butler who carried the Huskies for most of their 2002 Big East title run. In the championship game against Pitt, Butler had 23 points and nine rebounds.   
7. Khalid El-Amin vs. Seton Hall, 2000
A four-seed in 2000, the Huskies would eventually lose in the championship game to St. John's. In the quarterfinal, however, El-Amin went off for 30 points and five assists on 11-15 shooting in a 79-64 win over Seton Hall.
8. Jalen Adams vs. Cincinnati, 2016
Cash Adams had 22 points and eight rebounds in UConn's opening round win over Cincinnati in this year's AAC Tournament, but needed four overtimes to get them. Still, Adams earned his spot on this list by hitting one of the craziest shots in the program's history. It was one of a handful of impossibly clutch moments to save UConn's season.
9. Ray Allen vs. Georgetown, 1996
Speaking of clutch shots, here's this. Allen had better statistical showings in Big East Tournament games — he scored 29 the day before against Syracuse, to name one. But the matchup against Allen Iverson and Georgetown is one of the greatest games in UConn history, and Allen was the hero, knocking down a runner in the lane to earn the Huskies the title. He scored 17 points and had 12 rebounds.
10. Tate George vs. Syracuse, 1990
The 1990 UConn team was the first to win the Big East Tournament. In the championship game, Tate George scored 22 points as the Huskies beat Derrick Coleman and Syracuse, officially beginning UConn's decades-long run of dominance.
11. Niels Giffey vs. Memphis, 2014
While the 2014 AAC Tourney was nothing special for UConn, Giffey's performance in the Huskies' opening game against Memphis set the tone for the NCAA Tournament run that would soon follow. Giffey scored a career-high 24 points on 9-11 shooting, including 6-8 from three. He also had nine rebounds, two blocks and a steal.
12. Steve Pikiell vs. Boston College, 1987
This is the only loss on the list, but Pikiell earned his spot. With Cliff Robinson and Phil Gamble suspended, UConn arrived at Madison Square Garden with essentially six players (no offense to James Spradling). Pikiell and his teammates, however,  didn't lay down for a far better Boston College team that included future NBA star Dana Barros. Pikiell scored 27 points and the Huskies narrowly lost, 61-59.
Bonus no. 1: Daniel Hamilton vs. Cincinnati, 2016
We gave Adams key placement on this list because of the historical significance of his shot, but Hamilton was the team's best player in that Cincy game. Jean-Claude Dan Ham had 32 points, 12 rebounds and eight assists. By game score, it is the third best game behind only Marshall and Walker.
The infamous 6OT game isn't worthy of a ranked spot but both Price and Sticks put up numbers big enough to mention. Robinson had 28 and 14 before fouling out. Price had 34 points and 10 assists before fouling out. I hate this game.
Knight and Oriakhi played secondary roles on two important BET title runs. Each had 19 rebounds in the game listed. Knight scored 12 points. Oriakhi, 13.