2015 felt a bit like a rebuilding year for UConn athletics. The men's basketball team struggled to a first round loss in the NIT. The football team made stides back toward respectability before their bowl game loss this weekend. Sure the women's basketball team won a third straight national championship, but they lost a regular season game, which is their equivalent of a rebuilding year.
The somewhat strange compilation of seasons made this year's top posts list very diverse. You, our loyal readers, were less interested in game recaps in 2015. Instead, you enjoyed looking to the future. Peter's recruiting posts were some of our most-read stories of the year. Additionally, we launched the A Dime Back mailbag, where we answered your questions every week. Approximately 90 percent of the submitted queries were about conference realignment.
The lesson here is that UConn fans will always find ways to stay involved and informed, even in down years or when news is slow to come by. For the second consecutive year, A Dime Back was read by visitors in all 50 states and in over 100 countries — shout to our reader (singular) in Mozambique. This year we covered everything from gay rights to mac n' cheese. We recorded podcasts. We asked important questions. We were followed by Rebecca Lobo on Twitter. Everything's comin' up Milhouse A Dime Back.
Thank you for reading, following and listening. From all of us at A Dime Back, we're very grateful to be a part of your UConn fandom. Now on to the top posts of 2015 — in reverse order, of course.
This piece by Russ took days of behind-the-scenes research, a host of google spreadsheets and a few cashed-in favors, all to compile an accurate look at the graduates of the men's basketball program and how the GSR is likely to change over the coming years.
- Advertisement -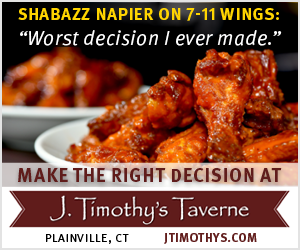 Peter killed it on recruiting news this year. He was the first to write that Sterling Gibbs was likely to transfer to UConn, and his post about Vance Jackson's commitment was the most-read recruiting story on the site – we're going to ignore the near-miss on Zach Brown since that post may still prove accurate in 2016. As a follow-up, Russ interviewed Jackson a few weeks later.
One of the toughest parts of the 2015 season was seeing Ryan Boatright's UConn career end in relatively unspectacular fashion. Meghan wrote this retrospective before Boatright's final regular season home game. View the accompanying photo collection from our Instagram account and quotes from Boatright and others following the final game of the season.
At A Dime Back, nothing defines us more than extreme time-wasting exercises. From the Ultimate UConn Challenge to the All-Time NCAA Tournament Challenge, we're damn-near experts at high-effort, all-consuming games. To wit, in 2015 our staff drafted fictional teams of the best UConn players of the Calhoun/Ollie era. If that wasn't bad enough, we also set lineups and explained our rationale, then made you poor suckers vote to determine who won.
We called in a ringer for this one. Kevin Meacham of the ignominious @NoEscalators Twitter account ventured to East Hartford to cover the biggest UConn football game in years. The result was the most-read football post of the year. Despite the success of this piece, we will never #FireRuss.
We always manage to sneak at least one piece of legitimate journalism into these year-end lists and in 2015 it was Peter's article detailing proposed legislation that would allow UConn athletes to form a union. The piece contains quotes from the state representative pushing the bill and earned a tweet from Jay Bilas. It also was bitten by a high-circulation newspaper without attributing our reporting. So that was fun.
Meghan had some fun rants in 2015. My personal favorite was her GIF-filled take down of misogynistic sports promotions that spawned the "Fuck This Shit" category tag, but the readers most enjoyed this piece about fan behavior.
Thank God you people listened to this podcast because it took about six hours to record. Two of our favorites, Meacham and Ally, joined in on the fun. Everyone is still upset that Meacham and Porter don't like cheese. Remember, you can click here to subscribe to the podcast on iTunes.
Geno's appearance on Zach Lowe's Grantland podcast was the gift that kept on giving. Geno's quotes were controversial and outrageous, and that made for some sweet, sweet A Dime Back content. Another favorite post from 2015 is Peter's response to an inflammatory article in the Courant. Side note: it'll be interesting to see if Sportz Edge steals this top ten list and passes it off as their own. Shout, hacks.
This post was fun, mean and accurate. You can't beat that as far as we're concerned. As you know, we enjoy poking fun at UConn's Canadian rivals, and apparently you do too, as this post was our top post of 2015.
---
As always, thanks for reading A Dime Back. Don't forget to follow us on Twitter, Facebook and Instagram. Cheers for a happy, healthy and trophy-filled 2016.