2016 was something of a down year for UConn (only one national championship? Why even show up?), but it was a record-setting year for this here website. Thanks to you, and the bird we trained to refresh our home page every 45 seconds, A Dime Back crushed last year's stat totals, all without compromising our brand of not trying very hard. Not too shabby.
All told, ADB was viewed in 127 countries (shout Zimbabwe and Djibouti). Obviously most of our readership came from the US, but the second-highest? Russia! So keep in mind that our traffic numbers may just be #hacked (or they just really loved our photo gallery including Svetlana Abrosimova).
All 50 states viewed A Dime Back, as did the District of Columbia and Puerto Rico. Our top three states, unsurprisingly, were Connecticut, New York and Massachusetts. Our bottom three, South Dakota, Wyoming and Alaska will be immediately removed from the union. We need team players. You're out. #MakeAmericaReadADimeBackForTheFirstTimeProbably
Some bad news: of Connecticut's 169 towns and cities, only 158 visited A Dime Back. The 11 others will be relegated to New Jersey as punishment. Top three in CT: Mansfield (duh), Hartford, New Haven.
Sincerely — but still somewhat sarcastically — thank you. We really do enjoy writing stupid shit and making dumb lists, and it amuses us greatly that people take the time to read them.
- Advertisement -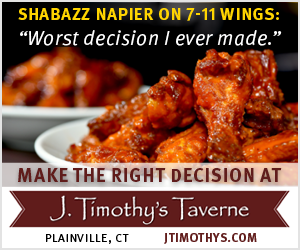 As we enter 2017, we'll keep doing what we've been doing. The biggest change will be in our business strategy. Here's some inside info: no one's getting rich writing this UConn bloggy. Ad revenue is cool, but we all work day jobs and are really in it for the love of the game, ya dig? Still, we'd like to use our EXTREME INFLUENCE for good. This coming year, we want to eliminate all of the Google ads from the site and work directly with businesses in Connecticut. We have some fun partnerships lined up, but are always looking for more. If you, or someone you know, is interested, hit us up via the "Contact" link here, or in the top menu.
NOW!
Let's complete the year by looking at the 10 (+1) posts that you idiots read the most in 2016. [click headline to view post]
HONORABLE MENTION:
Hey, remember the A Dime Back Podcast?! We haven't recorded one in what feels like forever, but we did create seven new episodes in 2016, including a special appearance by UConn legend Sue Bird. If you like UConn, profanity and Russ fun, subscribe on iTunes.
Oooh, a story so recent that is doesn't even have a god damn ending yet! As we continue to endure UConn's unwatchable, wounded season unfold, clearly our readers are ready for some good news. Stay tuned, I guess.
Meghan brought the fire emojis out for this piece. Following the predictable faux outrage over the UConn women's continued dominance — and a puerile tweet from person-with-a-perm-in-2016 Dan Shaughnessy — the only reasonable response was: fuck this shit.
Russ broke down the financial obstacle course in front of UConn as the university attempts to navigate itself into a real conference. A theme of this list: you people really, really like to read about conference realignment.
This piece from 2013 is viewed all the damn time still. It's a collection of every run-in a Husky (or former Husky) has had with the law. It was penned following Tyler Olander's DUI arrest and last updated with Jeff Adrien's valet mishap. Kevin Ollie has done a good job of keeping his players out of trouble, but the sins of the past bring a lot of people back to this post.
In September, we got our hands on the Master Development Plan for Rentschler Field that included some very cool renderings of what a possible stadium expansion would look like. This was a popular post among our readers because of the pretty pictures for lookin'.
During our heralded #Ranked Week, we compiled lists on everything from UConn Villains to Pictures of Jake Voskuhl. It was very important work. It was the biggest ranking of them all though that you read the most. UConn, ranked: the definitive ranking of things involving UConn.
Speaking of #Ranked, this recent dual-gender list of UConn's best point guards did very well thanks to an assist from Bleacher Report's Team Stream app. Not sure who was responsible for that, but good on ya, kid.
The companion to Russ's piece about UConn's urgency to escape, this one gave UConn's case for acceptance into a new conference. Replete with facts and figures comparing UConn to the other contenders, the post failed to resonate because no one in the Big 12 can read.
This was, without a doubt, the most uplifting post we penned this year. It tells the story of a young man named Conor and what happened when he crossed paths with UConn guard Rodney Purvis.
Annnnd, we're back to Bummer Town. This piece was actually written before the FIRST time Big 12 expansion fell through — yes, it happened twice in the same year because the Big 12 is that inept. Sources told Russ that UConn was feeling the cold wind blow, and was discussing contingency plans with donors, expecting to be left behind again.
In May of this year, UConn fans were freaking the hell out. Conference realignment hopefuls like Cincinnati and Memphis were whoring themselves out in public, as UConn was operating in a deafening silence. We tried to get to the bottom of it with the help from some Freedom of Information requests. The result was this piece by Meghan, our most-read of 2016.