For those that like us being wrong, today is your Christmas. Believe it or not, this will be our fourth preseason roundtable and there are some hoo boy doozies in the prior three. In 2014, Peter said "Of Boatright, Samuel, Purvis, Cassell, and Hamilton, all will be above-average creators for their respective positions. This team will have no issues creating shots." … There were issues.
The next year, Tyler predicted "UConn gives Maryland a beatdown in MSG, wins by 15-20 points." …They did not.
Just last year, Meghan laid out her vision of a future game. "Steven Enoch will do a monster windmill dunk in Gampel causing the UConn faithful to lose their minds and pieces of the ceiling will rain down like beautiful, sad confetti." …A lot of people don't know this but Steve Enoch never actually attended UConn.
Now that you're clear what you're getting into, let's tackle some predictions that will absolutely come true.
Record Prediction
Russ Steinberg: 19-12
- Advertisement -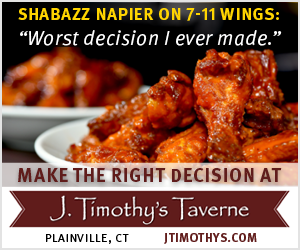 Meghan Bard: 20-11 because fucked if I pick this team to win fewer than 20 games
Tyler Wilkinson: 16-15. I am very comfortable in my nihilist paradise where I have accepted that bad things will constantly happen to UConn until the sun explodes.
Peter Bard: 18-13
Kevin Meacham: 18-13
Alex Cohen: 21-10. Fuck it. I'll be the most optimistic one. It helps to also be the least informed one.
Best Quality
Peter: Number of players
Kevin: Making it through opening night without breaking our spirits, hopefully. Serious answer: the guards should be pretty good.
Russ: Having Jalen Adams and Alterique Gilbert on the team
Alex: Huskies are dogs and humans don't deserve dogs. Huskies are the best dogs.
Tyler: Having multiple scoring options (barring injury) is nice. Last season, the team had virtually no chance of beating a real opponent if Jalen Adams wasn't scoring in double-digits. This year, he has a security blanket in the form of Gilbert, Vital and especially Larrier.
Meghan: Guard play. Adams, Gilbert and Vital look to be three of the four best players on the team. This means we'll see plenty of three-guard line-ups, which is something that always makes me happy.
Worst Quality
Russ: UConn's frontcourt, beyond Terry Larrier, is a mess until it proves otherwise against legit competition. Eric Cobb, Tyler Polley, Josh Carlton, and Mamadou Diarra all had their moments in the two normal exhibitions and that's a good sign, but I'll feel a lot better if we're still impressed with any of them after PK80.
Meghan: Not having a shot blocker. This is a team that got really used to having an elite-level shot blocker standing behind them on defense. They will have to adjust, particularly given how the front court is just one giant question mark at this point.
Alex: These huskies are NOT housebroken, let me tell you! There are lots of new players so many new players that I can't even list their names. There's gonna be some shit and piss on the floor without a doubt. I hope Mick Cronin slips in it. The Aristocrats!
Tyler: I do not think this team can make threes. Considering the amount of zone defense UConn will surely face this year, and the lack of established front court players, this is a problem.
Peter: Ability of players
Kevin: The frontcourt is the obvious answer so I'll go hipster contrarian here: even if they're far from the biggest problems with the roster, a lowkey issue for UConn is that the Gilbert/Adams/Larrier troika is a lot more unproven than we think. Adams is crazy skilled but that hasn't yet translated into the kind of efficient, dominant PG that Ollie's offense needs to be good. (He hasn't been a great jump shooter, he hasn't gotten to the free throw line enough, and he's turned the ball over too much). Larrier looked the part of the dominant wing scorer in limited minutes last year, but his knees are a serious question and some of his shot-taking decisions have been…concerning…in the preseason games. Gilbert looked good offensively in the three games he played last season, but he's essentially a freshman who's going to have a huge burden on his shoulders. All three absolutely could be All-Conference (or even All-American) level players, and UConn probably needs them to be in order to be anything resembling good. But we probably should be more cautious in predicting them to all reach their potential in 2017-18.
WTF Loss
Alex: Vance Jackson
Kevin: Why haven't we renamed this the "@Tulsa Loss Of The Year"? We're going to lose at Tulsa.
Tyler: (whispers)… Friday against Colgate in the season-opener.
Russ: at Auburn. Auburn's gonna be a mess without Austin Wiley and Danjel Purifoy, but they could be good enough to beat a UConn team that just had to play at Arizona and is looking ahead to Christmas two days later. If Wiley and Purifoy become eligible, it's no longer a WTF loss, so give me one of the Memphis games instead. Memphis will be very bad.
Peter: N/A
Meghan: That 9 p.m. game at Memphis in January is lookin' pretty bad, even though Memphis may only have like 3 people on the team anymore. Those 9 p.m. weeknight games have been the bane of UConn's existence the last few years, so I remind you, the AAC is trash.
WTF Win
Meghan: After dropping both regular season match ups against Wichita State UConn will inexplicably beat them in the AAC Conference Tournament Championship.
Russ: Villanova. Why not? Come at me, Big East.
Peter: All of them
Kevin: SMU is the best team we play at home that I think UConn has a realistic chance of winning, so let's go with it.
Alex: Arizona
Tyler: At Houston to close the regular season.
Who is the X Factor?
Alex: Jalen Adams is the guy most likely to be the one who's like, "we are not fucking losing this game." He's got a ton of ability and this might be the season he gets it all right in one game.
Peter: I was going to say Kwint, but then he couldn't get burn in exhibition games, so now I'm switching to Eric Cobb. If he can be a real starter, then the frontcourt might be OK.
Kevin: T H E F R O N T C O U R T O F M Y S T E R Y ~~oooOOOooOOOooOOOoooo~~
Tyler: The answer here is whichever non-Larrier big is able to step up. I'll go with freshman Josh Carlton as mind my mind is flooded with recency bias.
Meghan: Terry Larrier. UConn really, really, really needs him to be good, and be able to play effectively at the 3 and the 4. Hopefully his knees can turn into not-mashed potatoes, because if Larrier goes down, it's gonna get ugly real quick.
Russ: It sure as hell better be a big, right? Let's go with Cobb. He showed some real basketball player post moves in the exhibitions that made me very excited.
Breakout Player
Tyler: Vital. I guess technically he broke out last year but I'm expecting him to take a big step forward this season. His all-around game continues to improve and he's got that New York moxie that I'm into.
Meghan: I hope it's Gilbert who lights up the stat sheet with a ludicrous number of assists while also scoring many points.
Peter: Gilbert, provided his shoulders don't fall off.
Russ: Is it cheating to say Gilbert? He was a McDonald's All-American so it's the easy call. If you don't like it, let's get weird and say Whaley. He seemed fun.
Kevin: Given that the big three and Vital are either highly touted or a well-known-enough quantity, it's gotta be one of T H E F R O N T C O U R T O F M Y S T E R Y ~~oooOOOooOOOooOOOoooo~~ I bet Eric Cobb turns into a decent 6 & 8 guy whose per-36 numbers look way better because he fouls out of every game in 15 minutes.
Alex: Feels cheap to go with Larrier and/or Gilbert but they can only improve off of their Wagner/Northeastern (#narrative) performance.
Jalen Adams Over/Under: 16 points, 6 assists
Kevin: Over, under
Russ: Under, but barely
Tyler: Slightly over on points and slightly under on assists, which should drop with Gilbert back from injury.
Alex: Over on points, under on assists. In a 3-guard system with no real lock-down shooters I don't see anyone averaging over 5 assists per game.
Meghan: Over, please Jonathan over on both
Peter: Under
Team Leaders in Scoring, Rebounding & Assists
Meghan: Larrier, Cobb(?), Adams
Peter: Larrier, Cobb, Adams
Russ: Scoring: Jalen |  Rebounding: Cobb  |  Assists: Jalen
Tyler: Adams, Larrier, Adams.
Kevin: Adams (scoring), Larrier (rebounding), Adams (assists)
Alex: Jalen, Larrier (because he will likely be on the court so much more than anyone else in the front court), Gilbert (or Adams)
Jamal Coombs-McDaniel Award (bench guy who inexplicably leads the team in scoring once or twice)
Russ: Josh Carlton
Alex: Feel like Vital will have several JCMcD nights which isn't really in the spirit of the award but I don't know anyone else's name!
Kevin: Mamadou Diarra
Peter: Whenever someone scores points on this team, it will be inexplicable.
Meghan: Tyler Polley. Look out Coppin State.
Tyler: Tyler Polley! I am leading the Polley Bandwagon if you wanna hop on board and meet me in the bar car.
Wild Card (Literally Any Other Prediction)
Meghan: Kwint Williams social media prowess will prove to be his greatest asset, until he gets his lob-to-dunk game down, when highlights become dunk porn.
Russ: We have at least one transfer after the first semester
Tyler: One of the new big guys sets a new UConn record for fouls-per-40.
Alex: Elite Eight babby
Kevin: Did you know that UConn has lost a non-conference game to a non-P6 opponent five of the last seven years (the only exceptions being 2011 and 2014, naturally)? That streak should end this year, if only because we only play six non-power-conference teams all season.
Peter: How much am I going to drink watching this team? A lot.