2014 was another great year for A Dime Back. In addition to single-handedly willing the UConn men and women's basketball teams to win national championships, we also redesigned the site, added football and women's basketball coverage, and added Russ to the team.
This year, readers visited A Dime Back from all 50 states and from 123 different countries (shout to the one reader in Kosovo). We got some love for our purchase of syracuse.nyc and you got some holiday gifts from the new A Dime Back shop.
To top off another great year, here's our annual rundown of our most popular articles from 2014 — not included are the ever-popular When You're Feeling Down and A Picture of Khalid El-Amin pages. In reverse order…
Oh ya, we also launched our podcast this year. Our most popular episode featured our friend Ally Auriemma who joined us to discuss the state of women's basketball, her father's friendship with Jim Boeheim, and soccer. There was a lot of soccer talk. Blatant plug: you can subscribe to the podcast on iTunes (explicit language, obviously).
Russ did a valiant job in his first season as our lead football writer. While more posts appear further down this list, his poetic retelling of UConn's collapse against Army at Yankee Stadium is a good glimpse into the mind of a sick and twisted individual. We're happy to have him.
- Advertisement -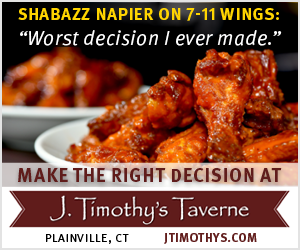 The most popular game recap of the season, this game will be remembered for Kevin Ollie going berserk on referee Mike Stuart en route to an ejection. This article is more fun to read knowing that UConn won a ring three and a half months later.
No longer a full-time journalist, sometimes Meghan just can't help herself. She broke the story of UConn Hockey's (since confirmed) future home at the site of the Mansfield Apartments.
The gist: UConn basketball was trending in a dangerous direction and Shabazz pulled them back from the brink. This article was written just days after the title game, but still rings true now that the dust has settled.
If the quotes from this article look familiar, it's because national media outlets ran them two months after we published the piece…
It was a simpler time…before the UConn football season began. With many unsold tickets, Russ penned this article encouraging fans to come out. He is not offering refunds.
After Geno launched into an impromptu comedy roast at the expense of Jim Boeheim, Meghan explored the depths of his trollery and its impact on his team.
We love bracket games at A Dime Back. Our latest was the creation of Peter, who spent the better part of a decade (not a joke) compiling the rosters for the 68 greatest college programs. The most popular post was Peter's intro. If you missed it, click the bracket or a matchup to see the results.
Russ was working on a piece about Casey Cochran being named the starting quarterback when something else caught his attention. Cochran's beautiful mullet not only proved the high point of UConn's season, but also for A Dime Back — aided by Deadspin and later Yahoo picking up on our post.
***
Cheers to you, and to another great year.