UConn's roster is changing so rapidly this offseason that we're having a hard time keeping up. To wit, we have four roster updates for you right now.
The most important news is that star guard Jalen Adams will be returning to UConn for his junior season. Although he could have declared for the NBA Draft, tested the waters, and still chosen to return, Adams is forgoing that option and immediately declaring his intention to remain a Husky for another year. Adams will be leaned on heavily next season, and the team's success will rest largely on his shoulders.
Also in the good news column, guard Christian Vital is returning after a productive season — a rare pleasant surprise. Rumors abounded that Vital might transfer as competition increased for minutes in the back court. Fortunately for Vital, if unfortunately for UConn, some of those minutes opened up when…
UConn's best 2017-18 recruit Makai Ashton-Langford asked for his release. Ashton-Langford is the 32nd ranked player in the nation according to 247, and figured to be the third guard behind Adams and Alterique Gilbert. Apparently Ashton-Langford was sensing the same minutes crunch as Vital and chose to take a chance elsewhere.
On Monday afternoon, forward Juwan Durham also announced his intention to transfer. Durham joins Vance Jackson and Steve Enoch in fleeing Storrs for a new school. Durham was a star recruit in high school before losing his senior season to a knee injury. He never seemed fully back to form at UConn, playing only 8.3 minutes per game despite a comically thin roster, and contributing only 1.6 points and 1.5 rebounds.
- Advertisement -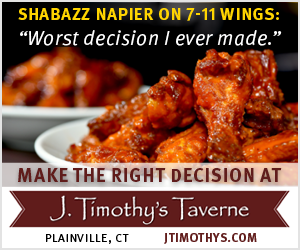 Durham's decision is somewhat puzzling for two reasons. One, like Enoch, Durham figured to be in prime position to earn minutes next season. Hell, he might've been the starting center. And second, after missing his senior year, discussing a redshirt at UConn, and then barely seeing game action, Durham can't be eager to spend another entire season glued to the bench. He either really wanted out of UConn, or there's more to the story.
All of this roster movement is chaotic, but not necessarily catastrophic. Clearly last year's Huskies had problems extending far deeper than their injuries and on-court ineptitude. Think of this offseason as a course correction. To get the most out of it, Kevin Ollie needs to fill in the roster with guys that can contribute right away, and who are going to be committed to the program. What that means for next year's roster, we'll see.
In the meantime, update your roster sheets accordingly and hold on tight. This ride's not over yet.