The 2017-18 UConn basketball roster will refer to Kwintin Williams as a 6-7 JuCo forward from Anchorage, Alaska, but it's going to take some convincing to get me to believe that he is any of the following:
A) Bound by such constraints as the human understanding of height
B) Has ever played basketball in a gym where physics applies
C) Is from Earth at all
Scout's Evan Daniels reports that Williams committed to UConn on Sunday, giving the Huskies 12 scholarship players for next season.
The evidence that Williams might not be an actual human:
- Advertisement -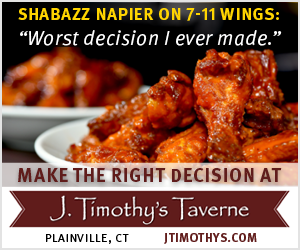 And that's just his Instagram.
Daniels reports that Williams will have two years of eligibility remaining, but UConn can apply for a waiver for a third year. Williams committed to UConn after previously being an Oregon commit and Arizona target. He spent 2015-16 at Pima Junior College in Arizona, where he averaged better than 18 points and eight rebounds per game. He then transferred to Arizona Western College, where he did not play last year in order to focus on getting his academics in order.
Even if Williams does solidify a role somewhere high on the depth chart, he presents a challenge for coach Kevin Ollie and his staff. Assuming Terry Larrier is healthy, you can slate him into a starting spot. UConn doesn't have a natural center on the roster, but Mamadou Diarra or Eric Cobb will probably fill that role. I'd imagine Williams would then be the first big off the bench. After that, you have to slide (in some order) David Onuorah, Isaiah Whaley, Josh Carlton, and Tyler Polley all down a spot as well.
That makes eight players on a roster of 12, all listed between 6'7 and 6'9, who will fill two spots on the court at a given time (though Larrier could also play with two bigs if the guards need rest).
Juggling minutes will be a struggle and practices figure to be a battle. But that's a fair tradeoff if it means we get to see this on a nightly basis:
That's innovation right there… #MyMoment @JUMPMANEBIG pic.twitter.com/6Qbv2TdCqf

— Champs Sports (@champssports) June 21, 2017
Or this:
6-foot-7 sophomore juco forward Kwintin Williams shows off his NBA athleticism here @ Ryan Silvers Unsigned Senior/JUCO Event in Vegas. pic.twitter.com/nc2ZeRuzU8

— Anthony Ray (@ArizonaPreps) April 30, 2017
Or some soccer, I guess?
If Williams' role is crazy dunks and exceptional leaping ability, that would pair nicely with the Jalen Adams-Alterique Gilbert point guard experience and Christian Vital's upcoming record-setting season:
Up Thinking About The Record For Made 3's In A Season At UConn

— Christian CV Vital (@I_AMCV) July 9, 2017
Of course by "pair nicely" I mean it's another really good thing on a team that already has some other good things but probably needs more good things to be taken seriously.
Anyway, I can't wait to see him play. Here's another dunk: