With Steve Enoch and Vance Jackson leaving, and lingering rumors more transfers could be forthcoming, UConn suddenly has a ton of minutes available in its front court. If healthy, returning forwards Terry Larrier and Mamadou Diarra should take up a sizable chunk of them. Incoming three-star freshmen Tyler Polley and Josh Carlton, as well as JuCo transfer Eric Cobb (who spent his freshman year at South Carolina), will also have an opportunity to impress the coaching staff.
With former Washington assistant coach Raphael Chillious coming on board to be Kevin Ollie's new second-in-command, new recruiting options could present themselves in the coming weeks as well.
Today, however, let's take a preliminary look at some possible upperclassman additions, graduate transfers that are eligible to play immediately. Ollie has been known to prefer this option. RJ Evans, Lasan Kromah, Sterling Gibbs and Shonn Miller have all played roles on recent teams, the latter two sliding immediately into the starting lineup.
There are few bigs currently on the transfer market capable of having that level of immediate impact (more may emerge in the coming weeks), but there are several intriguing options.
Sean Obi, Duke
6'9", 270 lbs
- Advertisement -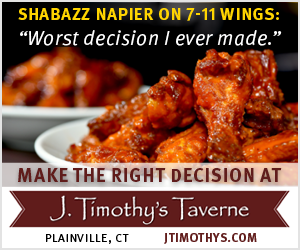 Obi's had a long journey. From his home in Nigeria to a prep school stay in Connecticut (close to his Greenwich host family), one year at Rice and a season at Duke. With his degree in hand, he is now immediately eligible. Obi couldn't find the court at Duke — he attempted only two shots in ten games. To find his true potential, you need to look further back, to Obi's freshman year at Rice. He recorded 19 double-doubles, averaging 11.4 points and 9.3 rebounds in 26.4 minutes.
Christian Sengfelder, Fordham
6'7", 238 lbs
UConn's lack of success in recent years can be directly tied to a troubling lack of Germans on the roster, and Sengfelder fills that need. The Leverkusen native, averaged 12.1 points and 5.1 rebounds for Fordham last season, offering up decent three-point shooting for his size. He put up 17 and 13 in a big road win at Rhode Island in February.
Kameron Rooks, California
7'0", 261 lbs
Rooks wasn't a key player for Cal, averaging only 4.9 points and 4.5 rebounds in 17 minutes but he is a giant human and UConn needs size. Rooks is the son of former NBA player — and Arizona alum — the late Sean Rooks.
Kerem Kanter, Green Bay
6'9", 245 lbs
Kerem is the brother of NBA center Enes Kanter. He averaged 11.3 points and 6.3 rebounds in 31 games at Green Bay last season, earning the starting job in mid-December. His 16.7 Total Rebound Percentage was the highest in the Horizon League.
Khris Lane, Longwood
6'6", 215 lbs
Lane doesn't have the size to exactly fill UConn's needs, but he has shown an aptitude for playing bigger than his wiry frame. He led the Big South Conference in two-point field goal percentage (60.1 percent) and was fourth in rebounds-per-game (7.3). Longwood was legitimately one of the worst teams in the country this year, so Lane is accustomed to playing against teams on the level of Tulane.
Jack Whitman, William & Mary
6'9", 235 lbs
Whitman averaged 10.1 points and 5.4 rebounds this past season. His productivity was somewhat limited by foul trouble — 5.1 fouls-per-40, down from 8.1 the year prior! — but was productive when on the court. It's questionable if that production could survive a move to a better conference, but at worst Whitman could be a depth piece.