2013 was a great year at A Dime Back. When this site launched in March of 2012, double-digit readership would have been deemed a major victory. However, throughout the last year, tens of thousands of you have stopped by to read, comment and share in our deep appreciation of UConn sports.
Love for the Huskies runs deep. Readers have checked into A Dime Back from 49 states (what the hell, Wyoming?) and 72 countries (big ups to our Latvian readers). That reach is a testament to three national championships, two phenomenal coaches and an unmatched roster of players that has built the basketball program from a small hoops team at an agricultural college into an internationally known brand in the sports community. An insatiable appetite for insight and coverage permeates from ravenous Husky fans across the globe.
On behalf of Meghan, Peter and myself, thank you for making us a small part of that tradition.
- Advertisement -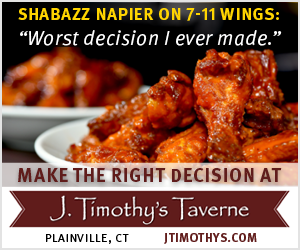 With that out of the way, we thought it'd be fun to fish for page views by listing the ten posts on A Dime Back that you read the most this year. In reverse order, of course.
10. Fairness, Equality and Improvement for College Basketball
This piece was the culmination of many back-and-forth emails between us three writers as we tried to decide what measures could be taken to improve the health of college basketball. The piece was well received but a larger conversation about reform is still necessary.
9. Napier and Boatright Embracing Teaching Roles
Arguably, no position holds as much prestige in UConn history as the point guard. From Tate George to Kemba Walker, the Huskies have churned out fan-favorites and team leaders. This piece explored how Shabazz Napier and Ryan Boatright have been inserting themselves into that lineage.
8. So Good, They're Booooooooring
Following yet another blowout victory by the UConn Women, Peter mused about how they are just too good. It was one of few articles about the Women's team — something we hope to expand upon in the coming year.
7. Exclusive: An Interview With Enosch Wolf
Last July, center Enosch Wolf announced he would not be returning to UConn for his senior season. Following an on-campus arrest and subsequent suspension, Wolf was stripped of his scholarship. In this exclusive interview, Wolf explained his choice to play in Germany and shared what he learned following his arrest.
6. UConn's Sad Criminal History
Speaking of arrests, following Tyler Olander's second arrest in a year, we listed all of the troubles with the law that UConn players have encountered over the years. They vary from the silly to the scary and speak to a long-standing problem that the administration is trying to correct.
5. DeAndre Daniels's Missing Credit
During the offseason, we scoured the national basketball websites trying to gauge DeAndre Daniels's stock. He had just finished a near-dominant run to close UConn's season and seemed ready to emerge as a legitimate NBA prospect. National writers and draft "experts" seemed to think differently.
4. UConn's 8% Graduation Rate Means Nothing
What fun would a year be without a firestorm or two. This piece was used as ammunition for both sides of the argument surrounding the role of academics in college sports. Our stance was that, in the new, monetized world of college sports, it was unfair to deride kids for not graduating when they're going on to make a ton of money — a lesson they've undoubtedly learned through the actions of their athletic departments, universities and the NCAA. It's an argument we stand by.
3. In Search of a New Home For UConn Basketball
The was a hot topic of conversation earlier this month. Without spoiling the piece too much, our position was that UConn should find a way to house enough fans in an on-campus arena.
2. The Colossal Mistake That is Paul Pasqualoni
Color us prescient. This piece was penned after the UConn Football team's humiliating loss at home to Towson. While we certainly pulled no punches at our displeasure with Pasqualoni, the purpose of this article was to show how his hiring had damaged UConn sports as whole. Pasqualoni was fired several weeks after this piece ran.
1. The Ultimate UConn Challenge
What started as a fun idea to kill time in March turned into the most popular post of the year for A Dime Back. The announcement of the Challenge, was the most viewed post of 2013. The Final Four matchup between Kemba Walker and Donyell Marshall was the most viewed individual contest. You can still access all of the results, a completed bracket, or an empty bracket in the main menu bar at anytime.
***
As always, thank you for reading. Cheers to a great year.