It's been ten days since Juwan Durham announced his transfer from UConn, effectively ending the exodus from the roster that has left the Huskies with five open scholarships. We've written about who we'd like coach Kevin Ollie to target for those openings. Today we'll look at where UConn stands with several notable (and unnotable) potential additions.
First things first, former Washington commit Blake Harris is off to Missouri. UConn was linked to Harris pretty heavily following the hire of new associate head coach Raphael Chillious. Karem Kanter, who UConn reached out to and we mentioned as an immediately eligible big man option in this piece, has chosen Xavier. And recent UConn decommit Makai Ashton-Langford picked Providence this week.
So who's left on the board?
Tremont Waters
Tremont Waters mentioned Creighton, Kansas and UConn have reached out. Also still considering Georgetown, recently met with Patrick Ewing.

— Jeff Borzello (@jeffborzello) April 12, 2017
- Advertisement -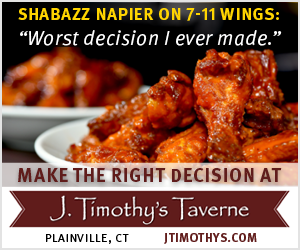 Waters is the best realistic option for UConn (sorry Mo Bamba fans), and even that might not be too realistic. The good news is that Duke is apparently not poking around the New Haven native. The bad news is that plenty of teams still are including Kansas, Syracuse and Georgetown. The UConn pitch to Waters is playing close to home, in a guard-centric offense, with the chance to play big minutes — especially in 2018-19 with Jalen Adams presumably gone. Waters is the type of guard that typically excels at UConn. He's supremely talented but undersized. UConn is clinging to its reputation as a place that puts players like that in the NBA (though, yikes), which can't hurt as a conversation topic with Waters.
Cam Johnson, Pitt
Others with offers on the table include:
Oklahoma
UConn
Butler
Penn State
Illinois
Oklahoma State
Rutgers
Creighton https://t.co/Karw1Cx8Zs

— Corey Evans (@coreyevans_10) April 7, 2017
Johnson good. A 6'7″ wing who can bury threes, has experience playing big time opponents and is such a stud academically that he's the rare grad transfer with two remaining years of eligibility? Sign me up. As you can see above, however, there's no shortage of suitors for a player of Johnson's quality. The Huskies' offer of a guaranteed starting job and a trip to scenic Wichita likely won't be enough to leapfrog the others on that list.
Mamoudou Diarra
Official visits at @UConnMBB today I am really looking for it 🐺🐺🐺!!!

— I AM MAMOUDOU #MD (@mamoudou_d11) April 6, 2017
Moo! As we discussed in our latest podcast, this needs to happen for the entertainment factor alone. Fortunately, momentum seems to be on UConn's side here. Mamo. Diarra is a 6'9″ forward, ranked 206th nationally in 247's composite. It wouldn't shock me to see Ollie and Chillious try to get Moo in the boat as soon as possible to build some momentum in the right direction as they seek to further the sales pitch to other targets.
Kenny Wooten
Wooten has heard from Oregon, Marquette, USC, Arizona, Washington & UConn since reopening, he tells me. https://t.co/Gdgs2X4AMV

— Julius Kim (@JKimElevate) April 11, 2017
Hey now. Wooten is a four-star forward who committed to Arizona State over Kansas last December. He recently put himself back on the market and will have no shortage of suitors. UConn offered him a scholarship last November but appeared to not get much consideration at the time. Wooten is 6'8″, athletic and has some legitimate post game. He's ranked 122nd in the 2017 class (247 comp).
Antwoine Anderson, Fordham
Fordham grad transfer Antoine Anderson has cut his list to UConn, Seton Hall, Iona, and Buffalo, per a source. Immediately eligible. #shbb

— Jon Rothstein (@JonRothstein) April 12, 2017
Anderson scored 11 points per game for Fordham last season and is immediately eligible. He's a 6'1″ guard who can't really shoot threes (34.4%), isn't super efficient (50.3 TS%) and didn't get to the line last year (.225 FTr — though he was much better his first two seasons). At this point, UConn needs warm bodies, so fine. But Anderson looks a lot better as the fifth guard on the roster than the fourth. Meanwhile, the better player from Fordham, Christian Sengfelder, is still on the board as well [Update: so much for that].
Darien Williams, St. John's
St. John's grad transfer Darien Williams tells me he plans to visit UConn this weekend. Recently visited Washington State. #SJUBB

— Jon Rothstein (@JonRothstein) April 12, 2017
Any time you can add a 3.8 point-per-game scorer from a 14-19 St. John's team, you've gotta do it. Williams has size (6'8″, 230 lbs) but didn't do much with his minutes. In other words, we've found a perfect Steve Enoch replacement. UConn fans that are clamoring for Sean Obi should probably start talking themselves into Williams right now.
Eric Ayala
Told Putnam Science guard Eric Ayala still 50/50 on returning for another season or prep schoo #UConn

— William Paxton (@wspaxton) April 10, 2017
Ayala is a quality wing at Putnam Science Academy. As Paxton alludes to above, Ayala is a candidate to reclassify from the class of 2018 to 2017. UConn has been in on Ayala for a long time (pictured here). He'd be a nice fit on this year's roster and might be into the idea of getting minutes right away instead of spending another year at UConn's Feeder School That Doesn't Actually Send Players To UConn PSA (though maybe he loves asbestos?). Ayala is a four-star recruit currently ranked 102nd in the 2018 class.