Maybe it was fortunate that only 3,808 were in attendance last Wednesday to watch UConn limp to an overtime victory over the 1-4 Columbia Lions. Let those 6,359 empty seats in Gampel Pavilion absorb the sights and sounds of mediocrity. The same could be said of Saturday's contest with Monmouth in front of only 6,582 XL Center attendees.
The play on the court wasn't particularly inspiring, but it's the number in the attendance column that has recently generated a stir across UConn Nation. Attendance at UConn games has been declining at a fairly steady pace for a decade. There were post-championship bumps in 2012 and 2015 but the effects were temporary. Since joining the AAC in 2014, UConn has left over 20 percent of its tickets unsold.
At the same time that UConn experienced a seismic change in its conference schedule, the program's on-court product reached its nadir. Even in the objectively bad AAC, UConn has underperformed its preseason rank each year. In 2017, the team lost more games than it won for the first time in 30 seasons. So it's not much of a surprise that fans didn't travel to Storrs on a Wednesday to watch the Huskies (fresh off a 35-point loss to Arkansas) play a wholly uninteresting Columbia team.
To put it bluntly, in the last few years, UConn fans have seen their team play worse basketball against worse competition. In his five-and-change years as UConn's head coach, Kevin Ollie's teams have scored an average of 69.5 points-per-game. Only three UConn teams scored so few points in the Jim Calhoun era, his first team in 1987, his last in 2012 and the 1997 squad.

WHY THIS IS A BIG PROBLEM
Money
- Advertisement -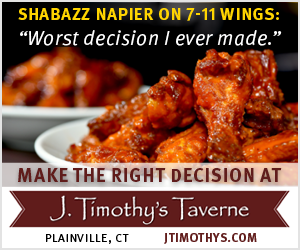 All of this is happening at the worst possible time for the UConn athletic department. The AAC television contract is an abomination, leaving UConn at a huge financial disadvantage  to similar schools in the Power 5. The Huskies' football program has experienced a rapid decline, earning poor attendance numbers of its own and little statewide attention — minus the high drama/comedy of Bob Diaco's firing last winter and Randy Edsall's resulting return. And a persistent state budget calamity has put UConn's state funding on the chopping block year after year.
All of these things make ticket revenue so critical. And, theoretically, it is one of the few financial levers that UConn can pull on its own. They have the power to set ticket prices as high or as low as they need to maximize profit, hoping to offset the declines from other sources.
UConn's strategy seems to be to set really high ticket prices and hope that everyone who came out to support Husky basketball in the 1990s and 2000s is willing to pay a similar cost to watch a significantly inferior product today. We don't really know if it's working or not. The raw attendance numbers are ugly, but maybe UConn has decided it's better to sell one $30 ticket than two $12 tickets — a price more in line with bad games on good team's schedules.
The secondary ticket market is also consistently undermining UConn, offering tickets for a fraction of face value knowing there is virtually no chance of the game selling out.
Meanwhile, as students and taxpayers pick up an increasing share of the tab for UConn athletics, are they getting a return on their investment? A $250 million renovation of Hartford's XL Center is being debated by state lawmakers. Does that make sense when UConn men's basketball — the arena's key attraction — is selling only 57 percent of available XL Center tickets in the last two years? The Huskies' problems drawing fans to games are only adding to the narrative that the program isn't worth spending money on.
Fan Retention
The recent conversation about the attendance issue has consisted mostly of UConn diehards yelling at each other, debating the proper response to another disheartening Husky performance, and what each fan owes in terms of support for the program. This ignores the real problem, which isn't that some fans are upset, but that many former fans long ago stopped caring.
Each empty seat at a game represents one fan who existed in 2006 that no longer exists today. As attendance has eroded, so too has the overall interest in UConn basketball.
The Huskies built their rabid fanbase by luring them into Gampel Pavilion, or the Civic Center, or the Fieldhouse and then impressing them enough to come back. As more and more did, tickets became harder to secure, attendance steadily rose, etc.
The empty seats are embarrassing — and monetarily problematic — but they also represent missed opportunities to rebuild the community support that once made UConn the true team of Connecticut.
Recruiting
The New London Day's Mike DiMauro hit this point in his spot-on piece this week:
"What if, for the sake of discussion, a potential prized recruit happened to be at Wednesday's game?
He might have wondered: Why would I ever want to play here? Maybe some other school I'm considering has a home gym with some juice?"
UConn needs every advantage it can get on the recruiting front. We've seen them miss on the top-of-the-line talent to schools like Kentucky, Duke and Texas. But more recently, the Huskies are losing recruiting battles to regional rivals like Providence and Rutgers. A raucous, inspiring home court is a great selling point. The banners hanging from the rafters; the sparkling new practice facilities; the not-too-distant past of All-Americans and national championships are all worth slightly less in a half-empty arena.
Home Court Advantage
More than affecting recruits in the stands, the lackluster attendance is affecting the teams on the court. KenPom's home court advantage data places UConn 113th this season — so about average. Any frequent college basketball viewer knows that a crazed home crowd can impact a game. It can manipulate refs into calling fouls; it can pressure opposing coaches into taking timeouts; and it can (to some extent) lift its own players and torment the opponents.
UConn doesn't have that right now. There were thousands more Husky fans at Madison Square Garden on Wednesday to see UConn play Syracuse than there will be on Saturday when the Huskies host Coppin State. The Villanova game in late January will do big numbers (ah, the value of nostalgia), but increasingly, UConn fans are proving unwilling to watch conference games. Last season the Huskies sold about two-thirds of available seats for home games against AAC opponents.
Any way you look at it, UConn's attendance problems are having a pervasive negative impact. It's damaging in both the short term and the long term. Some of the symptoms are out of UConn's control, but here's the thing…
UCONN IS MAKING THINGS WORSE
Ticket Pricing
UConn's pricing of tickets is damaging the program. Surely some very well meaning higher-ups have crunched the numbers and determined that the university can make more money per game by skyrocketing ticket prices while sacrificing the overall sales numbers.
At this point, with the exception of the Villanova game and maybe the Wichita State game, there is no reason to buy tickets from UConn. The prices are so out of touch with the value that fans will always find cheaper options in secondary markets. Die-hards that spring to action and pay face value months before a game — and especially season ticket holders — are mocked as the date of the game approaches and UConn begins the rote process of flooding inboxes with steep discounts trying to unload its unsold inventory. On Cyber Monday, UConn offered tickets to the Wichita State game for $13. The lowest priced ticket to the Coppin State game at the time of this writing was $30.
This strategy (even if it brings in more profit on a game-to-game basis) is contributing to the growing negative relationship between UConn and its fans. The universe of people willing to absorb the face value ticket expense multiple times per season is likely somewhere around the average attendance number. For the casual fan, UConn isn't offering a product worth the cost of admission, and while that fan may be willing to pay $30 once to see the Huskies tread water against Stony Brook in an unsatisfying win, they likely won't get fooled again into coming back this season.
ASSOCIATED EXPENSES & HASSLES
There's a certain level of inconvenience that most of us accept as part of the event-attending experience. Parking, security, overpriced concessions, horror movie restrooms. All of those added expenses and annoyances exist at UConn games just like they do anywhere else, and they become part of the consumer's cost-benefit analysis.
Going to the Columbia game, for example, could include your $30 ticket, plus the extra $5 ticket fee (emailing a PDF is an expensive task), a slow slog up Route 44 or down Route 195, $10 for parking, a walk in the cold to the doors, handsy security, a $5 hot dog (no beer at Gampel, also bad) and a first half where UConn got outscored by 11. Or you could just stay home and watch on TV (if you have the right cable subscriptions).
Most of you reading this site are committed enough to endure all of the above (much like you endure reading this site), but many of your friends and neighbors are not.
Most of the ancillary aspects of attending a game are out of UConn's hands. But something like parking is an improvable area that the university choses to ignore. There's a captive audience element to this as well. If a ticket-holder is coming to campus for the game, they don't really have a choice but to pay the fee to park. But they do have the choice to not come back.
POOR MARKETING
Set aside Kevin Ollie's ability as a coach for a moment. He has never been very interested in being the gregarious spokesperson for UConn basketball. Maybe that shouldn't be his job but, at this point in time, it is. Ollie has been a steady off-the-court leader for the players in his program, but he needs to be the public relations face of UConn as well. In modern college basketball, the coaches are the biggest stars — the lead role in the sports drama. However painful, Ollie needs to step up and fill the role, and UConn's support staff needs to, well, support him.
More broadly, UConn should be on a constant mission to sell its players as individuals and market its best student-athletes as stars. That means more than allowing the press closer to the program, the university should be proactive in mining the players for interesting details to feed to reports or to push on social media.
To get very specific on this topic for a moment, UConn should hire Chris Grosse, a Husky himself (Class of 2005) and current Assistant AD for Marketing at Georgetown. Grosse is doing the exact kind of creative and fun promotions that a stalled program like UConn needs.
He also has experience trolling Syracuse and is willing to use children as props, both good traits.
ENTITLEMENT
UConn's general behavior suggests it fails to recognize that the ground has shifted under its feet. The attitude that courses through segments of the fanbase, some in the media, and in the athletic department is that UConn is owed your money and your attention because it's gotten both from you (or people like you) in the past.
Just like any other brand, UConn is not owed loyalty from its customers. Try applying the standard UConn-defense rationale to any other product. "Sure the quality of our food is much worse now, but you used to love it 15 years ago and you owe it to us to dine at this restaurant. The prices are the same even though not many people eat here anymore. Also we play Tulsa twice a year." That last part doesn't quite fit the analogy but you get the gist.
THE TAKEAWAY
The most immediate problem for UConn is its play on the court. If the team struggles through the next part of the schedule — including three opponents in the KenPom top 50 — the attendance nosedive will continue into conference play. It will also continue the crescendoing national narrative that UConn is program in steep decline. The best way to change that storyline is to start winning games and to make the NCAA Tournament.
The other big picture issues are up to the athletic department to fix. It's time to bring ticket prices more in line with reality. It's time to build some goodwill with the increasingly hostile fanbase. It's time to market the roster like it's 2017 and not 1993. It's past time for UConn to get its house in order. And if they don't make these changes fast, it may end up being too late.