Conference realignment has once again reared its ugly head, and while schools like Cincinnati and Memphis have taken no pains to hide how thirsty they are for that Power Five lovin', UConn has been eerily quiet on the subject.
As we discussed earlier, there is no chance that UConn isn't trying to get into a P5 conference. The university has taken out advertisements in Big 12 country and seeped into New York with its UConn 6th Borough campaign. Those efforts are about elevating UConn's brand. They're about telling people within the Big 12 footprint what UConn is about and, more importantly, what UConn can deliver. That includes TV sets in New York City, the nation's top media market, which is especially significant given that the Big 12 likely has its eye on a conference network.
So given all this, why aren't we hearing about UConn's efforts to get into a P5?
Earlier this year, the Hartford Courant submitted a Freedom of Information request to the university asking for documents related to its efforts to get the school into a power conference. The school said no such documents existed.
We here at ADB were puzzled by this, and decided to submit our own, more-targeted request. On Feb. 18, we asked the university for all communications between UConn officials and Mike Tranghese, the former commissioner of the Big East conference and owner of MT Consulting, the company UConn hired in 2015 to help navigate the realignment landscape.
- Advertisement -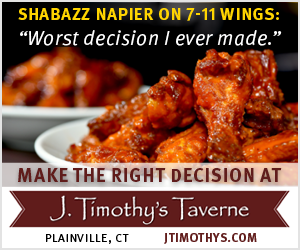 In our request, we sought "all emails, records, recordings, text messages, letters or other correspondence between Michael Tranghese, Anthony Scorpio, or any other employee or representative of MT Consulting, LLC. and Susan Herbst, Warde Manuel, Rachel Rubin, Michael Kirk, Doug Gnodtke or any other State of Connecticut employee, including any correspondence that may have taken place on personal devices regarding state business." We also asked for the university's contract with MT Consulting. In short, we asked for anything that might have been recorded in any way, written or auditory, between Tranghese and UConn.
The names you may not recognize are either members of MT Consulting, UConn's administration or its athletic department.
According to the Scope of Services portion of his contract, MT Consulting was hired to "advise UConn and UConn's President on strategies to enhance the strength and visibility of UConn's Division of Athletics. Such services may, to the extent requested by UConn's President, include advising UConn's President and others regarding: strategic planning, participation of UConn and other American Athletic Conference members in NCAA-sanctioned athletic events, athletic programing, regional and national marketing, television and radio broadcast partnerships and other regional and national media positioning, and contract negotiation."
Further, the contract, which was effective as of June 1, 2015, requires that "the parties will hold regular status meetings by phone or in person."
Here is a full chronology of that FOI request:
The initial request was sent Feb. 18, so you can imagine we've had quite the wait.
At first, UConn responded quickly, asking for a date range to fit our request. We asked for documents dating back to 2015.
Then we waited.
A March 2 request for an update and a timeframe for the release of documents prompted a response saying they were "processing our request." No time frame was given.
An email sent on April 22 received an out of office reply, and no response had been received by May 3, when we sent another email requesting the documents or a time frame for the release of the documents. We also added that if we did not receive a satisfactory response by the end of business on May 4, we would file a complaint with the state's FOI commission.
Miraculously, we received the response to our FOI request the next day.
What did we get? Well, as you can see from the above, we got the contract with MT Consulting. And that was it.
Here's what we were told: "After an extensive search, I must report to you that there are no records available in response to this part of your request."
You read that right. There are no documents. No emails, no text messages, no reports submitted to the school that would fall under the Freedom of Information Act.
Now, there are two ways we can take this.
One is that the response isn't true, and there are, in fact, documents that the university isn't turning over.
Two, and the one I'm inclined to think is more likely (given that it's illegal to not turn over public records for an FOI request), is that this is part of a concerted effort on the university's part to keep all efforts to get into a P5 out of the public eye.
Look, we all know that UConn ended up with egg on its face after it was passed over by the ACC in favor of Louisville. Jeff Hathaway was about as good at working realignment as he was at picking a football coach. And while this whole Big 12 thing is going on, what happens if (Jonathan forbid) the Big 12 does expand and UConn doesn't get picked? Does UConn want to look like Cincy or Memphis? It's embarrassing, frankly, and it would hurt UConn's chances of getting into a P5 later if it looks like the girl no one wanted to take to prom.
We know that UConn is intentionally keeping its moves on the down low, because otherwise, we'd see the handwritten note or the goofy brochure in the media. No one in Storrs thinks UConn can keep up with the Joneses without getting into a P5. The Big 12 is its best chance at the moment.
The fact that this FOI came up empty, when we know that Tranghese was advising Herbst, speaks to a concerted effort to remain circumspect. It seems they are intentionally working off the books, if you will. I could go into great detail about how it would be possible to funnel communication through the UConn Foundation (which is not FOIable), but I don't want to go too far down the rabbit hole here. Hopefully, it's a case of "you won't know anything until something actually happens."
If you'd like to expand UConn's silence into a full-blown conspiracy, we know that Herbst was not at the White House with the UConn women's basketball team yesterday (as she has been before) and she also missed UConn's STEM day (another event we would have expected to see her attend). Because conference realignment has turned us into insane people, we managed to track down a private flight that left Bradley Airport Tuesday and landed at Addison Airport, a tiny airport serving cargo and charter flights just north of Dallas, roughly 12 miles from Big 12 headquarters. That same flight returned last night.
You may be aware that commercial fights run directly between Dallas-Fort Worth Airport and Bradley daily. So, while we aren't saying that Herbst flew to Addison, Texas to meet with the Big 12, we are saying if you were UConn's university president trying to meet with the Big 12 without people knowing you were going to Texas to meet with the Big 12, this would be the way you would do it.
What this all boils down to is that while you see the desperation of schools like Cincinnati or Memphis displayed in full view of the public, UConn has apparently chosen the opposite tack. There's nothing UConn can say in public that the Big 12 (or any other P5, for that matter) doesn't already know. They're doing their homework.
While I'm sure conversations are happening behind closed doors, prudence seems to be winning out in Storrs these days, and that's probably good for everything except our mental health.