A bevy of former UConn greats returned to Connecticut on Friday night to take place in Jim Calhoun's biannual charity all-star game at Mohegan Sun. Stars such as Ray Allen, Kemba Walker and Rip Hamilton were in attendance. And for the first time, players from UConn's dominant women's teams joined in on the fun, headlined by Svetlana Abrosimova and Nykesha Sales.
As you might expect of an exhibition game, it featured a lot of highlight play attempts and very little defense. At the end however, with the game close, the players just couldn't help themselves.
The heroes of the last 25 years of UConn basketball all wanted to win.
Jeremy Lamb and Allen traded big buckets late. Andre Drummond secured offensive rebounds. Shabazz Napier and Ryan Boatright hit big shots. As the clock wound down in a one-possession game, Rudy Johnson grabbed Khalid El-Amin on the bench, yelling "it's showtime!" as he pushed the clutch guard towards the scorer's table.
The game went into overtime… and then another.
- Advertisement -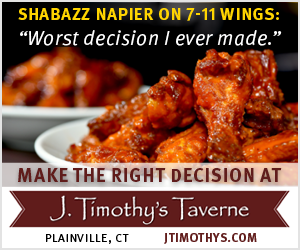 In a merciful twist, the final overtime was transformed into the sudden-death variety, and ended on its first possession with a Taliek Brown floater.
Over 7,000 fans were thankful for the show. Calhoun was happy about a different result. Proceeds from the game benefit the Calhoun's work at the UConn Health Center.