It's March, so we're all hearing the familiar refrains associated with the NCAA basketball tournaments: Cinderellas and upsets, where the mecca of college basketball is, and, of course, that women's basketball is boring because the UConn women are too good.
King of the Troglodytes Dan Shaughnessy climbed out from under whatever rock he calls home to pontificate on the internet about the UConn women's basketball team. Brace yourselves, sports fans.
UConn Women beat Miss St. 98-38 in NCAA tourney. Hate to punish them for being great, but they are killing women's game. Watch? No thanks

— Dan Shaughnessy (@Dan_Shaughnessy) March 26, 2016
- Advertisement -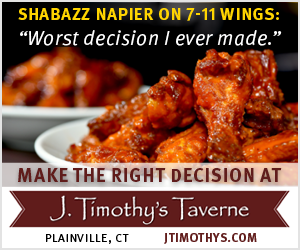 Leaving aside the fact that Shaughnessy hasn't had a valuable insight since some time in the mid-90s, this is a man who chooses to write about how he doesn't like the women's game and doesn't watch it.
So, of course, that makes him qualified to comment on it.
It seems like we hear this nonsense every year. These charmers who have literally never seen a women's game feel the need to get on the internet and talk about how boring the sport is and how bad UConn is for the women's game.
It's a fucking stupid opinion, and the people who say it are idiots.
The common response to this from people who actually understand sports is to point to the Wooden UCLA teams of the 1960s and 70s, which beat the ever loving shit out of everyone. They won 10 national championships in 12 years.
Geno's had Breanna Stewart and Diana Taurasi. Wooden had Kareem Abdul-Jabbar (formerly Lew Alcindor) and Bill Walton. And no one's saying that team ruined men's basketball.
What actually happened? Other teams got better. They figured out how to beat UCLA. The game changed and improved. And that's what needs to happen now. Other teams need to get on UConn's level. It's not that the UConn women are too good. That's an asinine statement. Was Tiger Woods too good? Serena Williams? Michael Phelps? Is Golden State? The USWNT? No. Of course not. Winning is what you train for. Greatness is what you aspire to. And when it's achieved, the proper response isn't to try and tear it down; the proper response is to appreciate it. To watch and marvel and enjoy it.
And if any coach wants to see how it's done, they are welcome to visit Storrs and watch a summer practice. Geno wants other teams to get better, too, if only so he can stop answering tired ass questions about whether his team is too good or not. He'll let you into his gym. He'll tell you all about what he does. Just ask.
People who don't know anything about women's basketball like to say that UConn gets all the best players. That is patently false. They haven't had the top recruiting class since the year that included Breanna Stewart. Next year they've got one top 100 player coming in. A'ja Wilson, who was the top high school player in  2014, went to South Carolina, which just lost its Sweet Sixteen game to Syracuse. Baylor and Notre Dame get plenty of talent, too.
People like to trot out how many titles the women have won as proof that they're bad for the game. But I'll ask you to turn your attention to the second and third titles Diana Taurasi won. Those were not undefeated teams. They didn't win every game by 20, 30, 40 points. She was the only All-American on those rosters. They won, because Geno is a great coach and DT is maybe the greatest women's player of all time, but they had to fight for it.
This team is different. This team also features a player with a skill set we've never seen in women's basketball before – Breanna Stewart can do everything. But she doesn't have to because she has Moriah Jefferson, Morgan Tuck, Katie Lou Samuelson, Kia Nurse and Gabby Williams playing with her. This team plays the most beautiful basketball I've ever seen. It's flawless. It's as close to perfection as human beings are capable of.
I'm not a "fan" of ballet, but if I were to go to NYC to watch the NYC Ballet Company perform, I guarantee that I would enjoy myself. I would be entertained. I sure as hell wouldn't be bored watching some of the most talented dancers in the world performing a craft they have spent a lifetime perfecting.
If you can't watch incredibly gifted people, who are performing at the absolute height of their abilities without being entertained, then you are what's lacking. And probably your intellect, too. You are the problem.
The UConn women play basketball at as close to technical perfection as human beings can play it. Every pass is crisp, every shot is contested, every rebound and loose ball is battled for. Their ball movement is sublime. Their offense runs with a precision that would make Swiss watch makers jealous.
And then there's Breanna Stewart, who every game does something super human. Three shot blocks in one possession? Ain't no thing. If you told me she arrived on Earth in a spaceship from Krypton, I might believe you. If you can't watch a game just to see what amazing, mind-blowing thing she's going to do, then you're boring and intellectually lazy. This is a once-in-a-lifetime talent, playing for a once-in-a-lifetime coach, with once-in-a-lifetime honors at stake. This team is making history. If you think beauty and perfection are boring, then you are beyond my help.