As the Big 12 continued its summer series of self-sabotage last week at its conference meetings in Texas, UConn officials felt the negative impact of the league's gun-shy members at meetings of their own.
The Big 12 aired its dirty laundry in the form of contradictory quotes from university presidents and athletic directors, all in front of media members and on display for the general public. The end result was the resurrection of a conference championship game, but no decision on adding new members.
Meanwhile, in Florida, while in town for the American Athletic Conference's own annual meetings, UConn officials held a clandestine gathering at former Husky Ray Allen's Miami home, featuring key administrators and the university's top athletic donors.
According to a source, UConn President Susan Herbst, athletic director David Benedict and men's basketball coach Kevin Ollie were among those in attendance to discuss the future of the athletic department. Ollie later posted a picture of himself and Allen, appropriately under a UConn flag.
One of the discussion topics, naturally, was conference realignment.
- Advertisement -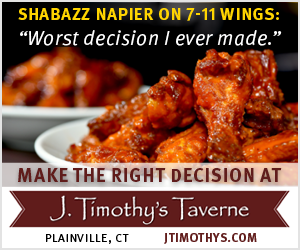 The Big 12 has been openly exploring adding anywhere between two and four members to its 10-team league and UConn has done its best to position itself as one of those selected.
However, UConn's perception, according to the source, is similar to what many seem to be thinking: It's just not going to happen right now.
Part of the problem, the source says, is that three out of the 10 current Big 12 schools are run by interim presidents; the league did not want to vote on such a decision until those schools named new leaders. Presumably, this is why the Big 12 has pushed its expansion debate to later in the summer.
While that leaves some room for hope, UConn officials are not optimistic that a Big 12 invite is coming, at least not in the immediate future.
Reports indicate that Texas and its in-state conference members have formed a roadblock in the way of expansion. Even with the Big 12 announcing it would not add a traditional television network, which presumably protects the Longhorn Network's immediate future, Texas is still wary of change. The Longhorns also have little motivation to salvage what some believe to be a dying conference, simply because they are powerful enough to find a new home elsewhere or even make a go of it as an independent.
No conference network means that even if Texas could be convinced to support expansion, UConn's TV market, its strongest card in the deck, is suddenly much less important.
While the Big 12 may still be UConn's best shot at a Power 5 invite in the near future, the university has also contacted officials within the ACC and Big Ten. The Huskies will not beg for an invitation, but they have been asking explicitly what they must do to best position themselves if an opportunity arises in the future.
Over the past decade, the winds of conference realignment have shifted on a moment's notice. As it stands, however, it appears UConn is ready to move on to the next option while the Big 12 stands pat.