As #RankedWeek continues, we thought it only fair to include a list we are sure will not make Mick Cronin mad, but that he will definitely think is funny.
@ADimeBack rank the best @UConnMBB victories over Cincy please and thank you.

— Chris Licata (@Licatacs) July 17, 2017
[good suggestions get you ranked, btw]
UConn and its not-mad-at-all conference mate Cincinnati have a moderately long and definitely hilarious history generally involving UConn beating Cincy in ways that are painful for them and extremely satisfying for us. We really like talking about how garbage Cincy is. Their food is trash. Their sports are trash. In addition to being saddled with an angry leprechaun for a men's basketball coach, Cincy's men's team will be playing in Kentucky while the women's team is relegated to a literal high school gymnasium so they can add extra spittoons to their basketball arena.
It is in this spirit that I give you the best UConn wins over Cincy, ranked.
- Advertisement -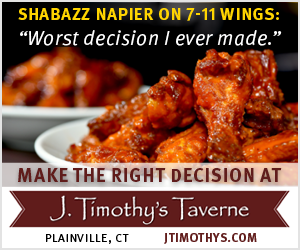 [If you have requests for #RankedWeek, tweet them at us or use the contact form.]
8. Snow is good, actually (MBB, 2008)
A good old-fashioned snow storm caused this game to be postponed and made actually getting to Storrs really difficult for Cincy. UConn went on a 30-0 run in the first half, and just utterly crushed the Bearcats 96-51. The 45-point margin was the largest against a conference opponent in school history.
Mick Cronin was so not even mad about that, he actually thought it was funny.
[watch on UConnHuskyGames.com]
7. 98th Win in a Row (WBB, 2017)
Napheesa Collier scored 24 points on 10-for-10 shooting as the UConn women rolled past Jamelle Elliott's Cincy squad, 96-49.
Mick Cronin was not mad about this, he really thought it was funny.
[watch on UConnHuskyGames.com]
6. Hey! Here's a Football Win! (Football, 2016)
In the only win by more than a score in the 2016 season, UConn managed to score 20 straight points (really! This happened!), defeating Cincy in a game I believe they call "football," 20-9.
Mick Cronin totally was not even mad at this, he thought it was funny.
[watch on UConnHuskyGames.com]
5. Stewie's Passing Everyone (WBB, 2015)
There are many, many, many WBB wins to choose from. Most of them are just your run-of-the-mill slaughterings, but in this one Stewie jumped from No. 6 on the all-time scoring list to No. 3, passing UConn luminaries Kerry Bascom, Nykesha Sales and Kaleena Mosqueda-Lewis as they just utterly routed Cincy, 107-45.
Mick Cronin wasn't mad at this, he thought it was funny, actually.
[watch on UConnHuskyGames.com]
4. Mick Cronin v TV Teddy (MBB, 2014)
This was actually a fairly painful game to watch (I was there), and though UConn won 51-45, the highlight was actually when Mick Cronin lost his damn mind over an out-of-bounds call, shoved his assistant, and flipped out on ref Ted Valentine, who, for reasons passing understanding, did not T up the red-faced lunatic.
These are definitely the words of someone who is not mad, no, he thinks it's funny.
"He got in my face, I didn't get in his face," said Cronin. "Am I allowed to T him? That's what I asked him."
[watch on UConnHuskyGames.com]
3. Kemba is Better Than All of You (MBB, 2011 NCAA Tournament)
As part of UConn's most-amazing-ever postseason run, UConn crushed Cincy 69-58 to make it into the Sweet Sixteen. Kemba had 33 points, including 16 in the last ten minutes, and was 14-14 from the foul line.
But Mick Cronin wasn't mad at that at all, he thought it was funny, actually.
"We didn't want to foul him," the Leader of the Lollipop Guild actually said after the game. "He was 14 for 14 from the foul line. That was the difference in the game. You've got to make people make shots. I think Coach Calhoun could have got 30 if we had given him 14 free throws."
[watch on UConnHuskyGames.com]
2. Jalen's Buzzer Beater (MBB, 2016 AAC Tournament)
When Kevin Johnson hit that three-point shot with the clock winding down in the third overtime of the AAC semifinals, we all saw the game, and UConn's chances of making the NCAA tournament, slipping away. And then Jalen did this:
And Mick Cronin definitely did not spend any time talking about how long Jalen had the ball and trying to question whether he got the shot off. He thought it was funny, actually.
[watch on UConnHuskyGames.com]
1. Shabazz Napier beating out Sean Kilpatrick for AAC Player of the Year (MBB, 2014) 
Bazz (deservedly) was voted the AAC player of the year in 2014…
From this great Dave Borges summary of Cronin-isms:
After accepting the league coach of the year award, Cronin calls Kilpatrick "my player of the year" and never even mentions Napier. Upon leaving the ceremony, Cronin is overheard by reporters saying "Heroes are made in March, boys. This is all (expletive)."
Mick Cronin was not mad, nope. Not at all. He actually thought it was funny. Turns out he was right about that last part though…