On Tuesday evening, while five-star recruit Hamidou Diallo played in the City of Palms tournament in Florida, rumors about his future began to swirl. Jerry Meyer of 247sports set things in motion, responding to a benign recruiting question with this bombshell response: "Could see Hamidou Diallo at UConn very early in 2017."
He doubled-down moments later, stating Diallo's stat line for the evening coupled with "lots of buzz about a possible 2nd semester enrollment."
Diallo is currently enrolled at Putnam Science Academy in northeast Connecticut, completing a preparatory season. Per NBA rules, that makes him eligible to enter this June's NBA Draft. Much of the debate surrounding Diallo's future has centered on the central question of whether he would be willing to delay his professional career by 12 months to play a season of college. With a second semester enrollment now on the table, that conversation immediately shifts.
UConn has been courting Diallo for over a year, hosting him for a bevy of games along with several teammates. One of Diallo's former teammates, and best friends, Mamadou Diarra is already on UConn's roster, though chronic knee injuries have forced him to sit out the season.
The Huskies have the benefit of a system, roster and coaching staff that Diallo is already intimately familiar with. The learning curve would certainly be less steep than trying to hop into the rotation at, say, Kentucky midway through the season. Additionally, UConn has a near-infinite amount of minutes available following the season-ending injuries to Alterique Gilbert, Terry Larrier and Diarra. Not only would Diallo certainly start for the Huskies, he would immediately become a centerpiece of the UConn offense.
- Advertisement -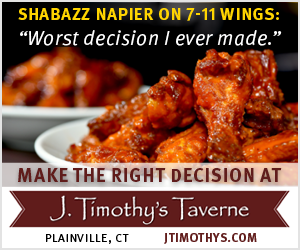 For the Huskies, this is a no-brainer. Diallo extends UConn's depleted roster, adds an explosive athlete to the rotation and injects some positive momentum into a season that can only be described as dour.
For Diallo things are a bit more complicated and a lot more personal. If he really wants to attend college, enrolling at UConn (or another school, theoretically) gives him a chance to live that experience before deciding if he's ready to begin his NBA career. There are, of course, big risks to that plan. Injury is obvious, though that exists at the prep school level as much as it does in college. The more pressing concern would be his stock dropping if he performs poorly over the next few months. NBADraft.net projects Diallo as a first round pick right now. A strong three months — say, one that drags UConn into the NCAA Tournament — could vault him into the lottery. Struggling against collegiate defenses could delay his NBA dreams, creating a new decision point of returning to college or rolling the dice on the Draft.
Were Diallo to chose to enroll at UConn for this semester, there would still be hoops to jump through. The NCAA isn't the most accommodating organization, and plenty of work would have to be done by the UConn compliance office to ensure Diallo's academic eligibility.