Inspired by lists and rankings in general, the A Dime Back staff recently ranked UConn. This list is the combined result of us ranking. How would you rank this list?
1. Jim Calhoun
UConn legend. Great at coaching, bad at bike riding.
2. Geno Auriemma
UConn legend. Napoleon complex on point.
3. Kevin Ollie
Has a ring. Friends with Boo Willingham.
4. Rebecca Lobo
Perfect Human. Friend of the site.
5. Chris Dailey
- Advertisement -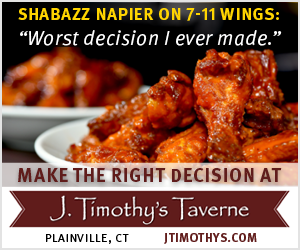 Geno's puppet master.
Video wiz kid. Knows how to pronounce GIF.
Here's a picture of Khalid El-Amin.
Voice of victory. Lost votes because of Gresh.
9. Big Red
Talents include standing, spinning arm, spelling.
UConn's ambassador. Likes to be called Purv.
Who's a good boy?
12. Bard Mom
Birthed two ADB staffers. UConn field hockey legend.
13. Bard Dad
Belongs to Bard Mom. UConn lacrosse legend.
14. Bob Diaco
Beautiful. Civil, but conflicted.
UConn Football Pilgrim.
16. Susan Herbst
Commander in Chief.
Great at being disappointed. Has no son.
18. SHEA RALPH
Player, assistant coach, owner of all-caps name.
19. Donny Marshall
From hitting the boards in the 90s to hitting Board of Trustees members in 2016, metaphorically.
Badass reporter. Friend of the site.
21. Bunkey
Campus's OG elder statesman. Friends with Sam Cassell, Jr.
22. Dee Rowe
Former coach. Still likes people to call him Coach.
23. George Springer
Dingerzzzzz!
Walk-on trill instructor. Inspired popular club hit.
Founded UConn's cheesarium, the aquarium with cheese instead of water.
Knows Tor Watts. Took charges. Switched numbers a bunch.
27. David Mills
Pep Band Director. Taught Alex what it is to love.
28. Joe Morrone
Coached soccer at UConn before UConn students got high and played soccer video games.
29. Warde Manuel
Former AD. Not Jeff Hathaway.
Delightful UConn booster. Trying to save Russ from damnation.
31. Harry A. Gampel
Gave UConn $1M and got his name on the side of history.
Wrote so well for the Daily Campus that he now writes about Ariana Grande every day in Boston.
Another DC alum. Plays Kent Brockman in live-action production of the Simpsons.
34. David Benedict
Newly-named AD. Goes to parades.
35. George Blaney
Former assistant coach. Runs farm stand in Ashford.
36. Mike Cavanaugh
Ice Diaco.
Enrolled in 1993. Covered Clinton inauguration for Daily Campus.
38. Bob From Bob's Discount Furniture
Come on down to an apartment furnished by sadness.
39.Wally Lamb
Wrote books. Ate own last name.
Scribe. Takes come medium hot. May steal this list.
41. Human Jonathan
You know it's just a guy in a suit, right?
Divisive former guard. Disparaged Bard Mom.
43. Precious
Creepy dude who loves women's hoops.
Creepy dude who loves women's hoops and has balls attached to his head.
45. Homer Babbidge
Former Universtyi presidnet. Loved books n shit.
46. Beau Archibald
Snitch.
47. Robert Burton
Loud and sad, but with money. Name became a family center.
Pros: will be found wearing Russ's skin. Cons: n/a
49. Getting Hit By #IceBus
Toot toot!
50. Jeff Hathaway
Former AD who let the kingdom fall on his watch.
51. Paul Pasqualoni
Boring dragon that ruined everything
---
End of list.