Every great hero needs a villain, and UConn has faced no shortage of them over the past 25 years in its multi-sport march toward greatness. Because it's ranking week, we have ranked those villains.
51. Kevin Pittsnogle
Played like his name sounds.
50. Mike Sweetney
Georgetown big who also tried to ruin the Knicks.
49. Roy Hibbert
Hit an obnoxious three-pointer.
48. Chris Taft
Also known as "Generic Pitt Player."
47. Craig Smith
- Advertisement -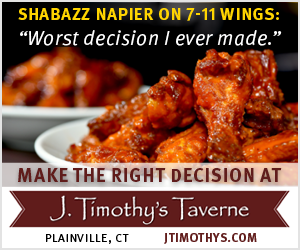 The last Boston College player to play in front of an audience.
46. Mike Nardi
Backup vocalist for Coldplay.
45. Othella Harrington
From playing for Georgetown to their coaching staff. Two strikes.
44. Lavor Postell
More like Lavor Current Postell Worker.
43. Preston Shumpert
Perfect Duke name. Imperfect Syracuse career.
42. Skylar Diggins
Managed to deny Maya Moore another rightful championship. Rude as hell.
41. Michelle Marciniak
Played at Tennessee in the 1990s. Annoyed Jen Rizzotti.
40. Aaron Gray
Oaf.
39. John Wallace
Has the same number of rings as Russ.
38. Etan Thomas
Has the same number of rings as John Wallace.
37. Troy Bell
Won two Big East POY awards that clearly belonged to Albert Mouring and Tony Robertson.
36. Yancey Gates
Pugilist. Also the name of your grandparents' nursing home.
35. Vonteego Cummings
The original annoying Pitt guard. Never made an NCAA Tournament.
34. The Three Meeks
Tennessee trio of Chamique Holdsclaw, Sameka Randall and Tamika Catchings. Won three straight rings in the late 90s. Who do they think they are?
33. Marcus Hatten
Somehow more villainous than St. John's predecessor Ron Artest.
32. Steve Novak
Maybe guard him?
31. Scottie Reynolds
An All-American… in villainy.
30. Russ Smith
Played at Louisville for 13 seasons.
29. Darius Rice
Shamon Tooles' favorite target.
28. Troy Caupain
Tried to ruin Jalen Adams' good time.
27. Troy Murphy
Works at Radio Shack.
26. Nic Moore
Used Gandolph's magic to take half of Shabazz's AAC POY award.
25. Chevon Troutman
More like Flounderman.
24. Sean Kilpatrick
Scored in double figures in all but one career game against UConn.
23. Jai Lewis
Played in a game that never happened.
22. DeJaun Blair
Was very mean to Hasheem Thabeet.
21. C. Vivian Stringer
Once beat Geno in the BET championship game: Rutgers' greatest accomplishment.
20. Luke Harangody
Like Troy Murphy but Harangodier. Also the same person as Kemba-award-stealer Ben Hansbrough.
19. Allen Iverson
If you're a Hall of Famer on an opposing team, you're a villain.
18. Dan Shaughnessy
General misogynist.
17. Bill Curley
Donyell Marshall's archrival.
16. Mick Cronin
Doesn't know how time works.
15. Montrezl Harrell
The extra "L" is for "Le'villain!"
14. Kerry Kittles
Wore high socks. Took Ray Allen's 1995 Big East POY award.
13. Jared Dudley
Will likely be the last Boston College player to ever make a Sweet Sixteen.
12. Britney Griner
Run of dominance slightly delayed UConn's.
11. Carl Krauser
X <— letter grade of playing against Krauser.
10. John Calipari
Bought Marcus Camby away from UConn. Destroyed a budding UMass rivalry by ruining the program and leaving town.
9. Eric Devendorf
If Jim Boeheim had a jumpshot and a terrible beard.
8. Muffet McGraw
Dared building a legitimate temporary rival to UConn.
7. Christian Laettner
Pros: Made the world root for Rod Sellers. Cons: Is Christian Laettner.
6. Rick Pitino
Always plays UConn tough, for 15 seconds at a time.
5. Gerry McNamara
No.
4. Pat Summitt
Women's basketball matriarch. Geno's greatest rival.
3. Jim Boeheim
Bought Carmelo Anthony. Still has fewer rings than these people.
2. Gene DeFillippo
Former Boston College AD. Owner of the world's most well-earned inferiority complex.
1. Mark Emmert
Runs a cartel. Dropped the hammer on UConn while ignoring more serious infractions at other universities. Makes his money by exploiting young athletes.