Well, I'm back on my bullshit.
Every year I rank every game on the UConn men's basketball schedule (and sometimes more), so now it's time for the 2017-18 edition. A quick reminder about how this works: I only rank games I know UConn will play (potential matchups in the PK80 do not count) and I rank them solely based on how much I think I will enjoy the game (so it's not necessarily based on the quality of the opponent). I also don't care about your #taeks.
Every game on UConn's schedule, ranked:
29. at Tulsa, Reynolds Center, Jan. 3
I Hurrican't believe UConn has to go play at Tulsa again. I also can't believe UConn hasn't won there yet. Thinking about this game makes me sick.
28. Boston University, XL Center, Nov. 19
- Advertisement -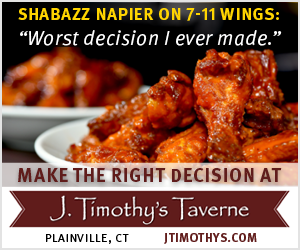 UConn actually beat BU last year, and coming after the Wagner/Northeastern debacles (which totally didn't happen, shut up), that win felt pretty good. It was easy to forget that it was one of the worst games ever played (watch this and then this). And these two face each other again this year. Blech.
27. at East Carolina, Minges Coliseum, Feb. 18
Speaking of things that didn't happen, UConn did not play at East Carolina last year. Don't look it up. They didn't play there.
26. Columbia, Gampel Pavilion, Nov. 29
Columbia should be a fine team to bring in for a guarantee. As long as UConn wins, this should be enjoyably forgettable.
25. Tulsa, XL Center, Feb. 15
Another reminder that UConn is in the same conference as Tulsa.
24. Stony Brook, XL Center, Nov. 14
Similar to the Columbia game above, Stony Brook is a pretty good low-major program. It'll be UConn's second game, so a nice follow and step-up in competition to the opener against Colgate.
23. East Carolina, XL Center, Jan. 6
Playing a school like East Carolina in January will never seem normal.
22. Colgate, Gampel Pavilion, Nov. 10
Colgate gets extra points for being the season-opener. It would have had even more of a bump on this list if last year's first game wasn't cancelled.
21. at Tulane, Devlin Fieldhouse, Jan. 13
Bad news: Game is against Tulane. Good news: Look at their new court:
20. at Houston, TBD, March 4
Yeah, I'm done trying to figure out ways that a game against Houston can be anything other than a complete disaster. Game location is TBD though, so maybe the crowd won't be quite as wild.
19. Monmouth, XL Center, Dec. 2
Monmouth has the reputation as a pretty good mid-major AND the Hawks are losing their best player. A win here would probably look better than it actually is.
18. Coppin State, Gampel Pavilion, Dec. 9
If this is anything other than the Kwintin Williams Dunk Show, I will be disappointed. I'm hoping for plenty of dunk porn.
17. Temple, Gampel Pavilion, Feb. 28
Senior Night at Gampel should be fun. Gotta send David Onuorah off right, ya know?
16. SMU, Gampel Pavilion, Jan. 25
Prediction: SMU 55 UConn 50
15. at Cincinnati, idk some rec center a state away, Feb. 22
Cincinnati, a school in Ohio, is playing its home games in Kentucky, a state that is not Ohio. Ignore that Cincinnati is basically on the border of the two states and pretend that it's really funny.
14. USF, Gampel Pavilion, Feb. 7
Could this be Kwintin Williams Dunk Show Part II? Does USF have enough players to field a team this year? What is Brian Gregory up to these days? Find out!
13. at UCF, CFE Arena, Jan. 31
This would be ranked higher if it didn't have loss written all over it. Anything with Tacko Fall is must-see.
12. at Wichita State, Koch Arena, Feb. 10
Games at Wichita State are a lot of fun. They pack their arena, which seats about 10,500, and their fans are insane. After all, there's not much else to do in South Dakota.
11. at Memphis, FedEx Forum, Jan. 16
UConn-Memphis games are always fun. Even when they shouldn't be. Memphis was awful last year and the Tigers lost their good players. This will hopefully serve as a nice road win before the most brutal stretch of the season.
10. at Auburn, Auburn Arena, Dec. 23
Coming two days before Christmas, this is an easy one for either team to sleepwalk through. However, having to play this game in Alabama may provide just enough distance from reality to avoid the distraction.
9. Memphis, Gampel Pavilion, Feb. 25
Same bad Memphis team as above, but this time at Gampel in late February.
8. UCF, Gampel Pavilion, Jan. 10
Same Tacko Fall as above, but this time at Gampel.
7. at Temple, Liacouras Center, Jan. 28
I was supposed to go to the game at Temple last year. I had tickets and everything. Then Bolt Bus completely screwed me over and I couldn't get there. If you forget how that game ended, here's a reminder:
What I'm saying is never take Bolt Bus and I'm hoping to make it to Temple this season. #Russdemption
6. Cincinnati, Gampel Pavilion, Feb. 3
This is perhaps UConn's best shot at beating a real team at home (unless they pull off a miracle against Villanova or Wichita State). As a bonus, we would get to hear Mick Cronin come up with a fresh new excuse! Any ideas? I'm going with "the new ceiling tiles were distracting."
5. at Arizona, McKale Center, Dec. 21
FACT: UConn has never lost to Arizona
(also fact: UConn will lose to Arizona this year because Arizona is the best team in the country don't @ me.)
4. Wichita State, XL Center, Dec. 30
UConn welcomes Wichita State to the American with a game at the XL Center the day before New Year's Eve. Even though Wichita State is a top-five team and UConn will almost definitely lose, it should be a great crowd. There's also the age-old saying extremely annoying tweet… College basketball. Where the unexpected becomes the ordinary.
3. vs. Oregon (PK80), Moda Center, Nov. 23
This is an extremely winnable game against a Power 5 team. Given where UConn is right now as a program, that's nothing to sneeze at. The Ducks are coming off a Final Four appearance, but lose a bunch of key pieces from that team. It's too bad this will be a de facto road game with the possible punishment of playing DePaul at midnight the next night if they lose.
2. Villanova, XL Center, Jan. 20
ANALYSIS:
1. vs. Syracuse (Jimmy V. Classic), Madison Square Garden, Dec. 5
Duh. Syracuse. UConn. Madison Square Garden. 9:30 start. Heck, even Villanova gets in on the fun in the first half of the doubleheader. Similar to last year's Cuse game, it's something that I'll look forward to, plan my life around, and get incredibly drunk for. Then the game will start and I'll be the most miserable human on Earth for two hours.