Thanks for participating in another successful #RankedWeek. Today, we're closing it out by ranking three of your random suggestions.
Remember: If your question wasn't answered or you've been living under a rock and are just hearing about this, you can submit your questions here or on Twitter (@ADimeBack).
---
Jon suggests: Rank the rankings you've done so far
---
Blake asks: Did you ever do top buzzer beaters?
- Advertisement -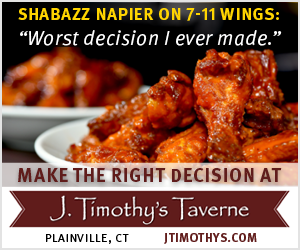 Well, to my knowledge there is no comprehensive list of UConn buzzer-beaters. Someone should get on that. And since I am a simple millennial, there are probably dozens of pre-every-game-on-TV game-winners I'm not even aware of. However, here are 10 extremely good ones that we thought of off the top of our head, all of which were on game-tying or game-winning shots with time expired (or very close to). Please refer to the glorious TCF video which contains many of these, and many others:
10) Craig Austrie vs. USF, February 2008
Craig Austrie was good and the dance he and AJ Price did after this shot was also good.
9) Shabazz Napier vs. Villanova, February 2012
The ultimate no no no no no OH HELL YES shot. Inspired the first in a series of Viral Close-Up Shots Of Sad Villanova Fans. One of the last Bill Raftery ONIONS calls UConn has had.
8) Denham Brown vs. Gonzaga, 2005 Maui Invitational championship game
I believe Denham scored 111 points in this game, including the game-winning jumper over Adam Morrison's mustache.
7) Ryan Boatright vs. Cincinnati, 2015 AAC Tournament quarterfinal
Boatright won a ring as a crucial supporting player on a couple really good UConn teams, and he was the unquestioned alpha dog on a really bad one, so I think he'll go down as one of the more underrated guards the program has had. But he'll always have this moment, rattling in a 3-pointer to win an ugly must-win game and breaking the hearts of Mick Cronin and other members of the tiny angry man community.
6) Shabazz Napier vs. Florida, December 2013
The best buzzer-beater in the history of Gampel Pavilion, one of the wackier and improbable plays I can remember because of the perfect tip-drill, and an inkling that UConn would soon own the state of Florida and the estate of Billy Donovan.
5) Khalid El-Amin vs. Pittsburgh, December 1998
It's not strictly a "buzzer-beater," but it's close enough, and it boasts 15 seconds that sums up UConn's entire sporting ethos: El-Amin, trash-talked mercilessly by Pitt hooligans for 40 minutes, drives on his defender, spins, and wills a wild no-chance shot into the basket to put the Huskies ahead with :02 left. Pittsburgh's game-winning attempt fails, and El-Amin throws every bit of shit talk back into the faces of the enraged Panther faithful. The video of it should be our national anthem.
4) Rip Hamilton vs. Washington, 1998 NCAA Tournament Sweet 16
El Amin, off to Voskuhl, he was pushed, the shot wouldn't drop! HAMILTON, NO! ANOTHER TIP, NO! HAMILTON, AT THE BUZZER….YESSSSS! YESSSSSSS! CONNECTICUT WINS!
No one who was living in 1998 is still alive today, yet you all probably got chills reading that, didn't you?
3) Jalen Adams vs. Cincinnati, 2016 AAC Tournament quarterfinal
Arguably the craziest play in UConn history, and also one of the last Good things to happen in UConn history to date. It will make an excellent prologue to TCF's career highlight reel when Jalen leads UConn to the 2018 national title.
2) Kemba Walker vs. Pittsburgh, 2011 Big East Tournament quarterfinal
This is objectively the most beautiful sports play I've ever seen, aesthetically perfect in every way, from the tremendous play design to the platonically immaculate crossover, to Gary McGhee being kind of doofy, to the ball dropping through the net as the buzzer/light go off, to Jim Calhoun's weird dance. It's the defining moment of UConn's 2011 championship run and Kemba's effusively brilliant season. I want to write a book about this play.
1) Tate George vs. Clemson, 1990 NCAA Tournament Sweet 16
It's THE SHOT that started it all; THE SHOT that gave the budding young Calhoun his biggest triumph ever; THE SHOT that put UConn basketball on the map for good. That's why, to this day, UConn fans know exactly what play you're talking about when you mention the phrase "THE TATE GEORGE JUMPER WHAT BEAT CLEMSON".
---
John asks: What teams/schools should hate in order please
I'm going to eschew the traditional rationale we'd employ for this list and extent my hatred beyond historical on-court rivalries. Instead, let me guide you to the darkest recesses of my mind where I harbor grudges against schools that are bad. Follow me, children…
10. Tulsa: UConn should not be in a league with Tulsa. Every time I hear the name or see the word, a part of my soul corrodes. I hate Tulsa.
9. Pitt: While mostly irrelevant (the view in my glass house is fine, thanks), a decade ago I harbored more animosity for Pitt than any other Big East foe. The combination of dirty play, unlikable players and them winning on occasion was too much for young me. Those feelings have faded with age and Kevin from The Office on the Pitt sideline, but I still hope they fail at everything.
8. North Carolina: On the court, I have almost no feelings whatsoever about North Carolina. The Tar Heels have beaten the hell out of UConn over the years, but that's not why they make this list. North Carolina, and its blatant disregard for the rules, and the NCAA's feckless response, are indicative of so much that's wrong with college sports. Remember when UConn's athletic department was smashed into pieces because players five years prior got poor grades?
7. Duke: There have been a lot of reasons to hate Duke over the years — Rod Sellers slammed one of those reasons into the floor — but my current resentment is aimed at the state of their athletic department. Duke has a basketball coach making eight figures, a football program that no one cares about, and is still overflowing with cash. That should be UConn!
6. Cincy: Mick Cronin is detestable, but worse is the brand of unwatchable basketball that Cincinnati forces upon me every time they match up against UConn. Games when both teams score in the 50s should result in someone going to prison.
5. Louisville: Rick Pitino doesn't seem like a very good person. The basketball program is currently mired in a disgusting recruiting scandal. They are in Kentucky — a top ten bad state. And yet, due to absolute luck of timing, Louisville slid into UConn's spot in the ACC leaving the Huskies on the outside in this Kentucky-esque hellscape. I wish a thousand Nate Miles on Louisville.
4. Boston College: An absolutely worthless athletic program that failed into the ACC and then held the door shut so UConn couldn't follow. The only reason BC isn't higher on this list is a complete lack of national relevance.
3. Rutgers: See above, basically. The Big 10 taking Rutgers was such an ignominious mistake that even writers covering Rutgers are curious if the conference could get out of the deal. If only Jim Delany had access to maps and video of sporting events.
2. Syracuse: Syracuse is very bad.
1. Baylor: You probably didn't expect to see Baylor on this list since the university has almost no connection with UConn other than an on-and-off women's basketball rivalry. But everyone employed at Baylor seems to be the scum of the earth — including noted bad person Kim Mulkey. The grotesque glut of rape and sexual assault cases stemming from athletes, and Baylor's total lack of response, is nauseating. Essentially anyone ever involved in Baylor athletics or in the Baylor administration should be in prison. The university should be smashed into a billion pieces. You can toss a dishonorable mention to Penn St. in this same blurb if you like.