best players to average under 10ppg

— BMcMill (@BMcMill33) December 13, 2016
There are a few ways to interpret this. Is that the best players who averaged less than 10 points over their careers? The best seasons in which a player averaged less than 10 points? I decided to go with the strictest definition, the best players to never average 10 points over a season. So here they are, folks. The gooiest of glue guys, the guys who go above and beyond the lunch pail, the bluest collars around.
HM) Roscoe Smith – Despite his impressive performance at UNLV, Smith never averaged double digits at UConn. He did, however, contribute mightily to the 2011 championship squad, including playing fantastic shutdown defense on Butler star Matt Howard in the title game. Smith was a solid rebounder who never quite found himself as a scorer with the Huskies, and ultimately just misses the list.
10) Alex Oriakhi – Another player who didn't quite make it through his college career as a Husky, Oriakhi was essentially the entire interior presence for that 2010-11 team. A terrific rebounder and underrated rim protector, Oriakhi fits in at No. 10 despite a departure that left some fans of the program with a bad taste in their collective mouth.
9) Amida Brimah – The only active player on the list, but barring something heretofore unforeseen, he shouldn't have trouble remaining eligible. The source of many an argument on Secretary Of The Interior Candidate The-Boneyard, Brimah's value comes primarily from his elite shot-blocking and one pretty critical three-point play against St. Joseph's in 2011.
- Advertisement -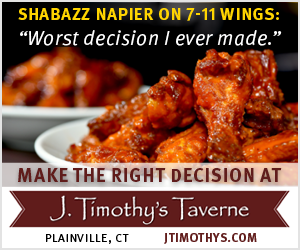 8) Taliek Brown – The hard-nosed floor general for arguably the most talented UConn roster ever, Taliek Brown racked up 722 assists and 163 steals in his Husky career. Though his shooting never allowed him to become the type of impact player his top-10 recruiting ranking would have suggested, he was a major contributor to one of the best teams in program history.
7) Niels Giffey – Giffey's mix of rebounding, defense, and white-hot shooting was one of the key factors in the 2014 team's ability to overachieve enough to win a national championship that no one saw coming. Giffey does lose points here because of embarrassing and terrible facial hair, but his overall contribution is not to be underestimated.
6) Hilton Armstrong – While the finish of the 2006 season was ultimately disappointing (in that the season was cancelled before the Elite Eight), Armstrong's coming out party saw him win a Big East DPOY award and turn into one of the team's leaders. Despite not averaging 10 points on the season, Armstrong was picked in the NBA Draft lottery following the season.
5) Kevin Ollie – On teams as talented as some of the early-to-mid 90s squads for which Ollie played, simple efficiency is all you need from your point guard, and Ollie provided that in spades. Ollie racked up loads of assists with a very manageable turnover rate, and scored better than 1.3 points per field goal attempt in his UConn career. His terrific attitude made him a strong leader and helped him spend more than a decade in the NBA.
4) Kirk King – OK, this one is a little cheap, since King averaged 11.8 points in his senior year, but given that he only played 14 games that year, I'm going to make an exception. King was one of the strongest, most athletic players I'd seen when I was a young UConn fan, and was one of my early favorites. His outstanding work in the 1996 BET Championship helped keep the team in the game long enough to make a comeback, and he still holds the UConn record for most consecutive field goals made (22).
3) Travis Knight – Knight nearly played himself off the list both in his junior and senior years, which both saw him average better than 9 points. Knight was also one of the best rebounders in UConn history, with per-40 rebound rates approaching 15 by his senior year. If he could just have stayed on the court more, he might have been a real star, and I would have had to make a better list.
2) Jake Voskuhl – Voskuhl is unique in that his value is almost impossible to read from the stats. His best skills were low-post defense, boxing out on rebounds, and setting high screens. But he was a huge asset to the 98-99 squad that upset heavily favored Duke in the National Championship, with Voskuhl's tireless work against NPOY Elton Brand one of the biggest factors in helping UConn pull out the win.
1) Ricky Moore – The number one spot on the list goes to Moore, arguably the best defensive player Jim Calhoun ever coached. The list of scalps that Moore collected his senior year included superstar players like Mateen Cleaves and Vonteego Cummings, and it was almost as much fun seeing Moore ruin opposing guards as it was seeing Richard Hamilton and Khalid El-Amin flummox defenses. Despite not quite living up to the early potential he showed as a freshman, Moore still cemented himself as one of the great UConn guards, and more than earned himself a championship ring.