Say what you want about Kevin Ollie, but in his four-plus years as UConn head coach, he's had some big wins.
Which wins were the biggest? Which do we want to forget the most?
I'm glad you asked. Here is a list of his 101 career victories as head coach, ranked by their Goodness Of Win Rating (GOWR).
101: Nov. 17, 2016, at Loyola Marymount, 65-62
This is the worst win, not only because it should have been a loss against the worst Division I team UConn has faced this season, but also because Alterique Gilbert went down with a season-ending injury. It was a win that felt like a loss.
- Advertisement -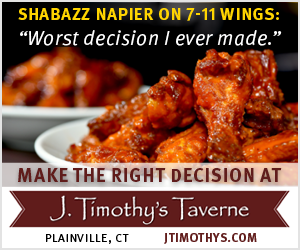 100: Nov. 30, 2016, vs. Boston University, 51-49
These two tweets say it all.
This game in 3 seconds pic.twitter.com/XrHHWqm5Ok

— Russell Steinberg (@Russ_Steinberg) December 1, 2016
This game in 4 seconds pic.twitter.com/egpaFCpQmu

— Russell Steinberg (@Russ_Steinberg) December 1, 2016
99: Nov. 14, 2014, vs. Bryant, 66-53
UConn trailed most of the way in its first game as defending national champions. Terrance Samuel played 34 minutes off the bench and scored six points. The rest of the bench contribution: 12 combined minutes for Rakim Lubin and Phil Nolan, 0 points on 0-0 shooting, 1 rebound, 1 turnover, 3 fouls.
98: Nov. 18, 2012, vs. Quinnipiac (Paradise Jam), 89-83 2 OT
Going to double overtime against Quinnipiac is bad, no matter where you play or who ends up winning. Getting bullied on the glass to the tune of a 44-35 margin is even worse.
97: Dec. 20, 2015, vs. UMass-Lowell, 88-79
UConn trailed for much of the first half against one of the worst teams in Division I and allowed the River Hawks to hang around by giving up 12 threes and committing 16 turnovers.
96: Dec. 2, 2015, vs. Sacred Heart, 82-49
The score is a lot more respectable than the game was. It'll be best remembered for UConn's horrific start, falling behind 7-0 and 23-12 before finally waking up against, again, one of the worst teams in the nation.
95: Nov. 22, 2016, vs. Chaminade (Maui Invitational), 93-82
A tough win over a Division II school is only this high because we got to see a lot of #points. A rarity over the last few years.
94: Nov. 17, 2013, vs. Boston University (2K Classic), 77-60
This one started off so promising, with UConn scoring the first 12 points of the game and going up 19-4. Then the Terriers started hitting threes, clawing their way back to take a 43-42 lead early in the second half.
93: Nov. 26, 2013, vs. Loyola-Md., 76-66
This was annoying because UConn let a terrible team hang around and only won by 10. Also, Loyola somehow out-rebounded UConn and attempted 70 shots.
92: Nov. 11, 2013, vs. Yale, 80-62
A Veteran's Day afternoon game in an empty XL Center is never going to be good. Bright side: it was the beginning of #NFG as Niels Giffey shot 5-6 from three.
91: Feb. 22, 2015, vs. Tulane, 67-60
UConn got a much-needed win and Amida Brimah was 8-8 from the field. Yay. Tulane also had a lead in the final 10 minutes on the road.
90: Jan. 22, 2015, vs. UCF, 67-60
Another 67-60 game, another ho-hum win over an opponent UConn should have destroyed. NIT years, man.
89: Jan. 24, 2015, vs. USF, 66-53
Three days after No. 90 against another directional Florida school. This one is ranked higher because UConn won by double-digits.
88: Nov. 29, 2012, vs. New Hampshire, 61-53
Any time you lead New Hampshire 25-18 at halftime, it's must-see TV, imo. The Wildcats came into the game off consecutive losses to NJIT and Holy Cross, but was within striking distance most of the way.
87: March 5, 2014, vs. Rutgers, 69-63
Be honest: you thought UConn was going to blow this game. You also know you won't be seeing any games from March or April of that year until much further down on this list.
86: Feb. 26, 2014, at USF, 61-56
UConn trailed by six at the half, but Shabazz Napier keyed an 18-0 run late to avoid embarrassment.
85: Dec. 28, 2013, vs. Eastern Washington, 82-65
Forgettable game, minus points for Bridgeport.
84: Jan. 6, 2015, at USF, 58-44
Box score highlights: Brimah had 13 points, eight rebounds, and six blocks. Samuel had seven rebounds and four assists off the bench. Other highlights: None, really.
83: Feb. 4, 2015, vs. East Carolina, 65-52
UConn needed this win badly after dropping a pair at Cincinnati and at Houston. The Huskies also trailed by seven at the half against a Pirates team that was 0-7 in the AAC coming into the game.
82: Feb. 3, 2013, vs. USF, 69-64 OT
Another game where Napier went nuts in overtime. He hit three threes to provide the only memorable moments of another too-close-for-comfort game against the Bulls.
81: Nov. 25, 2012, vs. Stony Brook, 73-62
UConn trailed by five at the half to Steve Pikiell's group, but NFG went full NFG to score 15 points in the win.
80: Feb. 7, 2015, at Tulane, 62-53
UConn almost lost this game, but Rodney Purvis came off the bench to score 17 points and key a second-half comeback to put the Green Wave away. Gosh this was ugly.
79: Feb. 25, 2015, at East Carolina, 60-49
I was in Arizona for work and very sick for this game, and another lackluster performance from this NIT team didn't help.
78: Dec. 21, 2012, vs. Fordham, 88-73
Believe it or not, the Oklahoma State game this year isn't the only time UConn has ever scored north of 50 points in a half. The Huskies led the Rams 57-28 at the break.
77: Dec. 6, 2013, vs. Maine, 95-68
A forgettable but satisfying beat-down. I miss those.
76: Jan. 11, 2014, vs. UCF, 84-61
Brimah's career-high 20 points was fun. UCF's monster player Justin McBride didn't play though, so it's not as fun.
75: Feb. 9, 2014, at UCF, 75-55
McBride was in this game, so it finishes ahead of the other game against UCF that year. Also, Lasan Kromah scored 17 points.
74: Jan. 27, 2013, vs. Rutgers, 66-54
Good things: Snapping a two-game losing streak, not losing to Rutgers. Bad thing: Playing Rutgers.
73: Jan. 2, 2016, at Tulane, 75-67
Tulane outscored UConn in the second half.
72: Feb. 23, 2013, at DePaul, 81-69
UConn's penultimate win of the "you banned us" year came at DePaul thanks to 28 points from Napier. Omar Calhoun added 17 on 7-11 shooting from the field.
71: Nov. 13, 2012, vs. Vermont, 67-49
Coming off the high of an upset win over Michigan State to open the season, there wasn't much this game could really do to follow up. Check out this line from Tyler Olander though: nine points, nine rebounds, four blocks, four assists, no fouls.
70: Feb. 7, 2016, vs. East Carolina, 85-67
Purvis came off the bench to score 16 points and Daniel Hamilton put on a show to the tune of 12 points, 16 rebounds, five assists, and three steals.
69: Dec. 22, 2015, vs. Columbia, 80-65
Nice win. Loses points because Bridgeport.
68: Dec. 17, 2012, vs. Maryland-Eastern Shore, 84-50
This was an emotional game for the Huskies, coming just days after the horrific shooting at Sandy Hook Elementary School. UConn debuted their green patches, which they wore for the rest of the season.
67: Jan. 19, 2016, vs. Tulane, 60-42
UConn held Tulane to just 26 percent shooting, which made up for a rough night for the Huskies from the field. It was vintage #badsketball at times, but hey, a conference win is a conference win.
66: Dec. 28, 2014, vs. Central Connecticut, 81-48
Three days after Christmas, UConn blew out the Fightin' Dickenmans. UConn shot 53 percent for the game and Kentan Facey posted a double-double.
Unrelated: Take a look at Howie Claus.
65: Nov. 21, 2015, vs. Furman (Battle 4 Atlantis), 83-58
The Fur Men actually ended up being not that bad and this was a rare non-conference game that didn't destroy UConn's RPI. This was also the third of four straight wins to start last year, giving us false hope for a dominant, undefeated run.
64: March 6, 2016, vs. UCF, 67-46
Coming off that Houston debacle at home, UConn needed this game badly headed into the AAC Tournament. Hamilton played just 17 minutes, but led the Huskies with 12 points and seven rebounds.
63: Nov. 17, 2015, vs. New Hampshire, 85-66
UConn hit 13 threes in this game en route to the 19-point victory. Sterling Gibbs and Purvis each hit five of them.
62: Jan. 8, 2013, vs. DePaul, 99-78
It's a lot easier to stomach giving up 78 points to DePaul when DeAndre Daniels goes off for 26 points and eight rebounds. Also fun: Napier's 16 points, eight rebounds, seven assists, and four steals.
61: Dec. 23, 2015, vs. Central Connecticut, 99-62
Game MVPs: Nnamdi Amilo (two points), Christian Foxen (four points), Mike Noyes (two points). Well done, guys.
60: Feb. 20, 2014, at Temple, 68-55
The Bazz wings game. Poor Bazz. That's why this game ranks so low for a conference road game against a real team. I left work in Manhattan at 6 p.m., went to Philadelphia, caught the 9 p.m. tip, turned around, and came back. Great night. Work the next day sucked.
59: Dec. 29, 2012, vs. Washington, 61-53
UConn turned in a quality win over a Pac-12 school mere hours after Ollie was finally given a real contract.
58: Feb. 10, 2013, at Seton Hall, 78-67
All-around good win, and a rare game that I was able to attend. Sadly, it was the end of the Enosch Wolf era. The big man was thrown off the team shortly after.
57: Dec. 7, 2012, vs. Harvard, 57-49
UConn turned the Crimson over 18 times. Not so smart for an Ivy League school, huh?
56: Nov. 20, 2015, vs. College of Charleston (Puerto Rico Tip-Off), 65-57
My lasting memory from this game: I watched it at work and ordered lunch. The delivery guy was so late that I had to get up and miss valuable seconds of this game to get my food.
55: Jan. 25, 2014, at Rutgers, 82-71
I watched this one from Plump's Last Shot in Indiana. Such a cool place for any college basketball fan to go to. Strong recommend. #OTC
54: Nov. 13, 2015, vs. Maine, 100-56
100! 100! 100!
53: Nov. 14, 2013, vs. Detroit (2K Classic), 101-55
101! 101! 101! This game was very important to me because I was 11 and attended the NIT loss to the Titans. It was traumatizing. I cried.
52: Jan. 21, 2014, vs. Temple, 90-66
31 points, 12 rebounds for Daniels. Wow.
51: Jan. 31, 2016, at UCF, 67-41
UConn held the giant people (Tacko Fall and Justin McBride) to seven total points and seven rebounds.
50: Feb. 25, 2016, at USF, 81-51
I liked this game because it was a blowout in an arena where UConn usually struggles for no reason.
49: Feb. 12, 2014, vs. USF, 83-40
I missed most of this game because of a work thing but was pleasantly surprised when I got out and saw UConn was kicking the living crap out of USF.
48: March 1, 2015, vs. SMU, 81-73
Finally, UConn got a win over Larry Brown's team. I watched this one from the hotel bar in Phoenix before my flight out. I'm an important businessman, you see.
47: Feb. 12, 2015, vs. Tulsa, 70-45
UConn avenged its (annual) inexplicable loss to Tulsa by ruining their lives for 40 full minutes. Boatright had 23 points and eight assists.
46: Jan. 31, 2013, at Providence, 82-79 (OT)
A thrilling overtime Big East road win? Sign me up! Don't you miss beating Providence? That was so fun. Now their fans think they're somehow the superior program.
45: Jan. 8, 2014, vs. Harvard, 61-56
UConn needed this badly after losing two straight in Texas. The Huskies trailed to an excellent Crimson squad by five at halftime but rallied thanks to 13 second-half points from Napier.
44: March 12, 2015, vs. USF (AAC Tournament), 69-43
The first game of the AAC Tournament in Hartford. Nothing too special about it, but postseason wins are nice.
43: Nov. 16, 2012, vs. Wake Forest (Paradise Jam), 77-71
Fun because UConn beat an ACC school. Not fun because I didn't have cable and it wasn't streaming anywhere. Weird time in my life.
42: Dec. 22, 2013, at Washington, 82-70
Washington was bad, but this one was a struggle. I was stupidly doing my Christmas shopping during a lot of this, because why be responsible and get that done ahead of time?
41: Feb. 13, 2016, vs. Tulsa, 75-73
Two days after UConn had an inexplicable meltdown at Temple, the Huskies nearly blew a 20-point lead to Tulsa. Here, however, they held on for the win. It took a few years off our lives, but we got through it.
40: Dec. 14, 2014, vs. Coppin State, 106-85
Is there anywhere else on this list this game could have gone? No.
39: Jan. 10, 2015, vs. Cincinnati, 61-56
I went to this game with my family, then we went to Dave & Buster's. Solid day.
38: Nov. 21, 2013, vs. Boston College (2K Classic), 72-70
I hated having to sweat this one out, but wasn't it great to beat BC at MSG?
37: Feb. 18, 2016, vs. SMU, 68-62
Just a few games back from injury, Brimah scored 16 points to go with eight rebounds and five blocks. It was a much-needed quality win over the No. 21 team in the country.
36: Jan. 30, 2014, vs. Houston, 80-43
UConn won its third straight game by administering a beat-down to a Houston team that upset them one month before. Napier had 19 points and Boatright added 15.
35: Jan 17, 2016, at Houston, 69-57
UConn trailed by seven at the half but closed the game on a 16-3 run to win its first game at Houston since the Cougars joined the Big East/American.
34: Nov. 21, 2014, vs. Dayton (Puerto-Rico Tip-Off), 75-64
I appreciate this one more in hindsight because Dayton ended up being a good team and UConn was not. Because Florida had a down year, this was UConn's only quality non-conference win.
33: March 14, 2015, vs. Tulsa (AAC Tournament), 47-42
Ignoring how dreadful of a game this was, it had an exciting finish and put UConn in position for another shocking championship run. Unfortunately, Boatright was basically dead and couldn't quite lead the Huskies past SMU. But damn it he tried and damn it he came close.
32: March 12, 2016, vs. Temple (AAC Tournament), 77-62
Satisfying for several reasons. 1. UConn beat Temple, which it had not done in its last four tries. 2. It took some of the sting away from that horrific collapse in Philly. 3. It showed the team had actually improved. 4. It showed UConn wasn't completely drained from the 4 OT game the day before. 5. It sent UConn to the title game.
31: Jan. 9, 2016, vs. Memphis, 81-78
I enjoyed watching this one at Van Diemen's very much.
30: Jan. 23, 2016, vs. Georgetown, 68-62
Not the greatest game from a basketball standpoint (ok, a really bad game), and I couldn't go because there was a lot of snow and Big Meach didn't want to drive Whitney and me. But it was a win over Georgetown in the post-Big East era and that means a lot. Even if Georgetown is garbage.
29: Jan. 3, 2015, at Florida, 63-59
I had the flu during this game, so watching it was an oddly enjoyable conscious fever-dream experience.
28: Dec. 12, 2015, vs. Ohio State, 75-55
My glorious return to Gampel! It had been six years since I'd seen a game there, but the great Alex Cohen helped me remedy that. Fun game, too.
27: Jan. 26, 2014, at Memphis, 83-73
A double-digit win on the road against a quality opponent. All good. UConn beat Memphis three times that year, twice on the Tigers' home court.
26: Nov. 25, 2015, vs. Michigan (Battle 4 Atlantis), 74-60
UConn beat a real team in a major tournament and it set up a Thanksgiving game against Syracuse. Overall very good.
25: March 13, 2014, vs. Memphis (AAC Tournament), 72-53
The other win at Memphis that year came in more convincing fashion and in the AAC Tournament. It was also a much-needed win coming after that horrific blowout loss to Louisville a few days before.
24: Feb. 4, 2016, at Memphis, 77-57
I loved this game because you actually got to see Memphis break before your eyes. I love watching UConn destroy another teams' will to compete.
23: Feb. 21, 2013, vs. Cincinnati, 73-66 (OT)
Bonus points for Cincinnati. Bonus points for overtime. Remember how good Shabazz was in OTs? He scored 11 in the extra five minutes of this one.
22: March 17, 2016, vs. Colorado (NCAA Tournament), 74-67
UConn almost let a big lead get away in the end, but held on to advance to the second round. This is the lowest ranked NCAA Tournament game on here, but only because the others are from the 2014 championship run.
21: Dec. 29, 2015, at Texas, 71-66
After blowing a few early opportunities, this was the first marquee win of the season. Watching UConn win on the road on national TV never gets old.
20: Feb. 15, 2014, vs. Memphis, 86-81 (OT)
I'll best remember this game for Josh Pastner thanking everyone for everything in the postgame presser. It was weird.
19: March 1, 2014, vs. Cincinnati, 51-45
A typical UConn-Cincinnati slugfest, made even better by Mick Cronin flipping out on TV Teddy Valentine. This happened right in front of my face and it was amazing, though I have no idea how Cronin wasn't T'd up.
18: Nov. 8, 2013, vs. Maryland, 78-77
The season-opener at Barclays Center where UConn nearly coughed up a huge lead, but Tyler Olander hit a three so everything was fine.
17: Jan. 12, 2013, at Notre Dame, 65-58
Remember how hard it used to be to win at Notre Dame? It's probably still really hard, but since their football team won't join the ACC, we'll never know.
16: Nov. 22, 2013, vs. Indiana (2K Classic), 59-58
The first of two championships UConn won that year came at Madison Square Garden in a thriller over Indiana.
15: March 14, 2014, vs. Cincinnati (AAC Tournament), 58-56
Sean Kilpatrick, who knows real winners are made in March, missed a layup at the buzzer that would have tied it, sending UConn to the AAC Championship game.
14: March 9, 2013, vs. Providence, 63-59 (OT)
UConn had seven players available for its season finale and two of them were Leon Tolksdorf and Brendan Allen. Yet the Huskies still won in OT. It was the final game of the APR Ban year, and damn it, we were all emotional.
13: March 13, 2016, vs. Memphis (AAC Tournament), 72-58
As a rule, any game that ends with a trophy is going to be high on this list. This one gave UConn its first AAC Tournament championship.
12: March 22, 2014, vs. Villanova (NCAA Tournament), 77-65
Napier picked up two first-half fouls, but UConn actually led by one at the half. Bazz returned in the second half to lead the way to an upset win and a trip to MSG for the East Regional.
11: March 13, 2015, vs. Cincinnati (AAC Tournament), 57-54
Just watch.
10: Dec. 5, 2016, vs. Syracuse, 52-50
Given everything that's happened this year, it was just so, so satisfying to beat Syracuse at MSG. The crowd was incredible, and mostly UConn fans, which served as a good reminder to the world that UConn is New York's college team.
9: March 28, 2014, vs. Iowa State (NCAA Tournament), 81-76
Daniels scored 19 of his 27 points in the second half to stave off a Cyclone rally down the stretch. The MSG crowd was loud and the Huskies advanced to an improbable Elite Eight.
8: Feb. 13, 2013, vs. Syracuse, 66-58
Allow Ryan Boatright to explain.
7: March 20, 2014, vs. Saint Joseph's (NCAA Tournament), 89-81 (OT)
Say what you will about Amida Brimah, but UConn would only have three championships without him. Here's why:
6: Nov. 9, 2012, vs. Michigan State (Armed Forces Classic), 66-62
This was the first game of the two-year This Is What Happens When You Ban Us world tour and the first game of Kevin Ollie's head coaching career. UConn, after losing so many of its contributors from the year before (and its Hall of Fame head coach) was supposed to be terrible. This was a win over a ranked team to open the season and it was a great middle finger to the rest of college basketball.
5: March 11, 2016, vs. Cincinnati (AAC Tournament), 104-97 (4OT)
Cash. Adams. I know I've told this story 100 times, but I'll do it again. I was covering the A-10 Tournament during this game and was streaming it courtside. The final A-10 game of the session ended, but I stayed on press row to watch the first OT rather than go to the press conference. Then the second OT. Then the third. When Adams made his ¾-court heave, I screamed. It wasn't professional. But I did it. Thankfully only a few people were around. One of them was Joe Lunardi, who seemed just as excited as I was. He gave me a piece of candy before the fourth overtime just in case UConn went on to lose. Joe is a good man.
4: Dec. 2, 2013, vs. Florida, 65-64
I'll never forgive myself for being on a cross-country flight during this game, but at least I got to hang out with Rihanna in LA. Yeah, that happened. Anyway, here's Shabazz:
3: March 30, 2014, vs. Michigan State (NCAA Tournament), 60-54
Some may remember this game as the day UConn advanced to its fifth, and arguably most important, Final Four. I'll remember it as the day that happened and the day I met Khalid El-Amin.
2: April 5, 2014, vs. Florida (Final Four), 63-53
Florida had not lost since Dec. 2 when Bazz beat them in Storrs. The Gators jumped out to a big lead, but for the final 30 minutes of the game, UConn dominated them. The Huskies were not an elite team in 2013-14, but they were an elite team in March and April.
1: April 7, 2014, vs. Kentucky (National Championship), 60-54
As if there was any doubt about No. 1 on this list. UConn won the national championship, then Napier basically stepped up onto the podium and mooned Mark Emmert. God Bless Shabazz Napier.