Earlier this week we ranked UConn's greatest individual performances in a conference tournament. Today we're taking the next logical step and ranking the best individual games played on the highest stage in the sport, the NCAA Tournament.
We'll also close this post with a ton of random tourney stats and records from the four-time champions Huskies.
Rather than rank this list subjectively, we calculated the game score for every player to take the court in the 71 tournament games since Jim Calhoun inherited the program. The result gave a good snapshot of greatness, but we wanted to take it a step further by rewarding highlight performances against the best teams in the country. To achieve that, we adopted a multiplier and it applied it to the game score. The higher-ranked the opponent, the more credit you earn.
The subjective part of my brain really wants to move games around on the list. We're going to include some tough losses that I had put far out of my daily memories, and omitting some incredible performances that, statistically, didn't make the cut. All in the name of science or whatever.
- Advertisement -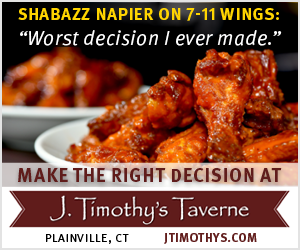 Let's rank. Assist, per usual, to UConnHuskyGames, the best site on the internet. 
10. Doron Sheffer vs. Eastern Michigan, 1996
The Iceman had 27 points, seven rebounds and five assists on 10-14 shooting. The Huskies lost their next game to five-seed Mississippi State, ending an incredible year (32-3) on a depressing low-note.
9. Kemba Walker vs. San Diego St., 2011
King Kemba recently told Sports Illustrated that this was his favorite game of the incredible 2011 title run. It's easy to see why. Kemba scored 36 points in defeating Kawhi Leonard and San Diego State, leading UConn to the Elite Eight.
8. Emeka Okafor vs. Texas, 2003
Though he would win a ring the following year, playing perhaps his most memorable game against Duke in the Final Four, it was this Elite Eight loss that saw Okafor's highest-rated game. He had 21 points, 17 rebounds (a modern-day UConn tournament record) and six blocks.
7. Kemba Walker vs. Cincinnati, 2011
Walker's second round win over six-seed Cincinnati showed off everything he did well. Kemba scored 33 points, had six rebounds and five assists and made all 14 of his free throw attempts.
6. Ben Gordon vs. Stanford, 2003
Two days before Okafor went off against Texas, Gordon willed UConn to a victory over four-seed Stanford. He scored 29 points, had five rebounds and four assists. Gordon was one of the best tournament players in UConn history.
5. Ben Gordon vs. Alabama, 2004
See? With Okafor rendered ineffective due to a neck injury, Gordon and Rashad Anderson went crazy in the regional final against Alabama. Slash scored 28. Gordon had 36 as UConn easily advanced to their second Final Four.
4. Rip Hamilton vs. Duke, 1999
If we're being real, this performance should be number one. Rip's 27 points and seven rebounds came against a team that many deemed unbeatable. As the best player in the most important game of the program's history, Rip's contributions can't be overstated.
3. Caron Butler vs. NC State, 2002
The most efficient performance on this list, Butler was 10-13 from the floor, 2-3 from three and 12-12 from the line. He scored 34 points, had nine rebounds, four assists, two steals and two blocks during the second-round game of his inspired 2002 tourney run.
2. Ray Allen vs. UCLA, 1995
I maintain that if you had no rooting interests, this UConn/UCLA game is one of the most entertaining tournament games to watch to this day. The teams combined for 198 points. UCLA would go on to win the title (losing only two games that season) after beating UConn. Allen, however, proved he was a star, almost single-handedly keeping the Huskies in the game until UCLA eventually closed them out. Ray had 36 points and nine rebounds.
1. Caron Butler vs. Maryland, 2002
I'm not super pumped that the top two games on this list are losses, but you can't deny the individual greatness displayed by Allen and Butler. Like Allen, Butler and UConn would lose to the eventual champion, but not without a fight. Butler scored 32 points, had seven rebounds and four assists. It would be the last game he would play at UConn.
---
Since we have all of the data at hand now, I'll leave you with some more random tidbits.
The next ten games on the list:
11. DeAndre Daniels vs. Iowa St., 2014
12. Khalid El-Amin vs. UNC, 1998
13. Rip Hamilton vs. Fairleigh Dickinson, 1998
14. Kemba Walker vs. Missouri, 2009
15. Emeka Okafor vs. Duke, 2004
16. Emeka Okafor vs. BYU, 2003
17. Doron Sheffer vs. UCLA, 1995 (I'm telling you. Watch this game).
18. Donny Marshall vs. Maryland, 1995
19. Jeremy Lamb vs. San Diego St., 2011
20. Marcus Williams vs. Albany, 2006
If you're curious, here's the exact formula we used to get the rankings:
(Points Scored + (0.4 x Field Goals) – (0.7 x Field Goal Attempts) – (0.4 x (Free Throw Attempts – Free Throws)) + (0.7 x Offensive Rebounds) + (0.3 x Defensive Rebounds) + Steals + (0.7 x Assists) + (0.7 x Blocks) – (0.4 x Personal Fouls) – Turnovers) x (1+ (0.4 x Opponent Seed))
In the Calhoun/Ollie era, there have been 37 double-doubles. Okafor has the most (7). Of those 37 double-doubles, 35 combine rebounds and points. Only Kemba Walker and Marcus Williams have double-doubles with assists and points.
Single Tourney Game Records:
Most Points: 36 (Allen, Walker, Gordon – all games in the list above)
Most Rebounds: 17 (Okafor – also above)
Most Assists: 12 (Walker vs. Bucknell, 2011)
Most Steals: 7 (Scott Burrell vs. Xavier, 1991)
Most Blocks: 7 (Okafor vs. BYU, 2003)
Most Turnovers: 7 (Chris Smith vs. Duke, 1990; Taliek Brown vs. Duke, 2004; Marcus Williams vs. Washington, 2006)
Most Made 3P: 6 (Rashad Anderson twice in 2004, vs. Vermont and Alabama)
Most FG w/o Missing: 5 (Eric Hayward vs. Chattanooga, 1995)
Most Offensive Rebounds: 10 (Kevin Freeman vs. Gonzaga, 1999)
Random Tourney Career Records:
Total Games: Rashad Anderson, Denham Brown, Hilton Armstrong, 15
Total Points: Rip Hamilton, 235
Total Rebounds: Emeka Okafor, 141
Total Assists: Taliek Brown, 63
Total Steals: Scott Burrell, 26
Total Blocks: Okafor, 38
Points per game: Caron Butler, 26.5
Rebounds per game: Okafor, 13.5
Assists per game: Marcus Williams, 7.3
Steals per game: Burrell, 2.9
Blocks per game: Andre Drummond, 4 (one game)
We now have a spreadsheet with over 22,000 rows of NCAA tournament data if there are any industrious programmers out there who want to help us build a fun tool for our readers to play with. Reach out.
Wanna fight about Craig Austrie? He averaged 5.4 points in 10 NCAA Tournament games.