It's #MailWeek at A Dime Back. The men are off until the weekend and you folks are just salivating for content, so we're going to answer your best (ish) mailbag questions one at a time, giving longer answers than you'd find in our normal Friday feature. You can submit your questions here or on Twitter (@ADimeBack).
---
Puneet asks: Thought about this the othet day. Top 5 come-from-behind victories. Qualifier: trailed by 10+ in 2nd half
UConn v Pitt, 1998
This is the GOAT comeback because it ended with Khalid El-Amin on a scorers' table giving it to the Pitt student who had been taunting him the entire game. (Reminder: Don't be racist when you're heckling. Or ever.) UConn came back from down 10 in the second half, and down four with only nine seconds to play. This game is very fun, watch it now.
UConn v UMass, 2002
This game features the worst half of basketball that has ever happened in the history of all time. UConn was down 34-9 at the half, and this game is most memorable to me because of the profanity-laden (mostly mine) phone call I had at the half with my father. But Slash went off in the second half, as UConn out-scored UMass 50-18. This was actually the best comeback, but lord above that first half was so awful, and there was no table-jumping, so it's here.
UConn v Duke, 2004
OK, this one is slightly a stretch, because technically UConn was only down eight in the second half, but fuck it doe, this one needs to be on the list. This game was another example of Jim Calhoun being a better in-game coach than Coach K (See also, NCAA National Championship, 1999). Okafor got into foul trouble early, and sat for basically the entire first half. But it worked out when UConn went on one if its patented runs (remember those?) scoring 12 straight points and reminding Duke fans why the hate us.
UConn v Pitt, 2004 BET Championship
- Advertisement -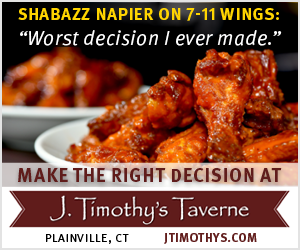 UConn overcame an 11-point second half deficit to beat Pitt in the tie-breaker game of the season in the Big East Championship Game. Madison Square Gordon earned his Tournament MVP title, icing this one with free throws at the end.
UConn v Washington, 2006
Real talk, UConn probably should have lost this Sweet Sixteen game, as they played very badly for stretches, giving up 26 turnovers in the game. The Huskies managed to rally from down 11 in the second half, forcing OT with a last second Slash three. Calhoun yelled at Marcus Williams something fierce during a timeout, but it worked because he scored 26 points so whatevs. The end of regulation was wild, because UConn was down 4 with 21 seconds to play. You may also recall this as the game in which Rudy Gay goaded Brandon Roy into a technical. Unfortunately, the season was cancelled after this game so we'll never know what could have happened for this squad.
UConn v Texas, 2010
UConn came back from down 10 in the second half to then-number-one Texas, to win by 14. Jerome Dyson scored 32 points, and Kemba had 19 points and 10 assists, winning this one for absent Coach Jim Calhoun. Wins are more fun when they are against top-ranked teams.
UConn v BC, 2002
UConn overcame a 10-point deficit with under three minutes to play in regulation to win this game in OT. Super Tone scored 19 points — and I just like remembering GOAT DC comic Super Tone, so there's that. Okafor also had nine blocks in this game, including a huge one with 27 seconds left in OT. This is also a nice reminder that we used to beat BC in basketball all the damn time.
UConn v Florida, 2015
UConn was down by 13 in the second half in this Final Four rematch. This game was pretty weird. Boat played for nearly the entire game, despite being broken physically, Purv hit three threes in the second half, Omar Calhoun had 12 points and T-Sam added another 10. Florida also went nearly eight minutes without a field goal in the second half. Weird.
UConn v Arizona 2000
This one is another borderline one, but it ended in a court storming at Gampel, and I was there and I like this game very much so it's in. UConn overcame an eight-point deficit against the preseason No. 1 team late in the game, going on a 12-2 run, winning this game on a very controversial goaltend call (It was a goaltend. Don't @ me.) Coming off a Johnny Selvie block, Super Tone drove to the basket, and Loren Woods blocked it, but that sucker was on the way down. UConn won, storming occurred, and there was merriment and joy in Storrs.
UConn v Cincy 2008
I have no recollection of this game, but apparently UConn overcame a 12-point deficit with less than six minutes to play to win at Cincy. Jerome Dyson had a last second block (as well as 20 points) to help clinch this one. UConn went 32-for-37 from the free throw line, including the game winners from A.J. Price with 9.8 second left.
Honorable Mention
UConn v Seton Hall, 2011
Just had to add one more featuring Kemba. UConn was down 10 with 8:12 left to play, and outscored Seton Hall 13-1 before they made a meaningless layup at the buzzer. UConn won 63-61.