For reasons I no longer remember, I volunteered to answer every one of your questions this week instead of the normal three. Most of you stayed within the bounds of UConn basketball to cap off our season preview coverage but, as always, we're not much for rules.
Check out some of our other season preview content:
Remember: If your question wasn't answered or you've been living under a rock and are just hearing about this, you can submit your questions here or on Twitter (@ADimeBack).
---
NJ Husky asks: Who would you compare Akinjo to from Huskies of the past?
Take this answer with a gigantic grain of salt because we're still not entirely sure what kind of high school player Akinjo will be, let alone college player. He really blossomed at the Peach Jam this summer, flashing more scoring ability than he did for most of his high school career. If that carries through, and he dominates this year as a senior, then we can start getting really excited. At present, the one defined skill we know Akinjo can bring to Storrs right away is his on-ball defense. I could see Akinjo being a Christian Vital-esque guard who comes off the bench, plays tough defense and is a net-positive on offense. To (kinda) try to answer the question, I'm picturing a mutant combination of Doug Wiggins and Ricky Moore.
---
- Advertisement -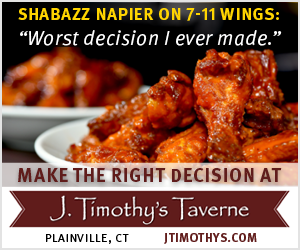 Joe asks: Any idea when Geno is going for his 1000th win? If they win 8 straight to start season is it Norte Dame or do exhibition games not count?
Exhibition games do not count. Geno will enter the season with a career 991-135 record. If you believe that UConn will win every game this year (raises hand), number 1,000 comes on December 19th against Oklahoma at Mohegan Sun.
---
Chris asks: Should Geno run for Governor?
Sure. Geno has been very outspoken this fall — first on the since-vetoed-and-replaced state budget that dramatically cut UConn's funding, and more recently on gun control from his soon-to-be-deleted twitter account. It's a quasi-mystery as to what political party Geno belongs to (I swear he once said to be a registered Republican but I can't find the source for that) but it really doesn't matter. One year out from the 2018 election, neither party has a frontrunner for governor, and certainly no one with Geno's name recognition. If nothing else, getting into the race in late March should provide enough of the Final Four weekend distraction that he usually tries to generate by saying something insane.
---
Kyle asks: 1 transfer/ decommitted prospect from last year you want on men's team for this season.
We answered this in our latest podcast, but I'll do it again here. My answer is Vance Jackson. This year's team is terrifyingly short on three-point shooting. Give me the guy that shot over 48 percent from deep in conference play last year. We also get the added bonus of some Larrier knee insurance. Second place: Makai Ashton-Langford.
---
Kyle also asks: Any single digit victories for women or all double digit wins?
I think so. They had three single-digit wins last year (and one single-digit loss) and the schedule is just as tough this time around. Make no mistake, this team is superior to last year's but I also think the talent gap between the top ten or so teams in the women's game is closing. UConn plays six top ten teams during the regular season. They'll win one of those by nine. My bet is Notre Dame.
---
Hall asks: What are the odds that UConn beats one of Witchita, Cincy, Nova, and zona?
KenPom says the most likely UConn victory among that group is when Cincy comes to Connecticut at 34 percent. The low is at Arizona (9 percent). I'll go ahead and say there is a 39 percent chance that UConn wins one of those six games (maybe Arizona is #cursed).
---
Jason asks: Who will lead both teams in scoring and how many points will they average?
Samuelson: 20.8
Adams: 16.8
---
Don asks: which player or coach will have the most Technical Fouls this season?
I feel pretty safe in guessing it'll be Ollie. I don't think there's an Edmund Saunders or Diana Taurasi on either roster to cause enough drama, and what possible reason could Geno have to get T'd up when his team is up 300 on USF?
---
Jungle Husky asks: Is the level of roster turnover we've had the past few years the new normal? Is it unique to UConn or is it happening at other schools too?
The pace of transfers continue to rise across the sport so it's not unique to UConn although the exodus this offseason was certainly unique to UConn fans (barring the extraordinary circumstances of 2012). I do think it's the new normal for UConn. It's the necessary side effect of filling your roster every year. Guys aren't willing to ride out multiple seasons on the bench waiting for minutes. It's hard to blame kids for being proactive but it is kind of annoying as a fan who wants to watch guys develop.
---
Chris asks: UConn men blew out a team in an exhibition game like it did back in the day. Should we not read anything into it, or get really excited?
This was in response to UConn smashing Queens in the final exhibition game. I'll give you both sides of the coin. First, Queens was oh my god terrible. Like, borderline hilarious terrible. And they still went on a 17-3 run to start the second half — and forced 20 UConn turnovers. Despite the final score, there were some red flags. [Stephen A. voice] BUT! UConn did beat the shit out of Queens, got productivity out of some key guys and (for the first time in years, it feels like) came out of the locker room ready to kick ass from the opening tip. Overall, I think every minute this new group of guys plays together is worthwhile and productive, but it probably doesn't tell us a whole lot.
---
Matty asks: In your opinion, who do you see transferring after the season is over? And what could be their reason?
Well, there are like seven players on the roster playing for two spots with another guy (Lukas Kisunas) coming on board next fall so I think it's a fairly safe bet that someone transfers. What happens over the next 30 games will determine who but, gun to my head (wtf Matty?), I'll guess Whaley.
---
John asks: Prediction for WBB and MBB season records?
Answered this one in our roundtables but I'll repeat. I do not think the women will lose. They are absolutely, supremely, insanely talented and will be in complete Fuck The World mode come tournament time following last season's loss. The men, who knows? I went super pessimistic (16-15), but honestly, there are reasonable scenarios where they swing 4-5 games in either direction of my prediction. The biggest variable will be health (as became painfully obvious last season).
---
Jeff asks: Who gives the UCONN WBB team their closest conference game this year?
You may be thinking USF because they are usually the second-highest ranked team in the AAC, but here's the thing: USF is absolute trash. You also may be thinking Tulane, who shocked the world by only losing by three at home last season. Here's the thing: UConn returns almost all of the roster that played in that game and they are going to hilariously destroy Tulane because revenge. That Tulane game immediately followed UConn's big win over South Carolina — the very definition of a trap game. That distinction this year belongs to Cincy on Feb. 4 so I'll go with that.
---
L.E.S. Miles asks: will Tacko Fall out-rebound our entire team by himself when we play UCF?
I don't think so but that would be kind of fun for me, the world's most prominent Tacko Fall fan. Kevin Ollie (and Amida Brimah) brutalized Tacko last season (rude) and considering UConn now has like 40 fouls worth of frontcourt players, I expect Tacko's UConn experience to be painful again this season.
---
UConn fan asks: What is UConn's third-best sport?
Probably men's basketball, right? Women's basketball is practically its own sport and field hockey is the number one team in the country and heading into the tournament undefeated. It's a down year for soccer. Both baseball and hockey teams are fun but not top tier. Football is, well, yea. So congrats to men's basketball on the bronze medal.
---
Harsh husky asks: Using the scoville scale, how hot is Ollie's seat? Trying to ask the weirdest question.
This is nowhere near the weirdest question. Our mentions are a hellscape. To answer your question, which you can't prove I had to google, Ollie is somewhere around a peperoncino. A ring in 2014, plus the new roster, plus last year's #narrative will buy Ollie more time even if this team misses the tournament, so long as it doesn't Diaco fall apart.
---
Ben asks: When will Twitter win out and we actually go through with #FireGeno
Twitter should never win anything. Twitter is bad. We once legitimately debated how many felonies Geno could commit without being fired. Arson? We can overlook arson. Murder? Solid maybe.
---
UConnFan asks: Watching at home: couch or recliner?
I do not own a recliner because I am neither a 90 year old nor a 20 year old whose only furniture was previously owned by a 90 year old. So couch, but with a chaise or an ottoman. Feet up, classy as hell.
---
Ben asks: So, in review, only two of you have them getting 20 wins, so basically none of you have them making the tournament…
Well Meghan had UConn winning the AAC Tourney, and Alex had them in the Elite Eight somehow, so no. I do not have them winning 20 games or making the tournament but I did at this time last year, so…
---
Jon asks: Over/under 5.5 wins for MBB in November?
We uh counting the exhibition against Queens? If so, yes. If not, no. I think they'll win the buy games (Colgate, Stony Brook, BU, Columbia) and go 1-2 in Portland.
---
Justin asks: Candidate for worst period of UConn jerseys?
Anything with the Block C, which is terrible.
---
UConn Husky Room asks: So in order to understand our current roster better, find for each player excluding walk ons a comparable former Uconn player who is most similar.
Cool, cool, more comps…
Adams: Shabazz Napier
Anderson: Antonio Kellogg
Carlton: Kirk King
Cobb: Jeff King
Diarra: Kentan Facey
Gilbert: Ryan Boatright
Larrier: DeAndre Daniels
Onourah: Eric Hayward
Polley: Gavin Edwards
Vital: Tony Robertson
Whaley: Roscoe Smith
Williams: Doug Wrenn
You may now be mad. But please know that very little thought went into this.
---
Kevin asks: Does Russ have a thing for The Suzie Hunter?
They're related you creep.
---
Harsh Husky asks: Could you beat Jalen in a scooter race?
Well I could now.
---
Puneet asks: Which house of horrors do we finally win in this year, Reynolds or Hofheinz? Or neither? (We know it won't be both)
If they don't win at Reynolds this year I seriously might snap and have to go live alone in the woods. Tulsa hurrican't beat UConn every fucking year, right?
---
Jeff asks: Best way for me to pop the 280 twitter character cherry I haven't used yet…?
Type "I will never use the pop the cherry idiom ever again" until you run out of characters and then throw your phone, computer and self into a volcano.
---
Nick asks: Who gets more minutes at the 4/5 this year, Carlton/Whaley or Cobb/Onuourah?
I'll guess Cobb/Onourah. Cobb should play the most total minutes of any of the NLBP (Non-Larrier Big People) and as far as we know, Onourah, Carlton and Whaley will all be competing for the same pool of minutes. I don't think any plays significantly more than the other to tip the scales.
---
Blue & White asks: What's your 2019 recruiting wishlist look like?
At any point of any time give me a legitimate big man. If this is the genie-out-of-the-lamp type of wishlist, give me Chol Marial. Somewhat more realistically, give me Kofi Cockburn. Otherwise just give me anyone 6'10" or taller who can remain upright in a strong breeze. UConn will also need scoring, either from the backcourt or the wing. I like Khalif Battle and Josh Nickelberry a lot. I still don't think UConn is done with the 2018 class (summer de-commits) so we'll be talking about this subject for a while.
---
Chris asks: Who was eating potato chips during the podcast this week?
Usually snacks can be blamed on Russ, though in his defense, it's usually a silent snack like ice cream. Our latest pod was a little…saucier…than usual so the sound really could have been anything. Ice rattling around in Russ's solo cup? Meach's assemblage of assorted keys shaking around as he attempted to open one (1) beer and call the police? Alex's children ice dancing? Meghan's pet owl actually just eating potato chips while it sits on her shoulder like a parrot? Some mysteries can not be solved.
---
Danny asks: On a scale of 1 to LiAngelo Ball how serious is the Jalen incident
1… so long as no one ever asks how Jalen got the scooter in the first place. No one's hurt and no one's going to Chinese prison. Glad everyone's OK.
---
JR asks: Which would you prefer, football to be good (something like a 9-3 season) or the men making it to a sweet sixteen??
I, personally, would generally be a happier person if the men made a sweet sixteen this year but I think UConn would prefer the football team have a good season. If you're giving me one team to have that level of sustained success, men's basketball please.
---
wethyhusky asks: Why can't we cheat well enough to get into P5?
It is annoying. I don't know that there's any realistic amount of cheating UConn could do at this point to earn a P5 invite. Even if they wanted to, the money's not there at the moment to pay the caliber of football recruits they'd need to make the program P5 caliber. In hindsight they should've either paid kids at the end of the Edsall 1.0 era or cheated in indirect ways, like cutting the brakes on Gene DeFillippo's car.