As the start of the season rapidly approaches, we know a few things about what this year's UConn team will look like. They'll lean heavily on Jalen Adams and Terry Larrier on offense, and count on Adams and Alterique Gilbert to set an uptempo pace on both ends of the floor. Christian Vital will be the utility guard — for lack of a better term — asked to fill in the blanks left by his teammates from game to game. Some nights that'll mean bombing threes, others it'll mean locking down the opponent's hot shooter.
What we don't know, however, is what the hell is going on in the front court. When healthy, Larrier is a dynamic scorer capable of playing multiple positions. He is an exclamation point in a sea of question marks. He's also the most veteran Husky in the front court having played four (4) games in a UConn uniform. The seven (7) other forwards and centers on the roster are on some scale of Relative Unknown to Mystery Unable To Be Solved That Has Driven Scientists To Madness.
Let's get the list out of the way: Josh Carlton, Eric Cobb, Mamadou Diarra, David Onourah, Tyler Polley, Isaiah Whaley and Kwintin Williams. If UConn gets supremely lucky (it'd be the first time in a while), we might be able to toss Sidney Wilson into this discussion as well.
It certainly sounds as if Cobb will get the first crack at the starting center job. People close to the program have been impressed with him this offseason and, despite being listed on the roster as the heaviest player in the program's history, he has dropped weight and improved his conditioning. The simplest path for UConn to be successful this season includes Cobb establishing himself as a legitimate Division I starter.
If you squint, you can find hope in Cobb's brief tenure at South Carolina in 2016 where his per-40 numbers (7.2 points, 12.2 rebounds) hint at some underlying ability despite averaging only about six minutes per game and leaving the program after some BB gun related legal trouble. He averaged around 11 points and eight rebounds at Chipola College last year against USF-level competition.
- Advertisement -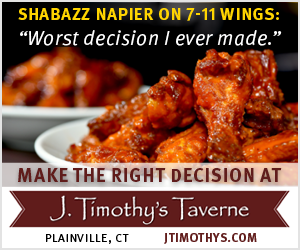 The Huskies are fortunate in that they don't actually need a ton of production from their bigs — a fun thing to remember is that Tyler Olander and Phil Nolan were the starting centers in UConn's last two national championship games. What they do need, however, is to find a way to coax 15-20 points per game out of the group above while giving the guards a reasonable reprieve from rebounding responsibilities (unless Adams wants to just be Shabazz, which could be cool).
In the ideal scenario, Cobb and one of the other Mystery Seven (we'll workshop this) will cement their spots in the rotation and allow Kevin Ollie to offer an assortment of different looks on offense. Larrier's ability to play the four likely results in UConn's most dangerous lineup — Gilbert, Vital, Adams, Larrier, [human] — but having the option of putting him at the three offers some tantalizing matchup opportunities where he could ruin smaller players' lives in the high or low post, while also offering some necessary rest for the guard trio.
UConn's defensive schemes will look a lot different this season, a direct result of Amida Brimah's departure. There isn't an elite shot-blocking talent on the roster, which should force the Huskies to rely on a more traditional approach of preventing penetration and obstructing passing lanes. There are minutes to be won by the front court players that can best keep opponents' big men in check and hold opposing offenses to one-shot possessions.
Rebounding has been a five-year problem for the Huskies, and, frankly, it'd be a surprise if that changes this season. The potential exists on the roster. Mamadou Diarra, particularly, earned a reputation as a ball-hawking rebounder as a four-star recruit, but missed all of last season with Knees No Longer Exist. Josh Carlton (6'9" and somewhere between 200 and 242 lbs, somehow) was recruited as a project but could be a surprise contributor like Brimah was in 2014. Cornell grad transfer David Onuorah brings good size (listed at 230 lbs last year at Cornell and 249 on UConn's roster). He could be the second in line to Cobb in hopes that his experience (87 games played at the collegiate level) provides more immediate returns than the potential of the younger guys.
Tyler Polley and Isaiah Whaley are identical in height and weight (6'8" 190 lbs). Polley was the more heralded recruit but Whaley is nicknamed Porkchop, which feels important. Both will have a chance to earn the role of Larrier's backup if they can demonstrate an ability to guard multiple positions and contribute literally anything on offense (the first guy that learns to set really hard screens is going to earn a lot of playing time).
Clearly, you can follow the varying paths of uncertainty here. When UConn takes the court on Wednesday for its surprise charitable exhibition against Providence we'll get a few answers. We can read a little into Ollie's preferred rotation by how he structures the starting lineup and how he situationally uses his bench.
But before we wrap this piece and turn our focus to Providence (or more Outkast records, I guess), we should address the elephant in the room. The elephant is here because Kwintin Williams is going to jump over it. Despite not playing basketball (apparently) at all last season and only one year of JuCO prior, Kwint has exploded into the UConn basketball world with an Instagram account full of pornographic dunk videos.
Kwint filled our hearts with joy when he windmill-360'd and he earned our respect when he did this. WHAT? HOW DID HE DO THAT? HOW?
If Kwint gets in a game situation where he has a clear lane to the rim, a basketball, and a mid-size Japanese sedan to jump over, I feel pretty good about the outcome. Two points right there. It's the rest of the time that delves back into our pit of uncertainty and unanswered questions.
Questions like: Can he dribble? Can he shoot? Can he defend? There's not a lot of footage out in the world to scout. We've seen IG videos of mid-range jumpers falling into a rebounding machine. With the bare minimum amount of evidence… his shooting form looks fine.
Of all the question marks surrounding UConn's front court, Kwint is the largest? His future is even more opaque than the rest. But in Kwint, we get to dream. At 6'7" 211 lbs, he's a touch larger than Larrier (but could leap over Alterique Gilbert). Kwint's raw athleticism hasn't been seen in Storrs since Stanley Robinson, or since Rudy Gay, or hell, maybe ever. If those unearthly gifts can transfer — even partially — to usable basketball skills, Kwint could be a winning lottery ticket. 
I'm not certain it will work out for Kwint, but I am damn sure looking forward to finding out.