The UConn women are set to begin their season with a chip on their shoulder. We're doing the same with our annual preseason roundtable.
This is the fourth year we've given you this valuable insight. To relive all the times we've been right in the past, check out the roundtables from 2014, 2015 and 2016. You can also read our men's basketball roundtable here.
Go time.
Record Prediction
Meghan Bard: 38-0 (including winning the AAC and NCAA tournaments)
Peter Bard: 38-0
- Advertisement -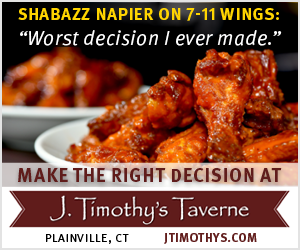 Russ Steinberg: 38-0
Tyler Wilkinson: 38-0 babby. FUTW.
Kevin Meacham: (number of games played-0)
Best Quality
Russ: This team will run the most beautiful half-court offense you have ever seen in your life.
Peter: This is a truly breathtaking collection of talent. This might not be the best UConn WBB team ever, but I firmly believe it's the best roster.
Kevin: The players and the coaches being a lot better than all the other players and coaches in America
Meghan: Being the UConn women's basketball team. But seriously, the ball movement will be sublime. Backdoor cuts for days, perfect passes, all of it at a speed that seems impossible.
Tyler: UConn's passing is basically pornography. I would watch a week-long highlight film of just backdoor bounce passes.
Worst Quality
Peter: At least two or three useful players will end up transferring due to a lack of minutes. We're literally looking at a situation in which I'm concerned about the #1 recruit in the country who has Maya Moore-esque talent not getting enough minutes.
Meghan: This seems weird, but they have too many good players! It's unclear how everyone is going to get minutes, because there are six (6) new players who are better than the two (2) they lost last year. And when your biggest problem is deciding whether to start Crystal Dangerfield or Azura Stevens, well, you actually don't have problems, you have a juggernaut.
Kevin: Two-thirds of the schedule is a blur every year due to AmeriCon bad.
Russ: Too many good players, not enough minutes
Tyler: I suppose it's still point guard depth. Crystal Dangerfield can't get hurt or get into foul trouble come tournament time. Kia Nurse is amazing, but she doesn't quite have the speed or ball-handling abilities of Dangerfield, a rare deficiency that could be exploited by a team (say, Mississippi State) in the Final Four.
Team MVP
Kevin: Gabby Williams can literally do everything a basketball player can do. I don't know if she's quite on the God tier of UConn WBB (what up Diana, Maya and Breanna) but she's poised to finish her career damn high up on the tier below it.
Tyler: K atie     L ou     S MVP
Meghan: Gabby Williams. She can just do every damn thing. Gabby is the best athlete on the floor every time she steps out there. She will likely lead the team in steals and assists again this year, but don't count her out on rebounds either. Also leads the team in wokeness.
Russ: CD. Really, isn't it always CD?
Peter: As a socialist, I don't believe in individual awards, and this team won't need them. The Team will be the Team MVP. Kind of a joke, but they're so loaded across the board that it's hard to imagine one player truly dominating.
X Factor
Russ: It's hard to have an X Factor when literally everything about your team is awesome. But I think people are forgetting about about the non-Megan Walker freshmen who were all ranked top 30 nationally. Pick any one of them as impact players.
Kevin: Azura Stevens' size and ability gives the team a dimension it didn't really have last year, and having her is going to be real nice on nights when jump shots aren't falling (like @Tulane last year).
Tyler: Gabby Williams as the best X Factor in the history of the sport. She can do literally everything on the court at any time.
Meghan: Geno. Let's be real, the coach is the GOAT and we are all extremely here for it.
Peter: Will Geno be able to find enough minutes to keep everyone happy. That's literally the only issue this team might have. There's massive depth at every position, despite the fact that we don't use positions.
First and Second Team All-Americans
Peter: There are more potential All-Americans on this team than there are starting positions. I could see any of KLS, Gabby, Collier, Nurse, Dangerfield, Stevens, and Walker having a big year and making an AA team.
Tyler: First team: KLS, Collier. Second team: Williams, Stevens
Meghan: 1st: Napheesa, KLS, Gabby. 2nd: Kia, Stevens.
Kevin: If you were actually naming the 10 best players in the country, UConn probably has a legit case for seven players; I'll play it safe and say only five—Gabby, KLS, Nurse, Collier, and Stevens.
Russ: Yes
Breakout Player
Meghan: Azura Stevens. She looked very good in the exhibitions; she just needs to be a tiny bit quicker to be totally Geno Approved. Give it like four (4) games, and it's gonna be real nice.
Russ: Crystal. We already know she's good but now we get to watch her run the show.
Kevin: Megan Walker has literally never scored a college point and she'll probably score many points so let's go with her.
Peter: Stevens. She's the perfect Geno big, because she's actually a 3 who rebounds and blocks shots like a center, and is 6'5″. But she can handle, shoot, pass, and move, as well.
Tyler: Dangerfield is going to wreck shit this year. With her running the point at an elite level, the team is faster, deeper and (somehow) even more dangerous.
Leader in Scoring, Rebounding, Assists
Kevin:  KLS, Collier, Gabby
Tyler: Samuelson, Williams, Williams
Peter: Samuelson, as she's the best shooter and is the least encumbered by other responsibilities. Rebounding: Stevens, provided she gets the minutes. Assists: Gabby. Also, Gabby might lead the team in everything because she's perfect.
Meghan: Scoring: Pheesa, Rebounding: Pheesa or Gabby or maybe Stevens? Honestly, I dunno Assists: Gabby
Russ: Scoring: Collier Rebounding: Gabby Assists: Gabby #StayWoke
Most Likely Loss
Peter: Because I'm a dumb person who doesn't pay attention, I didn't realize the Stanford game was in Ohio and not California, but I still think that opening the season against a well-coached Stanford team when the team may not have had a chance to gel yet is the most dangerous game on the schedule.
Tyler: On the road against USF. LOL! Just kidding, USF is trash. It's at South Carolina.
Meghan: They are playing at defending-national-champion South Carolina this year, but UConn's chances of winning that game are still like 95 percent
Russ: To the practice squad sometime early in the season.
Kevin: South Carolina I guess? I just don't see anyone coming close.
National Championship or Nah?
Russ: Bob Diaco is more likely to be UConn's next DC than the women's basketball team is to not win it all
Peter: It's hard to imagine a team this talented not winning the title, especially given the fact that they have a coach who has managed similarly talent teams to complete dominance in the past.
Kevin: Lol c'mon
Tyler: Oh yes, babby. Oh yes.
Meghan: Hellllllll yes. This team is gonna be salty as hell that they lost last year. They have something to prove, so watch out everyone, they will crush you.
Great and/or Crazy Thing Geno Says Before the Tournament
Tyler: Gotta figure his campaign launch speech when he descends the golden escalator of the Werth Center will be pretty lit.
Kevin: "I will fight Donald Trump in the octagon."
Russ: It'll be about Trump and not going to the White House. Way too easy a target for him.
Meghan: He's getting his game warmed up on Twitter right now. So he'll probably call Donald Trump a moron like three days before the Final Four.
Peter: I respect Geno too much to try to predict his particular brand of crazy.
How Long Will Geno's New Twitter Account Last
Meghan: Geno's Twitter is lit, and I hope it lasts forever, but it's likely gone by the time this is published.
Peter: I don't think he'll ever delete it because he's concerned about a controversy, but I wouldn't be surprised if he gets bored with it within in the next two months and just stops tweeting except to retweet things his kids say 3 or 4 times a year.
Russ: If it's still around by Thanksgiving I'll be shocked.
Tyler: If it makes it to 2018 I will be shocked. I'll go with a very festive Christmas death prediction.
Kevin: Two minutes after Geno defeats Donald Trump by TKO in the octagon.
Wild Card
Tyler: Gabby becomes the fourth player in team history to record 200 assists in a season, and the first (woman or man) to do it while scoring at least 500 points and grabbing at least 300 rebounds.
Russ: Geno wears a tie for one (1) game this year.
Kevin: They'll break a school record and score 127 points in one game this year.
Peter: Somebody dunks. I don't know who, but it will happen.
Meghan: Gabby finally comes on the ADB podcast