Last November, after four hot shooting games, we began irresponsibly speculating that Katie Lou Samuelson might become the most prolific three-point shooter in NCAA history. In the year since, KLS has elevated our idle surmise into a full-blown Record Watch.
The current record, held by UConn great Kaleena Mosqueda-Lewis (and UConn great Diana Taurasi before her), stands at 398 made three-pointers — a number made more remarkable considering KML lost a month of her junior season to mono.
After two full seasons in Storrs, Samuelson sits at 197 threes — slightly behind pace (with two fewer games played). Mosqueda-Lewis had 211 at the end of her sophomore season. But Samuelson is trending in the right direction. Her 3.22 threes-per-game last year is higher than any individual season by Mosqueda-Lewis.
If Samuelson matched last year exactly this coming season and again as a senior, her career total would be — wait for it — 435! That's not even breaking the record, that's putting the record into a blender and liquefying it. Even if her pace slows to 2.8 threes per game (Mosqueda-Lewis's career average), Samuelson would sneak into first place near the end of her time at UConn.
Before we go labeling this a foregone conclusion (though I think it is), it's worth mentioning the three key roadblocks that Samuelson could face.
- Advertisement -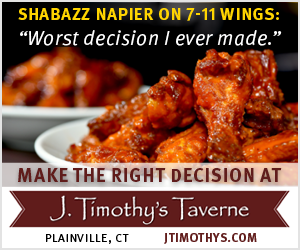 Injury: As Mosqueda-Lewis experienced, a sustained injury or illness can put a huge dent in your career statistics. Had she not missed 12 games in 2014, KML could have put the record out of reach. Samuelson herself missed UConn's 2016 championship game after breaking her foot in the semifinal. Her chances at grabbing the record hinge on her playing around 37/38 games per year.
She's Too Good: While Mosqueda-Lewis was a phenomenal player at UConn, her offensive skill set was nowhere near as diverse as Samuelson's. Last year, Samuelson showed an improved ability to beat defenders off the dribble, score in the post and get to the free throw line. If she's shooting 60 percent from inside the arc (she was 56% last year), she might not be as inclined to bomb threes.
Her Teammates Are Too Good: Ok, this isn't a perfect excuse considering Mosqueda-Lewis played with one of the greatest women's basketball player of all time (Breanna Stewart), but UConn's depth of talent could rob Samuelson of some three-point attempts. This is a very UConn problem. In addition to a wealth of capable teammates in need of shots, Samuelson will likely combat the very serious problem of not needing to play in the second half because her team is winning by approximately all the points. This same scenario artificially held down the career numbers of Stewart, Taurasi and Maya Moore by reducing their minutes. Perhaps it will also keep Samuelson from reaching the all-time record.
It won't though. She's gonna do it.