Gabby Williams and Kia Nurse are set to begin their final season at UConn. The only seniors on the team this year, and they're coming off their first loss in over two years. Over their first three seasons, the duo has a record of 112-2. Yes, you read that correctly. In the last three years, they have lost a total of two (2) games.
And while that record is ludicrous, expect to see a team this season with a little chip on its shoulder. After losing to Mississippi State in the NCAA Tournament semi-finals last year, if the team hasn't yet realized they have something to prove, you can be damn sure that Geno will Jedi-mindtrick them into thinking they do.
Gabby and Kia's junior compatriots of Katie Lou Samuelson and Napheesa Collier seem to be on target for more individual accolades this season, with Collier picked as the pre-season AAC player of the year, and Lou named to the AAC First Team. Gabby was also named to the AAC First Team, and Kia to the Second. Collier and Samuelson do seem to get top billing when UConn is discussed on a national level.
But make no mistake, this is Gabby's and Kia's team. They're the leaders, as they were last season, and you can expect them to continue in that role.
Kia has always shown remarkable poise, maturity and an ability to remain completely unfazed even when games are seemingly careening out of control. Probably helps that she's been playing with the Canadian National Team and has an Olympics trip in her recent past. She will likely handle the bulk of the ball-handling, but will spend some time at the 2 when Crystal Dangerfield is on the floor.
- Advertisement -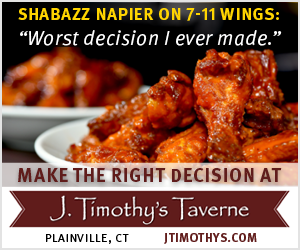 Gabby has the ability to put the team on her back when things aren't working. Her otherworldly athleticism and indefatigable hustle sets her apart from every other player in this country. There was more than one game where it seemed like Gabby was in the middle of every play, making amazing passes, pulling down monster rebounds and making superb defensive plays. Her offense improved as the season progressed, and she's fully come into her own as a complete player. She came out of high school listed as a "combo guard," but played last season mostly as an extremely undersized center, who somehow managed to out-rebound players with six inches on her. She'll likely play everywhere from the 2 to the 5, but honestly, I'd bet she could run the point if we needed her to.
That said, don't expect UConn to play traditional positional basketball this season. Lou can play anywhere from the 2 to the 4, and Collier can play from the 3 to the 5 (though will almost certainly spend most of her time at the 4). And then there's Azura Stevens, who has the size to play the 5, but a skill set that allows her to face the basket as often as playing with her back to it.
Really, I'm just saying I wouldn't bet any American dollars on what the positions will actually be this season. Mostly because there won't really be any beyond who runs the point. And that's going to work out just fine.
With only one year left to solidify their legacy, I expect Gabby and Kia to play like they've got something to prove. I expect them to lead this team to a National Championship – maybe even one more undefeated season. Would you expect them to go out any other way?