Every fall, as the start of college basketball season inches closer, we get new versions of the same stories. One player is in the best shape of his life. Another is poised for a breakout season. This year, they say, is The Year for your favorite team's star-to-be. That's where we currently find ourselves with UConn guard Jalen Adams. 
On Monday he was picked by AAC coaches for the conference's preseason first-team. He was also placed on the watch list for the Cousy Award, given to the game's best point guard, for the second year in a row. This follows a sophomore campaign that saw Adams blossom as UConn's best player, leading the injury decimated Huskies in both points and assists.
Although it was a disappointing season for the team, Adams' play was good enough to spike expectations for his junior year. Looking back at the recent history of UConn point guards (Kemba Walker, Shabazz Napier, Ryan Boatright), it's typically the transition to upperclassman that unlocks their potential. For that to be true of Adams, he'll need to show improvement in some key areas.
Three-Point Shooting
A year ago, we pointed at Jalen Adams' freshman year three-point shooting (27.3 percent) and said he'd need to markedly improve to have more success as a sophomore. And he did, shooting 35 percent on the year. That might still be below what you'd expect from your star scoring guard, but it's good enough to lead a good team (Kemba topped out at 34 percent). The key for Adams is consistency.
In the team's first 11 games last year, Adams was 43.4 percent from three. Following the Auburn game (in which he was concussed), Adams shot 31.5 percent the rest of the season. The hot and cold long-range shooting was made more problematic by the inconsistent offensive contributions from Adams' teammates, but is also something that he should have improved on this summer.
Getting to the Free Throw Line
- Advertisement -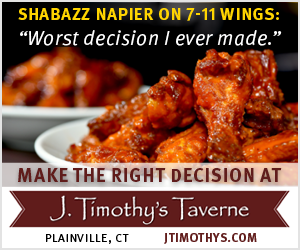 Technically Adams improved in this area last year. As a freshman, he rarely managed to get to the line with Free Throw Rate of .209 (free throws attempted per field goal attempted; higher the better). That ticked up to .230 as a sophomore but, like his three-point shooting, cratered as the team got into conference play (.171). There are some explanations for this that mostly involve UConn being a very bad team last year (next bullet), but it's difficult to find a scenario in which the Huskies find success while Adams so seldom gets to the line.
Stay Healthy and Rested
It's not a coincidence that Adams' efficiency waned at the end of last season. If you'll remember, UConn was playing with about three players after the rest of the roster turned into mashed potatoes. With a full and healthy roster this year, it will be critical to steal Adams some rest whenever possible, keeping him fresh for the end of the season. Largely, this will be out of Adams' hands. His fellow guards — especially Christian Vital and Alterique Gilbert — need to be good enough to buy Adams a few minutes on the bench (and stay healthy themselves). Assuming Gilbert's shoulders stay duck taped together, he'll be able to take on most of the ball-handling, leaving Adams free to reserve some energy playing off the ball on offense. Kevin Ollie has been fairly adept at stealing his stars an extra minute or so of rest before television timeouts. He'll need to be even more creative in finding Adams some time to recover.
In each of Adams' first two seasons we've seen the Huskies' postseason fates decided in the conference tournament. Having him healthy and at his best for those games is critically important.
Make His Teammates Better
This year's UConn team in an enigma. With so many new faces, and players returning from injury, Adams is one of the few known quantities. We can assume he will lead the team in scoring again. And that he will be the guy the team turns to when the game is on the line. But the productivity of his supporting cast remains a mystery and it will partially be Adams' responsibility to ensure they are successful. Looking to the successful final seasons for Walker and Napier, this usually means excelling at your role as the team's offensive star and guiding others into necessary supporting roles (something we'll talk about more this preseason). Fortunately for the Huskies, Adams is coming off a season in which several of his teammates played above expectations (Vital, Vance Jackson, Kentan Facey), it just wasn't enough to overcome injuries and a bad start to the year.
***
Adams seems more than capable of handling the pressure placed on him by lofty preseason expectations. He's also shown enough talent and motivation to do all of the things we've mentioned above. And the Huskies need him to. At the peak of his potential, Adams can be one of the best players in the country. If he is, he will lift UConn with him.