Adjusting to the speed of the college game is tricky for young players, especially big men. The guards get into the lane faster. The opposing bigs are stronger and more athletic. And, generally speaking, the referees are more willing to stop the game to call a foul.
The adjustment for UConn's frontcourt was ugly on Wednesday evening in an exhibition loss to Providence. The Huskies' seven bigs combined to commit 17 fouls in 88 minutes. That's 7.7 fouls-per-40-minutes. Seems problematic.
Of those seven players, only Terry Larrier played any college ball last year and he missed most of the season with a knee injury (David Onourah, who played at Cornell last season, missed the game with a hip injury). So it shouldn't be surprising that each found himself out of position, slow to recover and occasionally flat-out lost on defense during the first game of the year. But UConn doesn't have the luxury of waiting for young guys to figure out how to play at this level. The Huskies need meaningful contributions from the frountcourt as soon as possible.
Historically, UConn's best freshman bigs have also been the best at staying on the court.
| Player | Games | Minutes | Fouls Per-40 | Win Shares |
| --- | --- | --- | --- | --- |
| Boone | 38 | 835 | 3 | 3.8 |
| Drummond | 34 | 967 | 3.1 | 2.9 |
| Adrien | 33 | 543 | 3.1 | 3.1 |
| Okafor | 34 | 1021 | 3.4 | 5.3 |
| Thabeet | 31 | 762 | 4.3 | 4.8 |
Now, two things. One, there's obviously not an Okafor or a Thabeet on this roster. And two, one weird exhibition game against Providence is much too small a sample size to draw meaningful conclusions. But Kevin Ollie is going to have to cobble together some productivity out of the big guys on the roster if UConn wants to avoid another disappointing season.
- Advertisement -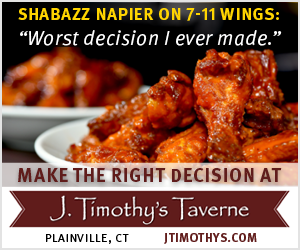 On the plus side, he has a ton of bodies to throw at opponents. Ideally, your frontcourt avoids foul trouble. But if not, the bench is at least full of replacement henchmen. There didn't appear to be a huge talent drop off from the first guys in the rotation (Eric Cobb and Mamadou Diarra) to the last (Tyler Polley and Isaiah Whaley) — although internet phenom Kwintin Williams looked pretty lost in his two minutes of action. It's not necessarily a problem if production comes from different guys each night, so long as UConn is getting production and not wasting too much game time on finding the combination that works.
Another positive: the group of young guys showed impressive rebounding ability. Whaley and Polley are athletic, can out-jump opponents and use their long arms to deflect missed shots on offense back out to the guards. Cobb and Carlton have good size without appearing slow. Diarra fouled out in six minutes without getting a rebound, but earned the start due to his play in practice, which is some sort of silver lining I guess.
The foul trouble on Wednesday wasn't limited to the bigs. Alterique Gilbert, Jalen Adams and Christian Vital all had two fouls in the first half. Gilbert only saw five minutes of action because of it. They, along with Antwoine Anderson, are going to need to do a better job of avoiding whistles while also protecting their big men. Amida Brimah isn't waiting behind the guards to correct their mistakes anymore. The quickest way to get the big guys in foul trouble is by granting perimeter players free access to the lane.
In the college game, raw talent isn't enough to succeed without good positioning, something everyone on the roster still needs to learn. Fortunately, the next five games will provide ample learning opportunities before the schedule gets serious, starting with a Thanksgiving matchup with Oregon.