#RankedWeek marches on, this time, by popular demand, with an update of a list we compiled last year ranking the UConn alums excelling in professional sports.
To complete this ranking we try to look at each player's standing in his or her individual sport for the most recent season. This is obviously an incomplete collection of every former Husky getting paychecks to sport, but does include everyone the ADB staff argued about.
[If you have requests for #RankedWeek, tweet them at us or use the contact form.]
29. Kendall Reyes, NFL
28. Matt Barnes, MLB
27. Rachel Hill, NWSL
Hill's career is just getting started. A standout at UConn, she'll undoubtedly climb this list if we're low enough on content to continue it next year. Here's video of Hill's first goal.
26. Shamar Stephen, NFL
Somewhat quietly started every game for the Vikings last season, credited with 39 tackles.
25. Bria Hartley, WNBA
24. Morgan Tuck, WNBA
23. Shabazz Napier, NBA
- Advertisement -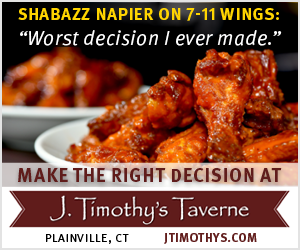 In his third pro season, Napier averaged the fewest minutes of his career on a .500 Blazers team. His per-36 numbers are respectable but Bazz has yet to force himself into a major role.
22. Darius Butler, NFL
21. Kiah Stokes, WNBA
20. Nick Ahmed, MLB
Ahmed is passable on offense (.251/.298/.419) in 53 games this season, but has made a name for himself with his glove.
19. Jeremy Lamb, NBA
18. Ryan Griffin, NFL
17. Rudy Gay, NBA
Gay, who turns 31 next month (you're old) was having a nice season for the Kings (the NBA's junior varsity team) before his Achilles tendon turned into mashed potatoes in January. He recently signed with the Spurs.
16. Anthony Sherman, NFL
15. Andre Blake, MLS
14. Moriah Jefferson, WNBA
Jefferson (who, if you recall, might be an alien) is putting up about ten points and four assists in San Antonio this year. She is currently fourth in the league in steals (1.8 per game).
13. Stefanie Dolson, WNBA
12. Stephanie Labbe, NWSL
Labbe is having a phenomenal season as the goalie for the Washington Spirit. She is tied for second in the league in saves.
11. Byron Jones, NFL
Jones gained a national reputation for his freakish athleticism and has used it to earn a spot in the Cowboys' starting lineup. He only had one pick last season but combined for 88 tackles.
10. Andre Drummond, NBA
Drummond regressed from his 2016 All-Star season but still averaged a double-double (13 & 13). If he ever figures out how to be not historically bad at making free throws, the sky's the limit.
9. Cyle Larin, MLS
Larin is one of the premier young talents in the MLS. He served a multi-game suspension following a DUI arrest but has still scored eight times in 17 games this season.
8. Tiffany Hayes, WNBA
In her sixth pro season, Tip has emerged as an elite offensive weapon, earning her first All-Star appearance. She is utilizing an improved three-point shot to average over 16 points per game.
7. Sue Bird, WNBA
In her 15th (!!) season, Bird is showing no signs of slowing down. Her 6.8 assists per game this season is the highest rate of her career (and good for fourth in the league) and she is scoring in double-figures (for the 15th consecutive season). She's good, you see.
6. Diana Taurasi, WNBA
Taking a year away from the league hasn't slowed Taurasi. Earlier this season she became the WNBA's all-time leading scorer. She's currently eighth in the league averaging almost 18 points per game. She also got married, her second greatest accomplishment (the first is appearing on this list).
5. Kemba Walker, NBA
King Kemba earned his first All-Star appearance this season. He scored the most points of his career (23.2 ppg), averaged 5.5 assists and boosted his three-point shooting just south of the 40 percent mark. He is devastatingly fast, one of the best ball-handlers in the league and only getting better.
4. Maya Moore, WNBA
Moore just made her fifth consecutive All-Star team. She is averaging 15.2 points per game (16th in the league), 5.7 rebounds (20th), 3.9 assists (13th), 1.6 steals (5th) and is having — by her standards — a down year. Her Minnesota Lynx are the class of the WNBA with a 15-2 record.
3. George Springer, MLB
Barely past the halfway point of the Major League Baseball season, Springer has 27 dingers and a .304/.381/.596 triple-slash for the first-place Astros. He is one of the best young players in the game, and played on the AL All-Star team last week.
2. Breanna Stewart, WNBA
After watching her dominate at UConn, it shouldn't be surprising that Stewart is similarly excelling in the pros. In only her second season, she is averaging 19.4 points and 8.9 rebounds per game.
1. Tina Charles, WNBA
Charles is having an MVP-caliber season this year. She's second in the league in scoring (20.1) and third in rebounding (9.5).