You've had a day to get over UConn's 76-66 loss to Maryland on Tuesday. Now, we need to talk.
We need to talk about that Vine of Kevin Ollie sweeping those papers across the court, because there is so much going on in that six-second masterpiece. So much more than just an angry coach reacting stupidly to what he perceives as a bad call. Let's try to make some sense of it.
Glen Miller:
The UConn associate head coach is the most obvious non-Ollie participant here. In Ollie's initial turn to the scorer's table, Miller can be seen reaching out, trying to calm him down. When Ollie turns away from the table, Miller assumes his work is done, and he turns his attention back to the court. BUT OH NO WAIT! Ollie isn't done yet, so when he turns back to the table, Miller realizes how powerless he is to stop impending disaster. He extends a hand slightly, motioning for him to calm down. A split second later, papers go flying.
- Advertisement -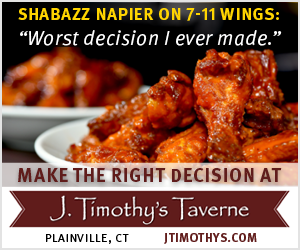 Ricky Moore:
Moore is two seats down from Miller, mere feet from Ollie, and it's possible that he saw none of this. He's seen reacting to the foul call on Jalen Adams that set this whole thing off. Moore sits down, leans back and lets out a bellow that's probably picked up by nearby seismographs as Ollie approaches the scorer's table the first time. By the time the papers fly, Moore is yelling in the direction of the official who made the call.
Boo Willingham:
Boo is the guy in the first row, directly behind Warde Manuel. The former Husky is first seen expressing his disapproval of the call, but as a coach himself, his attention quickly turns to Ollie. When Ollie makes his second turn, Boo helplessly extends his arm in hopes of calming the head coach.
Warde Manuel:
When the foul occurred, Manuel was probably looking down at his phone screen, checking for deals on flights to Ann Arbor. He looks up and doesn't bother to feign interest in the disaster unfolding inches in front of his face. I know that proper courtside decorum calls for no cheering, and basically remaining as emotionless as your father was whenever you did something you thought would make him proud. But you'd think there would have been a reaction of shock at the very least.
Omar Calhoun:
Calhoun might be the most underrated character of the Vine. He is first seen standing, arms at his side, not knowing how to react to the foul on Adams. He has turned rigid, petrified by a call that could halt the Huskies' momentum. Then, sensing what's to come, his head turns. The best part about this? That's literally all that happens. He sees everything and, like Manuel, does not react one bit. I imagine it's because a satanic voice in his head is plotting the destruction of the officials' locker room after the game.
Joe D'Ambrosio
Ever the professional, Joe D. is seen for half a second, right before the paper toss, giving listeners his description of what's occurring in front of him. I'd love to know how he called this — not only because it was a bizarre situation all around, but because Manuel is seated immediately next to him. Joe D has the responsibility to call it like he sees it, but it can't be easy with the AD right there. Don't hold back, Joe. Don't hold back.