We're mere days away from the first real basketball of 2016-17. Rejoice! To celebrate, we're reviving our annual tradition of being wrong about everything in the form of a preseason roundtable.
Here's our previous roundtables: 2016, 2015
Where should UConn be ranked heading into the season?
Tyler Wilkinson: Like the people who actually vote on these things, I really have no idea if UConn will be very good or average. I'll say 18th.
Meghan Bard: I'm going with 16 because it is my lucky number and also because I think this is a top 20 team. There are still some moving pieces, but if everything falls into place, this could be a very fun season.
Russ Steinberg: I think the polls have UConn right around where it should be, in the 15-20 range. They're undeniably a good team with a lot of promise, but also a lot to prove. You can't lose 62 percent of your scoring from last year and expect to be in the top 10 right away unless you're Kentucky or Duke.
- Advertisement -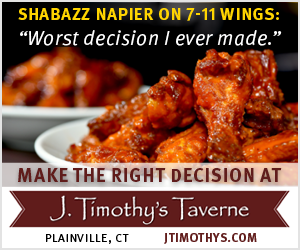 Peter Bard: I'd put them around #15, which seems to be about where the national media has them. Like last year, there are some very strong points, but also obvious question marks.
Kevin Meacham: [RV]. I am all for UConn getting the benefit of the doubt from the pollsters because of their name and history and because there's some great talent in the program, but we lost 3 of our top 4 scorers and our top two rebounders from a 9-seed team. I would not be surprised if UConn is a very good team by mid-February, but it would be a really pleasant surprise if a team of freshmen, sophomores and good-but-flawed seniors was top-25-caliber right out of the gate.
Record Prediction
Kevin: We say this every year, but they should win the AmeriCon, so 13-5 is kind of a base expectation. They better not lose any of their five cupcake/non-P5 games. I think they'll go 2-1 in Maui (Ok State, lose to UNC, win 3rd place). That leaves the four P5 games (Cuse, OSU, Auburn, Georgetown), which I'll say they go 2-2, losing at OSU and one of the Big East games. Put that all together and you get 22-8 heading into the AAC Tournament in Hartford, which should be a slam dunk (basketball reference).
Peter: They're the top team in the American, and there aren't many games in which they won't be favored, so I'm going to be optimistic and say 25-6 in the regular season, win the team's first regular season conference title (finally).
Meghan: 23-7
Tyler: 21-9
Russ: I'll go with 22-8, accounting for a couple losses in Maui to top-10 teams and the annual inexplicable AAC loss. Hopefully just one this year.
WTF Loss
Meghan: Dance with the one that brung ya. I got this right last year picking Tulsa, so I'm going with them again. At Tulsa on New Year's Eve has shit show written all over it. And Oklahoma is a terrible place.
Russ: New Year's Eve at Tulsa, who will be terrible and still somehow beat UConn at home.
Tyler: Oklahoma St. to begin Maui seems like the thing that would upset me the most, so I'll say that  one and hope I'm wrong.
Kevin: Everyone's going to say Tulsa on New Year's Eve, but I bet they lose one to a bad Memphis team. They will also lose to Tulsa on New Year's Eve.
Peter: @Tulsa on NYE, obviously.
Best Quality
Tyler: Athleticism. There's no real anchor on the court to slow down the team. Even the biggest guys on the roster — Brimah and Enoch — can get up and down the court in a hurry.
Peter: Ballhandling, particularly when Jalen Adams and Alterique Gilbert are on the floor together.
Kevin: Defense. There are some seriously large, athletic people on this roster — other than Alterique Gilbert, every other likely major contributor has a listed height of at least 6-3 —  and Ollie's track record as a defensive coach is good enough that I'm excited to see what he can do with lineups featuring a bunch of fast 6-8 to 6-11 guys, plus some pesky on-ball defenders at the guard positions.
Meghan: Gimme Guard Play for 2000, Alex. Speed, athleticism, ballhandling (especially Adams and Gilbert), quickness, I'm so excited I can barely contain myself. Look for KO to go small and fast sometimes with a three-guard line-up featuring Purv, Adams and Gilbert and look for Meghan to wig out on Twitter when that happens.
Russ: Control. Everyone else has touched on this, but it's all about the guards. Adams, Purvis, and Gilbert should combine for a trio that can take care of the ball, dictate the tempo, and (hopefully) run a functional offense. The pace of the game should be whatever they want it to be, whether they want to run the other team off the floor (yes please) or find Brimah for some fun lobs (miss you JCDH).
Worst Quality
Meghan: DHam took most of last year's rebounds with him when he left for (questionably) greener pastures, so it's going to be a thing again. But if Juwan Durham is as healthy and as good as they say his is and Facey can manage to stay on the floor? We might be OK.
Russ: Consistency inside. UConn needs Brimah to stay on the floor and rebound better, and needs someone to emerge alongside him. Facey has shown flashes of promise and Enoch is supposedly much improved, so they're both options. Larrier will also see some time in the post. Then there are the freshmen Diarra and Durham. Some combination there has to fall into place for UConn to be successful.
Kevin: Rebounding and 3-point shooting (tie). Kentan Facey is the only proven rebounder on the roster, but his first three years have also proven that he can't stay on the floor without committing a bunch of fouls. Amida Brimah does several things well, but rebounding isn't one of them. Maybe one or two of those 6-8 to 6-11 dudes mentioned above will come in and be a rebounding monster, but this is the area where they will miss Daniel Hamilton the most, I fear. As for the shooting, that's mostly to bring up what a lowkey question mark it is: only Purvis and Adams made a college 3-pointer last year, the guard rotation is good but kinda thin, and other than Purv and maybe Vance Jackson, I'm unsure if anyone projects to be an above-average shooter from deep.
Peter: Rebounding. Last year, Daniel Hamilton's board work allowed Ollie to go small consistently. With Terry Larrier stepping into JCDH's place and Amida Brimah still limited as a rebounder, the Huskies will need to get some serious production out of the four.
Tyler: The scary part of this question is that there are a lot of reasonable answers. I'll stay with tradition and go with rebounding.
Who is the X Factor?
Tyler: Kentan Facey. If he can be good enough to win the majority of the power forward minutes, UConn should be just fine. At the peak of his potential, he can almost single-handedly solve the team's rebounding issues, allowing more fastbreak opportunities and giving Brimah more freedom to go after blocks.
Russ: 2017 Jon Rothstein Future NBA Phenom Honoree Steve Enoch. Seriously, if he's improved that much, then the front court goes from a relative weakness to a strength in a hurry.
Meghan: Juwan Durham's knee. KO says he's 100%, and if he really is ready to go, he could have a major role on this year's team. Otherwise, it will be up to Facey to take the bulk of the minutes and foul trouble has been a problem in the past.
Kevin: Jackson. Love having a guy of that size who's touted as a knock-down shooter, and I think he emerges out of UConn's collection of wings early in the season to become an impact player. (Second choice would've been Juwan Durham because I'm totally sold on him becoming the scoring big UConn hasn't had under Ollie, while I'm in wait-and-see mode on the other wings joining the team this year, because I choose to believe things arbitrarily.)
Peter: I'm going to cheat, and say Kentan Facey, Juwan Durham, and Mamadou Diarra. If any one of these guys can step up and take the PF spot, that would address the team's biggest problems. Particularly intriguing is Durham, a five-star prospect before he hurt each knee. If his injury issues are behind him, he could be the dominant big man that UConn has lacked for years.
If none of them are starter-level, though, it's going to be a concern. In what will surely be a disappointment to many UConn fans, including my sister, this team doesn't really have the personnel to start a three-guard lineup. That would give you below-average rebounders at all three frontcourt positions, and it would leave Christian Vital as the only guard on the bench. So they're going to have to figure it out with one of these big men.
Breakout Player
Kevin: I mean, it's Adams, right? He had an awesome AAC Tournament, but he was extremely a freshman last year, and I fully expect him to make the leap this year, boosting his shooting percentages substantially (.458 on 2s/.273 on 3s) and generally becoming one of the best guards in the country.
Meghan: Jalen Adams. Adams had a huge moment at the end of the season, but it took him awhile to hit his stride. With Adams a year under his belt, the starting PG will find his groove early.
Peter: Terry Larrier had a pedestrian freshman season at VCU, but his outstanding athleticism and wide array of skills could allow him to be a great weapon for Ollie this season.
Russ: Terry Larrier. It's tough to figure out what to expect from someone who hasn't played a real game in over a year, but all indications are that the former four-star recruit is ready to contribute right away. He's stronger than he was when he was at VCU and KO wants him to be more versatile — able to play and guard on both the wing and at the 4.
Tyler: I know it's probably weird to consider the returning leading scorer a breakout player, but I'm still going with Rodney Purvis. As I said in more detail in this season preview piece, I think he's in store for a monster season. Think 2003 Ben Gordon only with better defense.
Who will lead the team in scoring, rebounding & assists?
Meghan: Scoring: Purvis; Rebounds: Facey; Assists: Adams
Peter: Scoring – Rodney Purvis, probably around 15-16ppg. Rebounding – This is a toss-up. If Kentan Facey can stay out of foul trouble and maintain some level of consistency, he's the smart bet, and hopefully he can stick around enough to get 7-8 rebounds/game. Assists: Adams seems a shoo-in here, unless Gilbert gets a lot more minutes on the ball than I think.
Kevin: Scoring: Rodney Purvis (16.2 ppg). Rebounding: Man, this is an utter crapshoot. Facey if he can stay on the floor, and if not, um, let's shoot for the moon and go Mamadou Diarra (6.7 rpg). Assists: Jalen Adams (4.9 apg).
Russ: Scoring: gpurvo; Rebounding: Facey; Assists: Adams
Tyler: Scoring: Purvis; Rebounding: Larrier; Assists: Adams
Jalen Adams Over/Under: 14 points, 4 assists
Russ: Under on points, over on assists, but the opposite could also happen.
Tyler: Over on both. Fuck it doe.
Kevin: Under (because Purv is the alpha dog and I don't see anyone besides him exceeding 14 ppg) and over (because if not, we're gonna have bad times).
Meghan: Under points (I've got him at about 13 ppg) and over on assists (please and thank you).
Peter: Under points (thinking 12ish), over assists (hopefully 5-6).
Jamal Coombs-McDaniel Award (bench guy who inexplicably leads the team in scoring once or twice)
Meghan: Vance Jackson will have at least once sick scoring night where he just bombs threes all day.
Russ: Vance Jackson, who claims to have the best hair on the team and wants you to follow him on all the social medias.
Tyler: Steve Enoch
Kevin: Kentan Facey will have an utterly random 20-15 game against someone.
Peter: Christian Vital seems a strong bet to catch fire from deep a few times and put up some numbers.
Guess the attendance of the 12/23 Auburn game
Russ: Announced crowd of about 11k, maybe 7k in the stands.
Kevin: 9,570
Peter: By then, hopefully the team will have moved into the top-10, and the fans will be excited enough to fill the arena against a P5 school.
Meghan: 7,500
Tyler: 12,018
What will Mick Cronin be mad about this year?
Peter: He'll clearly step onto the court to disrupt a fast break, and then claim 'the refs stole the game' for issuing him a technical.
Kevin: Amida Brimah is going to organize a Cronin family reunion, welcoming them all with great hospitality for a day of family fun and good times, and Amida will line them up to take a family photo, but instead of snapping the picture, he will unleash a ferocious dunk on Mick's entire family, including his new puppy Benji. Mick won't even be mad, or nude, or red, actually he'll be laughing,
Meghan: Being shorter than Russ.
Tyler: Jalen Adams again, only this time from 85 feet with 0.4 seconds on the clock.
Russ: He's still mad about Jalen Adams' shot and he will continue to be mad about that. By mid-March, will also claim Cincinnati would have won the 2017 AAC Tournament if it was not held in Hartford.
Wild Card – make literally any other prediction
Tyler: Adams will get a triple-double this season.
Meghan: Steven Enoch will do a monster windmill dunk in Gampel causing the UConn faithful to lose their minds and pieces of the ceiling will rain down like beautiful, sad confetti.
Russ: #FireOllie Twitter will peak at halftime of one of the Temple games.
Kevin: We are going to overreact so hard to that Syracuse game, win or lose.
Peter: Big Ron's identity will be revealed on the site or in a podcast.