The UConn men's basketball team released its full 2015-16 schedule on Tuesday. If you want to see it, click the link. If you want to see me rank every game in order of how much I'm looking forward to it, see below.
NOTE: For the Battle 4 Atlantis, I only included the first game, because that's the only opponent we know (Michigan). Assume that if UConn ends up facing Syracuse, that becomes No. 1 on the list automatically.
THE MUST-SEES
1. Maryland, Dec. 8
So much to love here. Primetime. Madison Square Garden. A preseason top-three team. Diamond Stone. This is an early chance at a statement game for the Huskies and it promises to be a helluvalotta fun.
- Advertisement -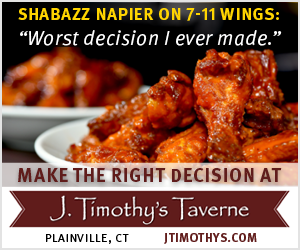 2. SMU, Feb. 18
SMU will probably be the preseason favorite in the American, and getting them at home on national TV is a great opportunity. It'll be loud, it'll be fun. The Mustangs return Markus Kennedy and a (now-eligible) Keith Frazier to lead a team that has beaten UConn four out of five times over the last two years.
3. Georgetown, Jan. 23
Just seeing a Big East team is enough to catapult this game toward the top of the list. I miss the Big East so much that I could write a damn book about it. D'Vauntes Smith-Rivera led the Hoyas in scoring last year and is back to anchor a young, but talented team that boasts former UConn targets Jessie Govan, Akoy Agau and Paul White.
4. Cincinnati, Jan. 28
Mick Cronin is a good guy and we're all thrilled that he will be back on the sideline. His passion for the game makes him one of the most entertaining coaches to watch in the country, and UConn fans will surely express their…uh…appreciation in Hartford this season.
THE YOU-REALLY-SHOULD-SEES
5. @ Texas, Dec. 29
Think about how scary it would have been if Shaka Smart was at Texas last year and had forced UConn to face that havoc defense. Actually, no. Don't think about that. Just know this should be a fun game in Austin, even if this isn't a top-10 Texas team. And remember this?

6. @ SMU, March 3
The other SMU game is higher because it's at home and Moody Coliseum is scary.
7. @ Cincinnati, Feb. 20
See above. Same reasoning. UConn rarely wins at the Improper Fraction, but these games are always fun.
8. Ohio State, Dec. 12
Forget about Ohio State being down this year. It's a Saturday afternoon game at Gampel on CBS. I want this game to happen right now.
9. Memphis, Jan. 9
This one looks like it'll be the lead-in to whatever Saturday night primetime game ESPN has in store. Oh, and it would be nice to see UConn avenge that sweep from last year.
WATCH THESE GAMES TOO
10. Tulsa, Feb. 13
Tulsa is good. Saturday night at Gampel. It'll be fun. Then again, #Haith.
11. Michigan, Nov. 25
It's a name-brand program, but the Wolverines were 16-16 last year. Unfortunately, you won't be able to see it because it'll be on AXS-TV, which is like TruTV but with 1/100th as many viewers.
12. @ Memphis, Feb. 4
I like their court design, but I'll be sad if UConn doesn't win.
YOU'LL WATCH THESE GAMES OUT OF OBLIGATION
13. Central Florida, March 6
Senior Day! Civil ConFLiCT! Justin McBride! Justin McBride! Justin McBride!
14. Temple, Jan. 5
I didn't like seeing the Huskies lose to Temple twice last year. Change that, please.
15. @ Temple, Feb. 11
Same as above, but on the road.
16. @ Tulsa, Jan. 14
#HaithersGonnaHaith
17. @ Central Florida, Jan. 31
If I stood between Justin McBride and Tacko Fall, we would look like the letter M.
LET'S JUST GET THROUGH THESE
18. Houston, Feb. 28
Just be glad it's at home.
19. @ South Florida, Feb. 25
Hey, it's UConn at USF! That one game every year that UConn almost loses for no reason!
20. East Carolina, Feb. 7
Super Bowl Sunday, non-conference.
21. Tulane, Jan. 19
This is just Too Lame (oh wait, I already made that joke)
22. Central Connecticut, Dec. 23
The Blue Devils were one of the worst teams in the country last year and everyone will have the holidays on their minds. But hey, it's always nice to see Coach Dickenman.
23. @ Tulane, Jan. 2
What's worse than UConn ALWAYS losing its first conference game? Find out on Jan. 2.
PLEASE DON'T LOSE THESE GAMES
24. New Hampshire, Nov. 17
Unlike the other guarantees that UConn scheduled, this one might not kill the RPI.
25. Maine, Nov. 13
It's the season opener, so there's that.
26. Sacred Heart, Dec. 2
Anthony Latina used to run the Howie Dickenman Basketball School, which I attended every year. He's a good guy.
27. Furman, Nov. 21
A necessary evil in the Battle 4 Atlantis.
28. @ Houston, Jan. 17
Please, no. NO. FOR THE LOVE OF GOD, NO!