The schedule is out. We've had time to react. We've had time to complain. Now it's time for everyone's favorite tradition: Russ Ranks UConn's Schedule!
As a reminder, I'm only ranking the definitely-going-to-happen games, not the Maui contests vs. TBD. We'll start at the end to build the suspense, even though there should be no suspense over which game gets the No. 1 spot.
28. at East Carolina, March 1
Non-Conference
27. Boston University, Nov. 30
- Advertisement -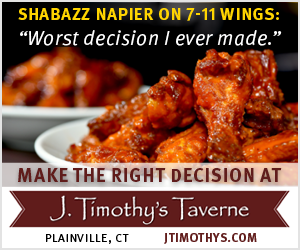 Home game thrown in between Maui and Syracuse. I hope UConn wins by 100.
26. Northeastern, Nov. 14
A sneaky-good team for a November guarantee game. I hope UConn doesn't blow it.
25. at USF, Jan. 25
I tried to reasearch reasons to get excited for this game but I came up empty.
24. East Carolina, Jan. 22
Home non-conference 
23. Tulane, Jan. 28
UConn has played some ugly games against Tulane over the last two years. It's a Saturday night game at Gampel though, so at least the crowd should be fun.
22. North Florida, Dec. 18
This will be another guarantee game that shouldn't hurt the RPI. The Ospreys have been to the postseason each of the last two years.
21. at UCF, Feb. 11
This game would be higher if Justin McBride stayed. At least we still have Tacko Fall.
20. Wagner, Nov. 11
I can get excited for a season opener against any opponent. The Seahawks are an above-average defensive team that will compete for the Northeast Conference title.
19. Auburn, Dec. 23
This feels like a game that will look better on the resume than you think. Bruce Pearl has the program headed in the right direction and brings in a good recruiting class. The game will be a homecoming for West Haven's Mustapha Heron and could be a trap game for the Huskies on a Friday afternoon in Hartford, two days before Christmas.
18. Houston, Dec. 28
Another potential trap lies on the other side of Christmas. Three days after we get our lumps of coal, we get a game against a potential NCAA Tournament team that I could totally see UConn unsuccessfully try to sleepwalk through.
17. USF, Feb. 8
UConn likes to beat up on USF at home, so hopefully this will be a fun 40-point win in the middle of the conference schedule.
16. at Houston, Feb. 22
If Houston can draw more than 12 fans to a basketball game, this one could be fun. It could also be an ill-timed disappointing loss, sandwiching games at Temple and against SMU
15. at SMU, Jan. 19
Speaking of disappointing losses, UConn has had plenty of them at SMU. Will this be the year the Huskies pull one out at Moody? Maybe. If not, maybe they'll at least take out another obnoxious ad in the Dallas papers.
14. at Tulsa, Dec. 31
Speaking of disappointing losses, UConn has had plenty of them at Tulsa. The upside: we get to hear a whole lotta horde complaining about having to spend New Year's Eve in Oklahoma.
13. at Loyola Marymount, Nov. 17
Late-night game (10 p.m.). Unfamiliar opponent. Exotic arena. Maui warmup. Count me in.
12. Temple, Jan. 11
I wish this game wasn't while the students are still on break, but we can't control that. The Huskies finally broke their losing streak against the Owls in the AAC Tournament last year. Temple should be down, so hopefully UConn doesn't cough this one up.
11. UCF, Jan. 8
A chance for the home crowd to see Tacko Fall.
10. at Memphis, Jan. 5
Remember when UConn not only won at Memphis last year, but absolutely broke the Tigers' spirit? What a glorious game that was. Remember when Memphis fans were convinced that FedEx would get them into the Big 12 and were humongous tools about it? What a glorious summer it was. Let's win this game.
9. at Cincinnati, Feb. 4
UConn never wins at Cincinnati. The games are always torture to watch. Why is this so high on the list?
8. at Temple, Feb. 19
I might actually go to this one, so that's why it's No. 8. True story: When UConn played at Temple in 2014 (Bazz chicken wings game), I left work, took the train to Philly, caught the 9 p.m. tip, sat through a 2-hour train delay and got back into the city in time for work the next day. This year, the game is on a Sunday afternoon so my travel will be easier.
7. Memphis, Feb. 16
I already made fun of Memphis above, so I'll take this time to shout out our friend Mike Rutherford, who tweeted the greatest tweet of all-time when Josh Pastner was hired at Georgia Tech.
"I was told there would be more bananas." –Josh Pastner pic.twitter.com/v8FdeldiRn

— Mike Rutherford (@CardChronicle) April 8, 2016
6. SMU, Feb. 25
This should be a Saturday afternoon sellout in Hartford. Roll your eyes at that all you want, but the XL Center can and will get loud. If this is a big game (and it should be), expect a bonkers crowd.
5. at Ohio State, Dec. 10
One of my best friends is getting married on the day of this game. I'm allowed to skip the wedding, right?
4. Cincinnati, March 5
A Senior Purvis Day matchup between two of the top teams in the conference. Imagine if this ends up serving as the AAC regular season championship game? Oh, that'd be so much fun. Defeat the Bearcats for the regular season championship, take that momentum to Hartford for the AAC Tournament, win that, take that momentum to the NCAA Tournament….ok I need to stop.
3. at Georgetown, Jan. 14
Last year, Whitney, Meacham and I planned on going to this game in Hartford in our UConn onesies. That didn't happen because we got approximately 500 feet of snow that day. I can't speak for either of them, but I will definitely make it to DC this year. Attire TBD.
2. vs. Oklahoma State, Nov. 21
I'm not looking forward to this game because of the opponent. I'm looking forward to this game because it's the first day of the Maui Invitational — one of the best basketball days on the calendar. The Huskies and Cowboys draw the 9 p.m. tip, meaning we get a full day of basketball goodness before the important game starts. Then after that, maybe we can watch Chaminade upset North Carolina.
1. vs. Syracuse, Dec. 5
Well yeah, duh. Not only is it Syracuse, but it's at Madison Square Garden. The Gods of Conference Realignment ruined the greatest league in college basketball history, but for one night, it will feel like a Friday in March again. By that, of course, I mean you'll spend all day counting down the minutes until tip-off, then it will start and you'll wish you were dead. I can't wait.