Let's KEEP THE RANKING GOING! Today we're taking a suggestion by our bud Penfield and ranking former UConn players that are playing in American professional leagues.
Happily, Penfield. Happily.
Let's toss out some quick caveats. "American" sports leagues is somewhat important considering the bevy of men's and women's basketball players doing work overseas. Second, we're going with the best right now. Career body of work is cool and all, but that's for another list. Let's get to it.
1. Maya Moore
Averaged over 20 and 6 on a championship team. She is at the peak of her powers. Even Prince is digging it. Prince!
2. Kemba Walker
Cardiac Kemba is having the best non-UConn year of his life at the moment. He is averaging 21.1 points, 5.4 assists and 3.9 rebounds per game. He's adjusted his shooting form and is putting up the best percentages of his career. He has the Hornets poised to make the Playoffs.
3. Andre Drummond
- Advertisement -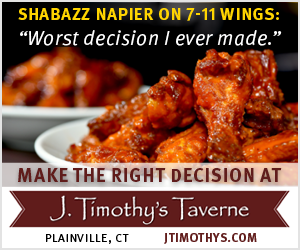 The NBA's leading rebounder, Drummond was an All-Star this year. If he didn't miss almost five free throws per game, he might be the best player in the league. The Pistons will also make the Playoffs.
4. Diana Taurasi
Controversial pick! Taurasi didn't play in the WNBA last season, opting to take a ton of money from a Russian billionaire instead. Her place at number four on this list is based on our prediction that a year away from the rigors of a 12-month basketball season will result in another 20 point-per-game season this year.
5. George Springer
Homeboy put up a .276/.367/.459 triple-slash in just his second year as a pro. Springer hit 16 home runs in 2015 in only 388 at bats. He also gets bonus points because the Astros already won the 2017 World Series.
6. Tina Charles
Charles is basically the WNBA's Drummond (with an added 71.5 percent from the line). She averaged 17.1 points and 10.2 rebounds last season. You ready for a fun fact? Charles is the only player in WNBA history to average a career double-double.
7. Cyle Larin*
Larin plays basketball, but with his feet. It's called soccer. You could learn about it in the lost audio from the A Dime Back Podcast. Larin set a new MLS rookie record last year, scoring 17 goals.
8. Sue Bird
Bird (currently second) will likely retire as the WNBA's all-time assist leader, but has settled into a secondary role as her career has progressed. Bird is entering her 14th WNBA season. She was an All-Star last year, averaging 10.3 points and 5.4 assists, despite career lows in both field goal and three-point percentage.
9. Andre Blake*
Blake was the first overall pick of the 2014 MLS Draft. Starting in goal for Philadelphia, Blake is currently sixth in the league in saves, stopping 79.2 percent of all shots.
10 (tie). Nick Ahmed/Kiah Stokes
We have a tie! Ahmed and Stokes are somewhat similar. They both offer a ton of potential, while providing an immediate impact on defense. Stokes was second in the WNBA in blocks and defensive win shares last season. Ahmed hit only .226 in 421 at bats for the Diamondbacks last year but committed only 13 errors on 571 chances. Fangraphs had Ahmed as the fifth best defensive player in the league.
Did we miss anyone? Wanna fight about Craig Austrie?
* (h/t Tim)