As you probably know by now, we like to rank things here at A Dime Back. Yesterday we just ranked random people. It's how we get down. Today, we're narrowing our focus and staying close to home. Below is my completely subjective list of the best Connecticut-born UConn players of the modern era — based mostly on their collegiate careers.
Historically, the Huskies have pulled many of their stars from within the state's border — Art Quimby, Tony Hanson and Corny Thompson to name a few. Once Jim Calhoun arrived, however, he transformed UConn into a true national power, reeling in promising recruits from Windsor to Washington state.
Let's rank, baby.
1. Chris Smith
UConn's all-time leading scorer hails from Bridgeport.
2. Scott Burrell
This Hamden native loves Connecticut so much that he's taken two in-state coaching jobs since his balling days ended.
3. Andre Drummond
- Advertisement -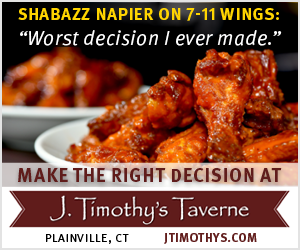 Drummond only played one season in Storrs, but returns to the Middletown YMCA to battle suckers in the gym… when he's not making NBA All-Star teams.
4. Edmund Saunders
Saunders was kind of a lunatic, but he nearly drove Elton Brand to tears in the 1999 national championship game. He had over 700 points and 700 rebounds at UConn after arriving from Waterbury.
5. Steve Pikiell
Pikiell is from Bristol, home of ESPN, which killed the Big East. As punishment, Pikiell now coaches Rutgers.
6. Craig Austrie
From Stamford, Austrie had more sustained success than Pikiell, but is reviled by two A Dime Back staff members. We have no damn idea why.
7. Doug Wiggins
Wiggins is the pride of East Hartford, but he couldn't adjust to the bright lights of Storrs. Was a hell of a free throw shooter.
8. Tyler Olander
From Mansfield. Has more championships than Jim Boeheim.
9. RJ Evans
Evans played only one year in Storrs. Born in Salem, Evans went to Holy Cross before arriving at UConn as a fifth-year transfer. Was a fan favorite in 2013.
10. Pat Lenehan
There are players more worthy than Lenehan for this final spot, namely Steve Enoch, Mike Hayes, Murray Williams and Marcus Cox. But there's a legitimate chance that Lenehan will become a doctor and save my life someday so I'm getting favors in early.
Since the program's inception, Hartford has sent more players to Storrs than any other Connecticut town (17). Morris, Bolton, Niantic and Moosup have sent one each.
Did I miss anyone obvious on the list above? Wanna fight about Craig Austrie? Let us know.