UConn played its 94th consecutive disappointing game on Tuesday night, falling to East Canadian Community College Syracuse 72-63 in Madison Square Garden.
It's late, and I'm pretty mad, so please be warned that this recap may get dark.
Let's bullet point.
GOOD
Christian Vital single-handedly kept UConn from getting absolutely run out of the gym. Despite not having his shooting stroke for much of the game (again), Vital forced the issue on offense, got to the line eight times and hit two big three-pointers that seemed good at the time but were actually kind of a tease is hindsight. In the big picture it's problematic that Vital is the only place the Huskies can turn for a spark, but good for him for stepping up.
End of good bullets.
FINE
- Advertisement -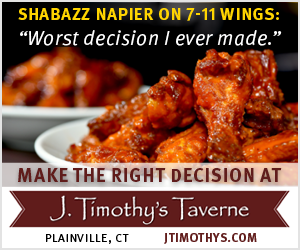 Mamadou Diarra earned the start and played reasonably well, all things considered. He was on the court for much of the time that Syracuse was humiliating UConn on the boards, but he did grab a team-high six rebounds and played with his usual frantic energy. Diarra lands in the Fine category because he was 1-6 from the free throw line, missed all three of his field goal attempts and eventually fouled out for the third straight game.
End of fine bullets.
BAD
Once again, UConn entered the game completely unprepared. The offensive game plan against the zone failed almost immediately and it took until midway through the second half for the team to come up with anything else that worked. The Huskies trailed 40-29 at the half.
In the first half this year, UConn has been outscored 288-320. For the fifth straight game, they were behind at halftime.
For the fourth game in a row, UConn gave up at least 40 points in the first half.
UConn, again, let its opponent shoot 50 percent or better in the first half for the fourth straight game.
Are you getting the theme? We've long since passed the point where this can be explained as a fluke. This is UConn's default setting. This team isn't very good and it's not going to improve if it keeps forfeiting the first half of every game.
Despite UConn being billed as an uptempo, transition-focused team, it is not. The Huskies had four fast break points against Syracuse, continuing the years-long trend of playing offense at a glacial pace. The Huskies have been in the bottom half of all college teams in offensive tempo every year since Kevin Ollie took over the program.
Alterique Gilbert missed his third straight game with a shoulder injury. UConn is certainly better with him on the court, but he couldn't have saved the Huskies from Wednesday's defeat. The problems go too deep. Ollie remained characteristically cryptic about Gilbert's fate in his postgame remarks. We still don't know Gilbert's actual diagnosis, prognosis or treatment options. It's brutal to watch a talent succumb to injury, and is even more upsetting considering the large role that Gilbert should be playing on this team. But he needs to look out for his long-term future. If more surgery is required to get a once-and-for-all solution in place, he should get the surgery and get himself well.
As mentioned above, Syracuse smashed UConn on the boards. At one point in the second half, Syracuse had more offensive rebounds than UConn had defensive rebounds. That's not good. The final margin ended up 37-26 but it was actually much worse. The Huskies' front court has a tendency of tricking you into thinking it's serviceable against low-quality competition but they have really been exposed in the team's big games.
Really, all of UConn's players other than Vital got exposed in this game. We witnessed firsthand how the limitations of each individual player compound into a very incomplete team. Terry Larrier again struggled against stronger players, getting forced into bad shots and frequent turnovers. Antwoine Anderson, who has struggled from three this year, took four shots on Wednesday, all threes. He made one of four. Jalen Adams let himself be taken completely out of the offense for huge stretches of the game at a time. He finished with a team-high 22 points but only attempted 13 shots when UConn really needed him to take over the team's offense.
I'm pretty sure Syracuse is bad. That didn't look like a tournament team — maybe they slip in as a ten seed because the selection committee is looking for multinational appeal? But it's annoying that UConn looked so much worse. Getting run off the court by Michigan State was one thing. That's a Final Four caliber team. Arkansas? OK, fine. That's a solid tournament team. But if UConn is that much worse than Syracuse, that puts a hard ceiling on the Huskies' potential this season. Things need to change in a hurry for this UConn team to have any chance at a tournament appearance this year.