For the second consecutive game, UConn needed overtime to defeat a buy game opponent. On Saturday evening, the result was an 84-81 victory over Monmouth.
There's not a whole lot to say about this game. It really was a sort of continuation of the uninspiring, yet eventually effective, play displayed in the Columbia game earlier this week. Yet, because we at A Dime Back are here to provide you with the good content, we'll give you a whole new set of bullet points.
THE GOOD
Jalen Adams came up big down the stretch. His 30 points were a game-high and his floater with 32 seconds left in overtime proved to be the game winner. Adams came out of the gate hot, which was a nice change of pace considering his quiet first halves this season, scoring 12 points in the game's first 12 minutes. He buried a semi-miraculous (though I suppose not for him) long three to beat the halftime buzzer, and nearly got a half-courter to fall at the end of regulation. As we all know by now, this team will only go as far as Adams can drag them. He was just good enough for just long enough on Saturday to save UConn from an embarrassing loss.
Sidekicking for Adams, Christian Vital came up big. His three-point shot wasn't falling (0-6), but he compensated by getting to the rim and, more accurately, getting to the line. He made 11 of his 13 free throw attempts including two big ones to give UConn a lead with a minute left in regulation and four to seal the victory in overtime. Vital finished with 19 points and six rebounds (not sure when Vital became the team's second-best rebounder but here we are). It was a clutch, gutsy, gritty performance.
Mamadou Diarra picked up where he left off against Columbia, severely outplaying the other Non-Larrier Big People (NLBP). He only scored three points, but pulled down seven rebounds and, most importantly, was the key to UConn's most productive stretches. The plus/minus stat isn't an ideal measuring stick (unless it proves my point) but Diarra (+9) was the only NLBP with a positive number. He did foul out, which is obviously a big concern going forward, but Diarra is far and away UConn's most effective big man right now.
- Advertisement -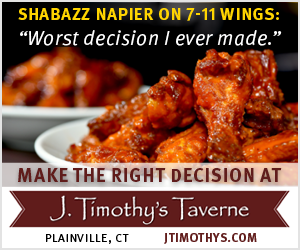 How about Antwoine Anderson's defense? After Monmouth's Micah Seaborn dropped 20 points in the first half, Anderson ate his lunch in the second, holding him to five points and locking him down on Monmouth's final possession of regulation. Anderson also added ten points. He's scored in double-figures in seven of the team's eight games. With Alterique Gilbert out, Anderson is being asked to contribute more than expected this season and is doing an adequate job.
A good thing is that UConn won. Not much else to say. The Huskies are now 6-2 on the season, which is fine if you ignore everything else, so try doing that.
YEA YEA MORE BAD STUFF
This is getting redundant so let's do this lightning round style.
UConn played awful first half defense, letting a Monmouth team that scored 51 points against UNC Ashville put up 42 before intermission (on 57.7 percent shooting).
The Huskies offense started off cooking, building a nine point lead 12 minutes into the game. Then the wheels fell off. UConn missed its next 11 field goal attempts and turned that nine point lead into a six point halftime deficit.
The most frustrating part of UConn's offense is its inability to adjust when things start breaking. At times, it seems Adams can get anywhere on the court he wants. But when UConn goes quiet on offense, it's usually accompanied by poor shot selection by Adams (by everybody, really). Whether it's a lack of focus, a lack of talent, a lack of preparedness or all of the above, this particular team doesn't have much in terms of a Plan B.
Attendance was 6,582. On the plus side, that's a few thousand more than Wednesday! Still very bad though.
We definitely have not been given the whole story on Alterique Gilbert. His shoulder "soreness" held him out again on Saturday and after the game coach Kevin Ollie wouldn't discount the possibility of another surgery. It definitely feels like we're just waiting for bad news at this point.
Up Next
UConn travels to its home away from home, Madison Square Garden, on Tuesday to play the infamous scoundrels of Syracuse. The game is on ESPN and is scheduled to tip at 9pm (so probably 9:30).