Thanks for sticking with us during #MailWeek, as we answered your questions and staved off conference realignment based panic attacks.
Today's question comes from Tim, who is apparently too embarrassed to tweet with you in public (understandable). Via DM, he asks:
Most heartbreaking UConn injury?
10. Terry Caulley, 2003/04
In the early part of the millennium, having newly joined the Big East, UConn football was becoming really fun. And Terry Caulley was its most fun player. Nicknamed "Mighty Mouse" — standing only 5'7" — Caulley was a revelation in 2002, and was on his way towards a dominant 2003 season when a knee injury knocked him out after only five games. He would miss the entire 2004 season as well. Caulley would be higher on this list but for the fact that UConn likely doesn't fare much better with him in the lineup in '03, and his replacement in '04, Cornell Brockington, was actually pretty badass in his own right.
9. Rashad Anderson, 2005
Anderson was leading UConn in scoring in 2005 before a staph infection landed him in the hospital for two weeks late in the season. Slash missed seven games and was a shell of himself when he finally returned, mustering only 11 points in the Huskies' final three games of the season — including two upset losses.
8. Sue Bird, 1999
All things considered, 1999 was somewhat of a down year for the UConn women — made worse by Bird, a freshman, blowing out her knee eight games into the season. While UConn's eventual bow-out in the Sweet Sixteen was unfortunate, the true crime of Bird's injury is that it robbed her of a season's worth of stats that would have elevated her to her proper place on UConn's all-time leaders lists.
7. Khalid El-Amin, 2000
- Advertisement -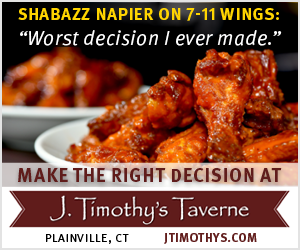 Technically, as the five-seed, UConn shouldn't have been favored to beat four-seed Tennessee in the 2000 NCAA Tournament. Still, one year removed from the first championship in the program's history, it felt like the trio of Khalid El-Amin, Kevin Freeman and Jake Voskuhl had another run in them. That proved not to be the case when El-Amin suffered an ankle injury that would end UConn's season and his collegiate career when he declared for the draft following the season.
6. Ricky Moore, 1996
Before he earned his reputation as a rabid on-ball defender, Ricky Moore was a precocious freshman who scored 14 points in UConn's famous win over Georgetown in the 1996 Big East Tournament. One week later, in the first game of the NCAA's, Moore would suffer a shoulder injury and miss the rest of the year. Ray Allen and Doron Sheffer had no backup on the bench two games later when they combined to shoot 12-39 in a Sweet Sixteen loss to Mississippi St — the final games of their UConn careers.
5. Casey Cochran, 2014
It was the 13th concussion that ended Cochran's career, suffered in the season-opener against BYU. At the time — and maybe to this day — Cochran was UConn's best quarterback since Dan Orlovsky. Since exiting the game for good, Cochran has become an advocate for concussion prevention.
4. AJ Price, 2005/06 & 2008
AJ Price was the college basketball version of Mr. Bill (oh, no!). Bad luck followed him. A scary, and near-fatal, brain aneurysm cost him the entire 2005 and 2006 seasons (a laptop-related suspension overlapped). In 2008, he blew out his knee in the first half of UConn's first round NCAA Tournament game against San Diego. The Huskies would lose in overtime. Each of those three teams — particularly 2006 — may have advanced further with Price in uniform.
3. Nykesha Sales & Shea Ralph, 1998
Ralph is the original hard-luck-Husky. After an impressive rookie campaign, she suffered a terrible knee injury causing her to redshirt the 1998 season. Late that year, teammate Nykesha Sales was in the middle of an All-American season, averaging over 20 points per game and closing in on UConn's all-time scoring record. An ankle nearly robbed her of the chance, before a controversial (get over it) agreement between UConn and Villanova allowed Sales to take the court — leaving her crutches on the sideline — and make a layup to secure the record-breaking points. The team made the Elite Eight without Sales and Ralph, but it's unlikely they would have beaten the dominant undefeated Tennessee team that won the title.
2. Jerome Dyson, 2009
Kevin Meacham — whom you likely know as Big Meach — is certain of only two things in this world: that bears will rise to power and overthrow society and that UConn would have won the 2009 national championship had Jerome Dyson not been injured. He's likely wrong (about Dyson, the bears are coming) but it's possible. Dyson was averaging 13.2 points per game in 2009 before a February knee injury ended his season. While UConn found its way to the Final Four, Craig Austrie and someone named Kemba Walker struggled immensely against Michigan State. Dyson might have aided them in winning that game. I still maintain they would have lost to North Carolina two days later, but let Big Meach dream.
1. Shea Ralph & Svetlana Abrosimova, 2001
UConn would have won the 2001 national championship had seniors Shea Ralph and Svetlana Abrosimova not exploded their knees into pieces. Before getting injured, each averaged in double-figures — flanked by Sue Bird and an ostentatious freshman named Diana Taurasi. On paper, it was one of the best women's basketball teams ever assembled. They would win the Big East Tournament and reach the Final Four — losing to Notre Dame. Abrosimova's injury was sad, but Ralph's was devastating. When her knee finally gave out, she lay screaming in pain on the floor of a dead-silent Gampel Pavilion. It was awful.
On that high note, enjoy the weekend!