In a game that was wholly frustrating and momentarily exciting, UConn edged past Columbia 77-73 in overtime on Wednesday night.
As Russ pointed out over on twitter dot com, this game felt a lot like last year only with a slightly healthier UConn team. Due to a combination of exhaustion and despondence, we skipped out on recaps of the Huskies' consecutive losses to Michigan State and Arkansas, but after a narrow win against Columbia, we've now seen the consequences of UConn's flaws. It's fair to wonder if this is the new normal…
But let's start with the good bullets!
GOOD THINGS / SILVER LININGS
Christian Vital is your new lord and you will obey his wishes accordingly. He scored 29 points, including seven threes. He got a key steal on the penultimate possession and sealed the win by making two free throws (he was 6-6 from the line). Vital rescued UConn. In the first half, he had 17 points; the rest of the team scored 13. A guy who depends on the three as much as Vital is always going to be susceptible to cold streaks, but the real key seems to lie in his shot selection. When he's getting clean looks in rhythm — which usually corresponds to UConn actually moving the ball on offense — he is deadly.
Mamadou Diarra! The Putnam Science Academy escapee recorded a double-double with 11 points and ten rebounds. It was a performance that felt truly inexplicable considering his place on the depth chart to start the season. In what seems like a nitpick, Diarra did manage to foul out. He's averaging 10.6 fouls-per-40-minutes (you're only allowed five, you see). He has certainly earned a spot in the starting lineup going forward, but he does need to work on staying on the court.
- Advertisement -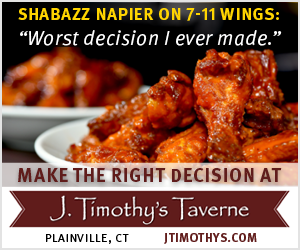 Although he no-showed the first half (again), Jalen Adams stepped up when it mattered down the stretch. Despite an ankle injury, he navigated into the paint for four big shots in the second half and found Vital and Antwoine Anderson for big threes. Adams finished with seven assists.
When UConn felt like it, its defense was very good. In the second half and overtime, the Huskies did a much better job of closing on Columbia's shooters, holding them to 2-12 from three. It really shouldn't be surprising that UConn was able to use its size and athletic advantage to capably defend a 1-4 Columbia team, but here we are.
OK, THE MUCH LONGER BAD SECTION
UConn has a preparedness problem. It's crazy how, again and again, the Huskies begin a game without energy, focus or (seemingly) any plan. On Wednesday, they fell behind Columbia 12-4 in the game's first five minutes, trailed 41-30 at the half and only led five minutes and eight seconds of a 45-minute game. This team is nowhere near talented enough to give away huge segments of the game. We saw what that looks like against a real team against Arkansas and in the second half against Michigan State. If Columbia was even slightly better (remember, they're bad), UConn would've suffered another humiliating home loss. It's problematic that poor starts have become standard fare.
Only 3,808 people were in Gampel Pavilion to see the game. That's the lowest non-blizzard-related attendance number I can remember for a home game. And on-campus no less. Around this time last year, after a loss to Wagner, UConn drew 7,573 to Gampel on a Monday night to see the Huskies play Northeastern (don't ask what happened). Maybe the ticket numbers kick up this weekend for the Monmouth game, but it should terrify the UConn athletics staff if the super low numbers continue as conference play approaches.
Terry Larrier had a rough game. He had only eight points on 3-11 shooting and generally struggled to get his own shot against a middling Columbia defense. To his credit, with Eric Cobb and Isaiah Whaley out with injury, Larrier stayed on the court for 42 minutes and pulled in a game-high 14 rebounds. The Huskies are still waiting for their good players to play well at the same time. They seem to alternate severe slumps and now it's apparently Larrier's turn.
Speaking of Larrier and rebounding, you can't let Columbia, who is bad, get 13 offensive rebounds. This falls back into the category of a general lack of effort and/or preparedness. Larrier is UConn's leading rebounder but he also is the most prone to being out of position on the defensive glass. If he's going to be tasked with playing the four (he should be), the coaching staff needs to find a way to make sure that he's better prepared to succeed there on defense.
For the fourth consecutive half (second half of Michigan State, the full Arkansas game, and the first half on Wednesday), the Huskies allowed an opponent to shoot 50 percent or better from the floor. For a team that has no real offensive game plan, UConn needs to lock down on defense from the opening tip. We saw what a difference that can make in the first half of the Michigan State game, where UConn trailed by only one at halftime due solely to its defensive effort.
Alterique Gilbert missed the game with a (gulp) shoulder injury. UConn made the decision seem precautionary but with Gilbert's history of mashed potato shoulders, let's just say it's concerning. Eric Cobb has now missed four games with what originally seemed like a minor ankle injury, and of course there's the "sore knees" of Mamadou Diarra that ended up costing him the entirety of last year. When it comes to UConn these days, feel free to precautionarily panic about seemingly minor ailments.
Even with Gilbert out, Vital came off the bench again on Wednesday because… reasons?
UConn, the 303rd best three-point shooting team in the nation coming into the game, took 29 three-pointers because… reasons? We're now seven games into the season (plus three exhibitions!) and the Huskies haven't made any obvious adjustments on the offensive side of the ball to be in a better position to score. The offense currently being employed isn't good enough to win conference games, even in this conference.
UP NEXT
UConn hosts Monmouth in Hartford on Saturday. Tip is at 3:30 and the game is on SNY.