Here at A Dime Back, we love the walk-ons, and so should you. They're the ones who bust their asses as hard as anyone in practice, but rarely see the court on gameday. When they do get into the game, often in a blowout, we all cheer for them and go nuts when they score. Now, it's time to honor the best of the best. Here are our favorite walk-ons of all-time*.
* we realize some of these players later gained scholarships. Good for them! They still make the list because they're awesome.
1. Tor Watts
Friend of the site. All around amazing person. Also made the random UConn things list.
2. Marty Gagne
- Advertisement -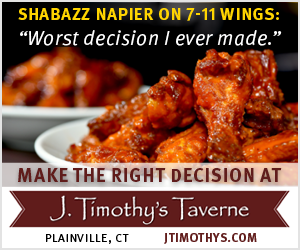 Produced perhaps the greatest piece of music in the history of the world.
3. Jill Gelfenbien
Went to both the basketball Final Four and soccer Final Four. In the same year. Because that's what we do at UConn.
4. Pat Lenehan
Fan favorite. Smarter than you. As Tyler noted, he gets extra points for someday saving your life (the Lenehan Rule).
5. Pete McCann
Minus points for being friends with Peter. Peter did, however, once say this about Pete: "He's a bro's bro. Pete, if you're reading this (he's not), way to be the man."
6. Briana Pulido
Things working in Polly's favor: 1. This shot 2. This Vine 3. Lenehan Rule 4. I confused the hell out of her when trying to ask about #FireGeno.
Somebody requested a solo-CD gif: pic.twitter.com/wv13EyjBuu

— UConnGIFs (@UConnGIFs) April 6, 2016
7. Ace Watanasuparp
He's 5'6. 'Nuff said. Now buy a house from him.
8. Sami Ameziane
French guy who had to play minutes in the NCAA Tournament because UConn ran out of guards.
9. Tierney Lawlor
Future farming extraordinaire. She will survive the next great famine. Here she is signing an autograph for a nice old lady:
10. Dan Guest
Another fan favorite. Bonus points for letting me do this:
Woulda Guest we wouldn't see Dan unless it was a blowout late

— Russell Steinberg (@Russ_Steinberg) March 18, 2015
If you thought a walk-on would get UConn to 70…you GUEST it!

— Russell Steinberg (@Russ_Steinberg) February 13, 2015
You GUEST it! Guest with some FTs

— Russell Steinberg (@Russ_Steinberg) December 23, 2014
Nova should put in Dan Guest

— Russell Steinberg (@Russ_Steinberg) March 22, 2015