Spooky mailbag time! We answer some Halloween-centric questions, fulfill our promise to rank Jay-Z records and answer one basketball inquiry just so we can count this post as a business expense.
Remember: If your question wasn't answered or you've been living under a rock and are just hearing about this, you can submit your questions here or on Twitter (@ADimeBack).
---
Penfield asks: If the UConn coaches were candy bars what kind of candy bar would each one be?
After enthusiastic discussion in the ADB slack, we give you the definitive coaches-as-candy-bars list.
Randy Edsall: Hershey's Bar, not flashy but gets the job done
- Advertisement -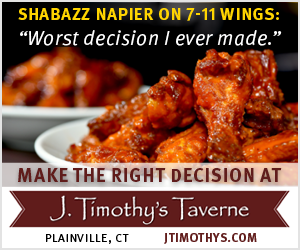 Rhett Lashlee: The full-size Three Musketeers. Rare and awesome and you hope your big brother doesn't notice and try to steal it
Bob Diaco: An apple with razorblades in it, seems healthy and delicious at first and then suddenly your insides are bleeding and there's a psychotic person to blame for it
Paul Pasqualoni: A box of raisins that has just been sitting in your closet for years, and no one even remembers buying them
Nancy Stevens: Charleston Chew, this is the candy you always forget about, but when you see it, you're reminded that it is awesome
Jim Penders: Fast Break, criminally underrated
Geno Auriemma: Reese's Peanut Butter Cup, universally recognized as the GOAT
Kevin Ollie: Butterfingers, seems great at first, especially after that first bite, but soon you're covered in a mess and your teeth are stuck together
Jim Calhoun: Sea salt caramel candy, Hall of Fame good candy, but extra salty on top
Bonus! Jim Boehim: Dog poop that yells at you and tells everyone not to draft you
---
Dan asks: What's the best Halloween costume you've ever seen?
Puneet nailed the answer…
You mean not worn by Rashad Anderson?

— Puneet Nanda (@UConnPuneet) October 27, 2017
…and since I don't pay attention to anything anyone else does, here is a list of my favorite costumes that I myself have worn:
1. Headless Horseman (age 12) – I wore a black cloak and carried a sword and had an actual pumpkin on my head. Everyone asked how it smelled. It smelled like the inside of a pumpkin.
2. Raphael (age 6) – My mom made me a Raphael costume from scratch. Right before I went trick-or-treating, she realized I didn't have an appropriately yellow chest, and she somehow quilted one within the next 10 minutes. She's really quite something.
3. Spy Vs. Spy (age 30) – My wife (before she was my wife) came up with this one, which is totally dope. I mean, c'mon. Look at that.
4. The Terminator (age 9) – I had a real leather jacket and motorcycle boots. I had dope shades. I also, in true 1992 fashion, was able to bring a metal replica shotgun to my elementary school and brandish it all day long. This was totally fine and no one had a problem with it. I would have ended up on the news if I did it today.
5. Animal (age 28) – I was playing a show in downtown Hartford, and the day of, I went to Joann Fabrics to buy some crap I hoped could be fashioned into an Animal mask by my mother. I hoped right.
---
Don asks: any chance of a list of Top10 Nelly songs of all time? 
No. Here, however, is the definitive ranking of Jay-Z records from worst to best.
14. The Blueprint 2: The Gift & The Curse
13. Kingdom Come
12. The Dynasty: Roc La Familia
11. Vol 3…Life and Times of S. Carter
10. Magna Carta Holy Grail
9. American Gangster
8. In My Lifetime Vol. 1
7. 4:44
6. The Blueprint 3
5. Watch the Throne
4. Vol 2…Hard Knock Life
3. The Black Album
2. The Blueprint
1. Reasonable Doubt
---
Storrs South asks: Christian Vital looked good in the exhibition. Will he force KO to use 3 guard lineups more than anticipated? Best lineup JA,AG, CV, TL, EC?
I think you're right about the best lineup. But I also don't think that Ollie needs to be pushed into using three-guard sets. He seems to prefer them, and for good reason considering his three guards this year are among the four best players on the roster.
The real intrigue will come in watching the adjustments the team will have to make from game-to-game. Antwoine Anderson played 28 minutes against Providence. Pretty sure that wasn't in the game plan. To get the most out of the three-guard lineup, the three guards need to stay on the court (no dumb fouls, and no shoulders exploding into pieces) and get enough help out of Larrier and Literally Pick Any Big Man on defense and on the glass to make up for any size disadvantages in the backcourt.
— Tyler again