Last week we previewed the men's basketball season. Today we turn our attention to the four-time defending national champion women's team.
Helping us out is the supremely talented Gabriella Levine of Excelle Sports, who will almost certainly be the least wrong of all of us.
Record Prediction
Gabriella Levine: Regular season schedule: 27-2, predicted losses to Maryland on Dec. 29, and Notre Dame on Dec. 7.
Meghan Bard: 27-2 in the regular season before winning the AAC tournament.
- Advertisement -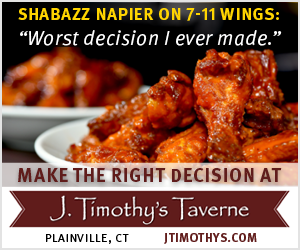 Tyler Wilkinson: UConn will start the season #1 in the coaches poll. They play the six (6! SIX!!) teams that immediately follow them. That's insane. Toss in games against Florida St. and DePaul, and the schedule is stacked — which is nice because the rest of the AAC will be unbearably awful this year. I think they'll lose three. 26-3.
Peter Bard: 27-2 in the regular season, losses TBD.
Guess the starting lineup
[answered before first exhibition game]
Tyler: Dangerfield, Nurse, Samuelson, Williams, Collier. That's their most talented lineup, though I imagine Butler will get the first shot at center with the schedule so front loaded with tough opponents.
Peter: Dangerfield, Nurse, Williams, KLS, Butler
Gab: Soniya Chong, Kia Nurse, Gabby Williams, Katie Lou Samuelson, Napheesa Collier. *Expect Crystal Dangerfield to eventually rotate into a starting role, and for Auriemma to go with a guard heavy lineup
Meghan: Dangerfield, Nurse, KLS, Williams, Butler
Best Quality
Meghan: Being the UConn women's basketball team. 
Tyler: Coaching. At this point, who bets against Geno (and CD)? The roster is small in size and short on depth, tasked with replacing three All-Americans and more than 50 percent of its scoring. And they're the number one team in the country at the moment. So… yea.
Peter: Perfection
Gab: Inexperience. It's strange to call a team "inexperienced" when numerous players have already won one or more national championships, but this year's squad lacks the core, standout All-Americans the team has been structured around for the past four seasons (Breanna Stewart, Morgan Tuck and Moriah Jefferson, ICYMI). Among the returning players who saw a decent amount of floor time last season—Nurse, Williams, Samuelson and Collier—there's no clear go-to leader. But fear not. This is actually a good thing. This team's inexperience will be coupled with the players' desire to prove themselves, and prove the naysayers wrong.
Worst Quality
Gab: Inexperience. UConn once had this Achilles heel that lasted from 2005-2007 (may we never speak of it again after this) in which the team couldn't bring home a championship after Diana Taurasi graduated and took her GOAT abilities with her. Moment of silence for this dark chapter in UConn's history.
The point is that this team has been known to struggle without leadership, and without a player experienced enough to take over when the time comes. So, inexperience can be both a positive and negative for this team.
Peter: Relatively light on experience, no one has been a feature in the offense before.
Tyler: Front court depth. If Natalie Butler struggles, or gets injured, the Huskies will be forced to play super small. Not ideal.
Meghan: Front court is a little dicey. Gabby Williams is a monster rebounder, but Natalie Butler needs to take a huge step forward and depth is most concerning at the 5.
Team MVP
Tyler: Future AAC Player of the Year Katie Lou Samuelson.
Peter: KLS
Gab: Katie Lou Samuelson. We saw signs of this developing late last season, and I don't think that was her ceiling, by any means.
Meghan: Probably KLS but Kia Nurse is my dark horse pick. She played in the Olympics for Canada this summer and as we've seen (hi senior year Neils Giffey!) playing internationally in the off season can lead to huge improvements in a player's game.
X Factor
Gab: Kia Nurse. She brings more fire and determination than any of the other nine players she ever shares a court with. The key for Nurse is consistency. If she remains consistent, and channels her aggressiveness, then the team will have success. I'm starting to sound like Geno.
Meghan: Natalie Butler. If she can turn into a serviceable defensive center who makes the bunnies when she gets the ball down low and can manage to not foul people while doing those things, we're gonna be real good. If she hasn't improved significantly from last season, UConn  could struggle against teams with big lineups.
Tyler: Collier. She was pretty good last year. She needs to be great this year. Her and Gabby have the potential to combine into an absolutely devastating combo in the front court.
Peter: If Butler can play 25+ minutes a game, that should give Geno enough rebounding and enough depth up front to continue to overwhelm people. This means she's going to need to be a lot quicker than last year.
First and Second Team All-Americans
Tyler: First team: Samuelson. Second team: Nurse.
Gab: First team: Nurse/Samuelson. Second team: Williams/Collier
Peter: Nurse, KLS
Meghan: KLS, Nurse, Williams
Breakout Player
Meghan: Gabby Williams is going to kill it this season. When she was getting minutes last season, she was an effective offensive player down low (particularly when facing the basket), great in transition, and a ferocious rebounder.  Losing both Morgan Tuck and Stewie leaves a lot of rebounds up for grabs (ha!). Williams is going to get a lot of minutes, and a lot of rebounds.
Peter: Dangerfield is going to impress the hell out of everyone this year.
Gab: Crystal Dangerfield. She might not start at the beginning of the season, but I expect her to work her way into a starting role at least midway through. Her winning mentality will gel with this team, and while she'll be thrown into the mix quickly, I think she'll adjust sooner rather than later. Like another well-known UConn point guard (cough, Mo Jeff, cough), Dangerfield has explosive quickness tempered by an ability to distribute the ball with control. Call her Dangerous Dangerfield. Yes, I stole that from someone else.
Tyler: Based on my answers above, I guess I should say either KLS or Collier, but I'll say Gabby Williams. This is the year before The Year. She'll get her fair share of double-doubles and generally be the motor of the team. 12 months from now, she'll be in my All-American answer.
Leader in Scoring, Rebounding, Assists
Peter: KLS for scoring, Butler for rebounding, Nurse for assists.
Gab: Katie Lou Samuelson, but please don't burden her with the expectation to be Breanna Stewart. She won't be Breanna Stewart, and she doesn't need to be. Believe it or not, she's a damn good basketball player in her own right.
Meghan: Scoring: KLS. Rebounding: Williams. Assists: Nurse.
Tyler: Scoring: Samuelson; Rebounding: Williams; Assists: Nurse.
Title of Gabby/Kia Reality Show
Tyler: Woke As Canuck
Meghan: Get Woke with Gabby and Kia
Peter: Gift of Gab
Gab: When asked this question, Gab replied "I'm about to take a quiz. Good bye."
National Championship or Nah?
Peter: Have to take the field here. We'll still be in the hunt, but we won't be the overwhelming favorite this year. Probably, right?
     Gab: Nah.
KIDDING. There's no question in my mind—this team is capable of winning a national     championship. It's just an issue of how long it will take them to learn how to pick up the pieces post-Stewie, Tuck and Jefferson.
Tyler: National Championship.
Meghan: Never bet against Geno. Never. National Championship.
Great and/or Crazy Thing Geno Says Before the Tournament
Peter: This can't be predicted. Geno is a troll virtuoso.
Meghan: LOL you thought I wasn't going to crush everyone again even though I lost the three best players from last season? You sweet, sweet summer child.
Tyler: "College athletes bring in vast amounts of revenue for their universities deserve the right to profit off their own likeness and image."
Gab: "How you like us now, Dan Shaughnessy?"
Wild Card – Make Literally Any Other Prediction
Meghan: UConn will lose a game and the WBB board on Handwritten Letter to the Editor "The-Boneyard" will actually set itself on fire.
Tyler: Duke coach (and noted crybaby) Joanne McCallie will miss the tournament, get fired and be remembered for ruining a once-great women's basketball program.
Peter: There will be multiple tweets from the same national sportswriter who doesn't watch women's basketball both blaming UConn women's basketball for being too good and also saying they aren't that good anymore.
Gab didn't answer this question either so we are assigning her a wildcard prediction of "Russ will suffer a bout of gigantism."