The best thing you can say about the UConn offense, before a snap has been played in 2017, is that it will be entirely different from UConn's offense in 2016. This is not to say better, although to be worse than the performance art that was the 2016 offense seems impossible.
After a decent enough start to the season, the Huskies collapsed late, scoring 16 total points in their last four games, at one point going a mind-boggling 51 possessions in between touchdowns. With Bryant Shirreffs rendered ineffective by a rib injury, a desperate Bob Diaco gambled his job on a true freshman quarterback, and Donovan Williams simply was not ready for the task (Williams led 34 drives and crossed the 50-yard line seven times. Yes, it was as bad as you remember.)
Thankfully, the program has — temporarily, at least — washed the taste of that failure out of its mouth in a tangible way with the hiring of former Auburn offensive coordinator Rhett Lashlee. That move, more than any other, was the turning point for those of us who thought bringing back Randy Edsall's showed a lack of ambition on David Benedict's part. For a school like UConn to hire a bright, young coaching mind with experience at the highest level of college football is almost too good to be true.
Lashlee's offensive philosophy, based on his Auburn years and what we've seen during the spring and summer workouts, is a complete 180 from anything UConn has attempted to do previously. It is up-tempo, hurrying to the line without a huddle constantly. It is about spreading defenses out and attacking in an attempt to score points, rather than run out the clock and win 13-10. It is trying to win a football game instead of relying on the opponent to lose it.
It's the breath of fresh air UConn fans have been gasping for.
- Advertisement -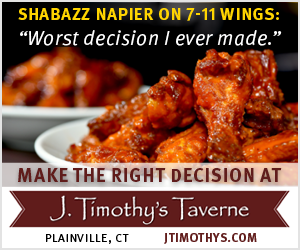 Now, it doesn't mean that Lashlee is going to make the Gus Malzahn offense work here. But the pace alone should push UConn easily past its 14.8 points and 320 yards per game from 2016 — lord help us if the Huskies have the ball for 20 to 30 extra snaps per game and they don't. There will be far fewer plays in which UConn looks disorganized and tentative. Delay-of-game penalties shouldn't be a thing. The offense certainly seems more fun to play in, now.
Lashlee was at least partially responsible for bringing improved numbers to schools like Arkansas State and Samford. And he's already responsible for the most entertaining spring game in UConn history, a 27-24 shootout in which the Husky quarterbacks combined for more than 530 yards passing. (None of the quarterbacks who played in that game will be starting Thursday night against Holy Cross.) Maybe he has just the right mix of creativity, knowledge and teaching ability to finally get the offense to perform like a normal FBS offense, capable of scoring a couple touchdowns now and then.
On the other hand, there is that old saying about how Jimmys and Joes fare against X's and O's. UConn is bringing back most of the same players who were part of last year's disaster; the most (only?) productive player on that side of the ball was Noel Thomas, and he's now trying to make the Detroit Lions' roster. And the program still has not managed an acceptable level of play from their offensive line in seven years. Minor things, those.
So it's fair to be skeptical. But we're due for a pleasant surprise at some point, right?
On to the roster:
Quarterbacks
The biggest personnel story of the offseason was the commitment of junior college quarterback David Pindell, and his eventual usurpation of Bryant Shirreffs, the Huskies' opening-day starter in 2015 and 2016.
Pindell put up solid numbers at Lackawanna College (31 touchdowns, 2,400 yards in 11 games), and appears on film to have a lot going for him physically. Edsall named Pindell the starter just before the Aug. 13 open practice, the anti-climax of a camp competition in which Edsall constantly lavished praise on Pindell while mumbling that Bryant Shirreffs (born Oct. 9, 1994) is an American football quarterback who plays for the University of Connecticut.
[Podcast: Takeaways from UConn's Open Practice…]
From what I've seen of him, Pindell seems to have the best throwing mechanics of any recent UConn quarterback, flinging a catchable ball with a lightning-quick release. His arm is strong, and he seemed to be able to throw an accurate deep ball in the Aug. 13 live scrimmage. He's not a running quarterback, but he's athletic enough to make a play if things break down — notably, I was very impressed by his ability to throw darts on the run. It's hard to judge his decision-making ability without seeing it in a live game, but I think there's enough there to be confident that UConn might finally have found stability and production under center.
As for the previous starter, Shirreffs has proven himself to be a decent starter when healthy, and should logically be a capable backup. But given that he's a fifth-year senior who is now the father of a presumably lovely child, I think we would all be happy seeing Pindell stay healthy and upright for 13 games while Shirreffs models for his plaque as The Quarterback Who Dragged Bob Diaco To A Bowl Game.
Looking towards the future, I'm infatuated with the film I've seen on Florida freshman Marvin Washington, who flipped his commitment from UCF to UConn at the last second in January. None of UConn's D-I head coaches have had much luck keeping talented quarterbacks in the program to wait for their shot as a starter, but I hope they do so with him.
Offensive line
So, now, the key thing. Can Lashlee (and new offensive line coach J.B. Grimes, another Auburn transplant who 100 percent could pull off the "THEY. DO. NOT. GAIN. ANOTHER. YARD." speech from Remember The Titans) coax UConn's large adult sons to block someone?
¯\_(ツ)_/¯
On the macro level, UConn simply hasn't been able to run the ball (118th in the country in yards per carry last year) or protect its quarterback (37 sacks last year). This has been an ongoing thing.
The case for improvement is as follows: UConn's three best starters from last year's offensive line are back, and should lock down the center and tackle spots. Junior Ryan Crozier started every game at center last year; left tackle Matt Peart did a very solid job for a freshman and figures to be even better; and newly minted right tackle Tommy Hopkins was a very good guard in his limited time during an injury-plagued year. Lashlee's spread offense will theoretically help open up running room for Arkeel Newsome and co., and perhaps the scheme change will unlock the talent of a unit that really shouldn't be this consistently awful.
The promising new face on the line is right guard Cam DeGeorge, a 6-foot-6, 286-pound redshirt freshman and former Syracuse commit who wrestled the starting job away from veteran senior Steve Hashemi. In his radio interview with Joe D last week, Edsall complimented DeGeorge's movement and awareness, two traits that are particularly important if the Huskies run power and counter run plays as often as Auburn did. Journeyman senior Trey Rutherford is the other starter at guard, while a pair of freshmen are the swing men, guard Nino Leone and tackle Ryan Van Demark, both of whom can expect to see action this year.
The relevant lesson of last year's near-fiasco against Maine is to keep a close eye on this unit against Holy Cross. Because if UConn can't dominate the line of scrimmage, keep Pindell upright, and run the ball on a middling FCS team, who will they do it against?
Wide receivers/tight ends
Despite graduating Noel Thomas and his 100 catches, UConn seems to be pretty deep at wide receiver, important if the offense is to be wide open. But it remains to be seen whether anyone on the roster can be the go-to guy.
Out wide, Hergy Mayala caught just 23 passes last year, but that was good enough to be UConn's second leading receiver. In an expanded role, he should be a very productive playmaker and is the likeliest bet to emerge as the #1 option. Tyraiq Beals is an athletic downfield threat who always seems perennially on the verge of a breakthrough; he had great chemistry with Pindell in the open practice, for what that's worth. Aaron McLean has taken first-team reps during fall camp, and looked like a solid option as well.
UConn's base formation appears to include two wideouts and a slot receiver, and the likely starter at the latter is a redshirt freshman with a delightful name, Quayvon Skanes, who Diaco last year called "a burner" and one of the top athletes on the roster.
Four other players are on the two-deep (notables: another speedy redshirt freshman, Keyion Dixon; former fake field goal ace Tyler Davis; and the ex-QB Donovan Williams), and Edsall intimated on his radio show that they'll earn snaps on offense based on their work on special teams.
Meanwhile, UConn might throw to the tight ends this year! The under-utilized Alec Bloom and Tommy Myers are both three-year starters and are both capable of making big plays catching passes up the seam, or in the flat as a safety valve for Pindell.
Running backs
You know Arkeel Newsome by now. He's been here long enough to have given his verbal commitment to Paul Pasqualoni. He's gonna do some cool stuff if he gets the ball in space, and/or if his blockers open up a lane for him. Newsome should easily eclipse 3,000 career yards rushing this year, but thanks to the generally cruddy teams around him, he won't get enough credit for being a very solid UConn running back. Here's hoping the offensive pace and improvement can net Newsome his first 1,000-yard season.
Beyond him is a dangerously thin depth chart featuring only junior Jason Thompson (3 carries last year) and freshman Nate Hopkins. Hopkins probably has the higher upside, and he at least had a solid spring game, scoring three touchdowns, although if the spring game mattered, Ja'Kevious Vickers (game-high 47 yards and 5.9 per carry) would be on the two-deep.
Tomorrow: defense!